Factors affecting the surgeon preference for bolus opioid use to control postoperative pain after bariatric surgery
Keywords:
Bariatric surgery, Obesity, Opioids, Pain management, Postoperative analgesia
Abstract
Background/Aim: Pain control after bariatric surgery is important and inadequate control may lead to unwanted consequences. Although opioids remain an important therapeutic option in the management of postoperative pain, recent observations have pointed out to an increasing reluctance of surgeons to use opioid centered acute pain management strategies. This study aimed to examine the attitude and practice among bariatric surgeons regarding the postoperative use of opioids in acute pain management. Methods: Sixty-seven surgeons actively involved in surgery for obesity and metabolic disorders who responded to a survey questioning their practical habits for postoperative pain management were included in this cross-sectional study. The questionnaire had a total of 16 multiple-choice questions on postoperative pain management. Potential factors affecting their preference for postoperative bolus opioid use were examined. Results: Twenty-seven surgeons (40.3%) indicated that they prefer bolus opioid doses for postoperative analgesia. Surgeon age >55 years emerged as the only significant independent predictor for not preferring bolus postoperative opioid (OR: 0.19, 95% CI: 0.04-0.91, P=0.039). Main concern for opioid use was respiratory depression reported by 34.3% of the surgeons. Tramadol was the most preferred opioid (68.7%). Conclusion: Relatively low number of bariatric surgeons seems to prefer bolus opioid administration after bariatric surgery to control acute postoperative pain. Older bariatric surgeons (>55 years of age) seem more reluctant. However, opioids, which should be used with caution in such patients with obesity, may be an option after bariatric surgery in selected patients.
Downloads
Download data is not yet available.
References
Hales CM, Carroll MD, Fryar CD, Ogden, CL, et al. Prevalence of Obesity Among Adults and Youth: United States, 2015-2016. NCHS Data Brief. 2017:1-8.
De Oliveira GS, Jr. Optimal analgesic regimen for bariatric surgery: No opioid is rarely the option. J Clin Anesth. 2018;51:123-4.
Bamgbade OA, Oluwole O, Khaw RR. Perioperative Analgesia for Fast-Track Laparoscopic Bariatric Surgery. Obes Surg. 2017;27:1828-34.
Budiansky AS, Margarson MP, Eipe N. Acute pain management in morbid obesity - an evidence based clinical update. Surg Obes Relat Dis. 2017;13:523-32.
Safari S, Rokhtabnak F, Djalali Motlagh S, Ghanbari Garkani M, Pournajafian, A. Effect of intraperitoneal bupivacaine on postoperative pain in laparoscopic bariatric surgeries. Surg Obes Relat Dis. 2020;16:299-305.
Mitra S, Carlyle D, Kodumudi G, Kodumudi V, Vadivelu N. New Advances in Acute Postoperative Pain Management. Curr Pain Headache Rep. 2018;22:35.
Thorell A, MacCormick AD, Awad S, Reynolds N, Roulin D, Demartines N, et al. Guidelines for Perioperative Care in Bariatric Surgery: Enhanced Recovery After Surgery (ERAS) Society Recommendations. World J Surg. 2016;40:2065-83.
Belcaid I, Eipe N. Perioperative Pain Management in Morbid Obesity. Drugs. 2019;79:1163-75.
Stevens H, Carlin AM, Ross R, Stricklen A, Wood MH, Ghaferi AA. Effect of Surgeon Age on Bariatric Surgery Outcomes. Ann Surg. 2018;267:905-9.
Satkunasivam R, Klaassen Z, Ravi B, Fok KH, Menser T, Kash B, et al. Relation between surgeon age and postoperative outcomes: a population-based cohort study. CMAJ. 2020;192:E385-E92.
Santosa KB, Wang CS, Hu HM, Brummett CM, Englesbe MJ, Waljee JF. Surgeon experience and opioid prescribing. Am J Surg. 2020;220:823-7.
Melissas J. Safety, quality and excellence in bariatric surgery. Minerva Chir. 2009;64:239-52.
Dawson TH, Bhutiani N, Benns MV, Miller KR, Bozeman MC, Kehdy FJ, et al. Comparing patterns of care and outcomes after operative management of complications after bariatric surgery at MBSAQIP accredited bariatric centers and non-bariatric facilities. Surg Endosc. 2020.
Sultana A, Torres D, Schumann R. Special indications for Opioid Free Anaesthesia and Analgesia, patient and procedure related: Including obesity, sleep apnoea, chronic obstructive pulmonary disease, complex regional pain syndromes, opioid addiction and cancer surgery. Best Pract Res Clin Anaesthesiol. 2017;31:547-60.
Coblijn UK, Lagarde SM, de Castro SM, Kuiken SD, van Wagensveld BA. Symptomatic marginal ulcer disease after Roux-en-Y gastric bypass: incidence, risk factors and management. Obes Surg. 2015;25:805-11.
Lemmens HJ. Perioperative pharmacology in morbid obesity. Curr Opin Anaesthesiol. 2010;23:485-91.
Moncada R, Martinaitis L, Landecho M, Rotellar F, Sanchez-Justicia C, Bellver M, et al. Does Preincisional Infiltration with Bupivacaine Reduce Postoperative Pain in Laparoscopic Bariatric Surgery? Obes Surg. 2016;26:282-8.
Coskun M, Yardimci S, Arslantas MK, Altun GT, Uprak TK, Kara YB, et al. Subcostal Transversus Abdominis Plane Block for Laparoscopic Sleeve Gastrectomy, Is It Worth the Time? Obes Surg. 2019;29:3188-94.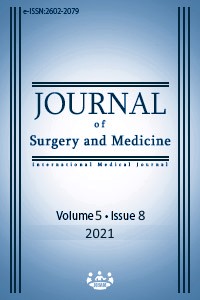 How to Cite
1.
Zengin S, Ergün M, Taşkın H. Factors affecting the surgeon preference for bolus opioid use to control postoperative pain after bariatric surgery. J Surg Med [Internet]. 2021 Aug. 1 [cited 2023 Jun. 7];5(8):803-6. Available from: https://jsurgmed.com/article/view/959976
License
Copyright (c) 2021 Seniyye Zengin, Meliha Ergün, Halit Taşkın
This work is licensed under a Creative Commons Attribution-NonCommercial-NoDerivatives 4.0 International License.
#7016