Evaluation of colonoscopy results of patients in a colorectal cancer screening program: A retrospective cohort study
Keywords:
Colorectal cancer, Screening, Polyps, Malignancy
Abstract
Background/Aim: Colorectal cancer is at the forefront of cancer-related deaths. Early detection and treatment of precursor lesions with screening programs are imperative. In this study, we aimed to determine the outcomes of colonoscopy and the effectiveness of screening. Methods: The colonoscopy results of 758 patients who were referred for positive fecal occult blood tests between October 2015 and January 2020 were examined in this retrospective cohort study. The demographic, pathological, and colonoscopic findings were recorded. Results: No pathology was detected in 53.3% of patients during colonoscopy. In patients with a pathology, polyps (28.5%), diverticular disease (15.44%), and colitis (2.37%) were most common. Patients with malignancy accounted for 3.69% of all patients and 12.96% of patients with polyps. Among adenoma types, the risk of dysplasia and/or malignancy was higher in villous polyps compared to tubulovillous and tubular polyps, and in tubulovillous polyps compared to tubular polyps (P<0.01). The presence of dysplasia and/or malignancy was evaluated mutually between the subgroups according to polyp size. There was no significant difference in the incidence of dysplasia between the patients with polyps of 6-10 mm and those with polyps of 11-20 mm (P=0.192). Among all other subgroups, an increase in polyp size caused a significant increase in dysplasia and/or malignancy (P<0.001). Conclusion: The results of this study showed that colonoscopy performed on colorectal cancer screening patients with a positive fecal occult blood test was quite successful in diagnosing precancerous lesions and colorectal cancer.
Downloads
Download data is not yet available.
References
Rawla P, Sunkara T, Barsouk A. Epidemiology of colorectal cancer: incidence, mortality, survival, and risk factors. Prz Gastroenterol. 2019;14(2):89-103. doi: 10.5114/pg.2018.81072.
Bonelli L. Colorectal carcinoma: is screening possible?. Tech Coloproctol. 2004;8Suppl2:267-72. doi: 10.1007/s10151-004-0174-1.
Brenner H, Chen C. The colorectal cancer epidemic: challenges and opportunities for primary, secondary and tertiary prevention. Br J Cancer. 2018;119(7):785-92. doi: 10.1038/s41416-018-0264-x.
Rex DK, Boland CR, Dominitz JA, Giardiello FM, Johnson DA, Kaltenbach T, et al. Colorectal Cancer Screening: Recommendations for Physicians and Patients from the U.S. Multi-Society Task Force on Colorectal Cancer. Am J Gastroenterol. 2017;112(7):1016-30. doi: 10.1038/ajg.2017.174.
Li JN, Yuan SY. Fecal occult blood test in colorectal cancer screening. J Dig Dis. 2019;20(2):62-4. doi: 10.1111/1751-2980.12712.
Sharma R. An examination of colorectal cancer burden by socioeconomic status: evidence from GLOBOCAN 2018. EPMA J. 2019;11(1):95-117. doi: 10.1007/s13167-019-00185-y.
Quintero E, Castells A, Bujanda L, Cubiella J, Salas D, Lanas Á, et al. COLONPREV Study Investigators. Colonoscopy versus fecal immunochemical testing in colorectal-cancer screening. N Engl J Med. 2012;366(8):697-706. doi: 10.1056/NEJMoa1108895.
Mannucci A, Zuppardo RA, Rosati R, Leo MD, Perea J, Cavestro GM. Colorectal cancer screening from 45 years of age: Thesis, antithesis and synthesis. World J Gastroenterol. 2019;25(21):2565-80. doi: 10.3748/wjg.v25.i21.2565.
Wolf AMD, Fontham ETH, Church TR, Flowers CR, Guerra CE, LaMonte SJ, et al. Colorectal cancer screening for average-risk adults: 2018 guideline update from the American Cancer Society. CA Cancer J Clin. 2018;68(4):250-81. doi: 10.3322/caac.21457.
Day LW, Velayos F. Colorectal cancer screening and surveillance in the elderly: updates and controversies. Gut Liver. 2015;9(2):143-51. doi: 10.5009/gnl14302.
Schoenfeld P. Quality in Colorectal Cancer Screening with Colonoscopy. Gastrointest Endosc Clin N Am. 2020;30(3):541-51. doi: 10.1016/j.giec.2020.02.014.
Maida M, Camilleri S, Manganaro M, Garufi S, Scarpulla G. New endoscopy advances to refine adenoma detection rate for colorectal cancer screening: None is the winner. World J Gastrointest Oncol. 2017;9(10):402-6. doi: 10.4251/wjgo.v9.i10.402.
Corley DA, Jensen CD, Marks AR, Zhao WK, Lee JK, Doubeni CA, et al. Adenoma detection rate and risk of colorectal cancer and death. N Engl J Med. 2014;370(14):1298-306. doi: 10.1056/NEJMoa1309086.
Lin YP, Long TF, Ma J, Zhou HR, Zhou H, Zhang X, et al. Analysis of colorectal cancer screening results in Kunming from 2014 to 2017. Zhonghua Yu Fang Yi Xue Za Zhi. 2019;53(11):1162-65. doi: 10.3760/cma.j.issn.0253-9624.2019.11.017.
Arunah C, Feisul IM, Nor Saleha IT, Muhammad Radzi AH. Overview of colorectal cancer screening programme in Malaysia. Med J Malaysia. 2020;75(3):235-39.
Zhiqiang F, Jie C, Yuqiang N, Chenghua G, Hong W, Zheng S, et al. Analysis of population-based colorectal cancer screening in Guangzhou, 2011-2015. Cancer Med. 2019;8(5):2496-502. doi: 10.1002/cam4.1867.
Basak F, Caliskan Y, Tilev S, Sisik A. Lower gastrointestinal endoscopic polypectomy: Cross-sectional study with 7503 consecutive endoscopic procedures. J Surg Med. 2019;3(11):809-11. doi: 10.28982/josam.653586.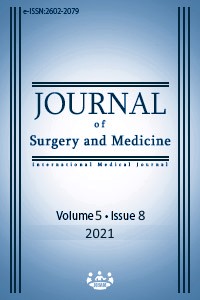 How to Cite
1.
Kaya T, Aydın C. Evaluation of colonoscopy results of patients in a colorectal cancer screening program: A retrospective cohort study. J Surg Med [Internet]. 2021 Aug. 1 [cited 2023 Sep. 26];5(8):791-4. Available from: https://jsurgmed.com/article/view/958978
License
Copyright (c) 2021 Tayfun Kaya, Cengiz Aydın
This work is licensed under a Creative Commons Attribution-NonCommercial-NoDerivatives 4.0 International License.
#7010