A case of aortic dissection presenting with a transient ischemic attack
Keywords:
Aortic dissection, Transient ischemic attack, Hypotension
Abstract
Aortic dissection (AD) is the rupture of the aortic intima, separation of the tunica media and blood filling into the wall. It is an exceedingly rare life-threatening disease with a high mortality rate. The pathogenesis of AD is multifactorial and aortic diseases such as aortic dilatation, aneurysm, ectasia, arteritis, bicuspid aorta, aortic arch hypoplasia, coarctation, chromosomal abnormalities (Turner, Noonan), connective tissue disease (Marfan, Ehlers-Danlos) are well-defined risk factors for aortic dissection. Chest pain is the most common clinical presentation of AD. Cardiovascular and neurological systems are often affected. Patients with AD may also present with unexpected symptoms such as syncope, hemiparesis-hemiplegia, paraparesis-paraplegia, myocardial infarction, dysphagia, and side pain. In this article, we present a patient who presented to the emergency department with neck pain, amaurosis fugax, and hypotension, who was admitted to the neurology ward with suspicion of transient ischemic attack and diagnosed with aortic dissection.
Downloads
Download data is not yet available.
References
Özkan S, Koyuncu M, İpekçi A, Avşaroğulları L, Dönmez H, Durukan P. Traumatıc Dıssectıon Of Aorta: A Case Report. Journal of Emergency Medicine Case Reports. 2011;2(1):40-3.
Debakey ME, Henly WS, Cooley DA, Morrıs GC Jr, Crawford ES, Beall AC Jr. Surgical management of dissecting aneurysms of the aorta. J Thorac Cardiovasc Surg. 1965;49(1):130-49.
Daily PO, Trueblood W, Stinson EB, Wuerflein RD, Shumway NE. Management of acute aortic dissections. Ann Thorac Surg. 1970;10(3):237-47.
Rahmatullah SI, Khan IA, Nair VM, Caccavo ND, Vasavada BC, Sacchi TJ. Painless limited dissection of the ascending aorta presenting with aortic valve regurgitation. Am J Emerg Med. 1999;17(7):700-1.
Aktürk E. Aort Diseksiyonu: Patogenez ve Klinik Bulgular. Turkiye Klinikleri J Cardiol-Special Topics. 2016;9(1):32-5.
Makuc J, Tretjak M.Misdiagnosed acute aortic dissection type A. Signa Vita. 2010;5(2):35-7.
Donovan EM, Seidel GK, Cohen A. Painless aortic dissection presenting as high paraplegia: a case report. Arch Phys Med Rehabil. 2000;81(10):1436-8.
Demircan A, Aksay E, Ergin M, Bildik F, Keles A, Aygencel G. Painless aortic dissection presenting with acute ischaemic stroke and multiple organ failure. Emerg Med Australas. 2011;23(2):215-6.
Bossone E, Corteville DC, Harris KM, Suzuki T, Fattori R, Hutchison S, et al. Stroke and outcomes in patients with acute type A aortic dissection. Circulation. 2013;128(11 Suppl 1):S175-9.
Khan IA, Nair CK. Clinical, diagnostic, and management perspectives of aortic dissection. Chest. 2002;122(1):311-28.
Sodeck G, Domanovits H, Schillinger M, Ehrlich MP, Endler G, Herkner H, et al. D-dimer in ruling out acute aortic dissection: a systematic review and prospective cohort study. Eur Heart J. 2007;28(24):3067–75.
Barniol C, Vallé B, Dehours E, Charpentier S, Bounes V, Lauque D. Using d-dimer to diagnose painless acute aortic dissection: a case report. Case Rep Emerg Med. 2011;2011:395613.
Paparella D, Malvindi PG, Scrascia G, de Ceglia D, Rotunno C, Tunzi F, et al. D-dimers are not always elevated in patients with acute aortic dissection. J Cardiovasc Med (Hagerstown). 2009;10(2):212-4.
Zaidat OO, Ubogu EE, Lerner AJ. Recurrent transient ischemic attacks as the initial presenting manifestation of type A aortic dissection. Annals of Vascular Surgery. 2002;16(5):676-8.
Ajiki M, Takada T, Nogoshi S, Yamada K. Transient ischemic attack due to thoracic aortic dissection: report of a case. No shinkei geka. Neurological Surgery. 2004;32(4):389-92.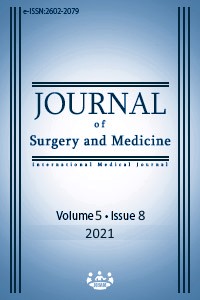 How to Cite
1.
Kara F, Göl MF, Varlıbaş A. A case of aortic dissection presenting with a transient ischemic attack. J Surg Med [Internet]. 2021 Aug. 1 [cited 2023 Dec. 2];5(8):825-7. Available from: https://jsurgmed.com/article/view/830979
License
Copyright (c) 2021 Fatma Kara, Mehmet Fatih Göl, Ayhan Varlıbaş
This work is licensed under a Creative Commons Attribution-NonCommercial-NoDerivatives 4.0 International License.
#7000