An alternative educational method: Computer-based simulation program for advanced cardiac life support education
Keywords:
Simulation, Computer-based, Undergraduate, Medical education, Advanced cardiac life support
Abstract
Background/Aim: Technology is gaining importance in medical education, along with distance learning and technology-enhanced learning systems. In certain conditions, such as the Covid-19 outbreak, adapting technology to our medical education is essential. Computer-based simulation is one of those technologies that can be used in medical education. We aimed to measure the contribution of computer-based simulation to students' knowledge of cardiac rhythms in the advanced cardiac life support (ACLS) curriculum, compared to the classic educational method. Methods: Interns (6th-grade medical students) were included in this observational study and divided into a study group and a control group. Both groups received a 2.5-hour-long ACLS rhythms lecture. Afterward, case studies were completed with a computer-based simulation program in the study group and with the classical didactic method in the control group. The participants took a multiple-choice test to measure the level of knowledge before (pre-test) and 4 weeks after (post-test) the training. "ACLS Simulator 2016" licensed program was used. Results: A total number of 80 medical students were included in the study. There were 35 (43.75%) males and 45 (56.25%) females, with a mean age of 23.7 (1.1) years. The mean number of correct answers in the pre-training test was 12.6 (3.2), and similar between the two groups (P=0.131), but significantly increased to 15.7 (3.3) (P<0.001) after the training. In the post-training test, the study and the control groups answered 16.0 (3.6) and 15.5 (3.1) questions correctly, respectively (P=0.477). Conclusion: Adapting a computer-based simulation program improves students' level of knowledge. Case scenario training with a computer-based simulation is as effective as the classical method.
Downloads
Download data is not yet available.
References
Bhanji F, Finn JC, Lockey A, Monsieurs K, Frengley R, Iwami T, et al. Part 8: Education, Implementation, and Teams: 2015 International Consensus on Cardiopulmonary Resuscitation and Emergency Cardiovascular Care Science With Treatment Recommendations. (1524-4539 (Electronic)).
Greif R, Lockey AS, Conaghan P, Lippert A, De Vries W, Monsieurs KG. European Resuscitation Council Guidelines for Resuscitation 2015: Section 10. Education and implementation of resuscitation. (1873-1570 (Electronic)).
Yalçınoğlu N, Kayı İ, Işık Ş, Aydın T, Zengin Ş, Karabey S. İstanbul Üniversitesi Tıp Fakültesi Son Sınıf Öğrencilerinin Tıp Eğitimi İle İlgili Görüşleri. İstanbul Tıp Fakültesi Dergisi. 2013;75(3):41-5.
Günay O. Erciyes Üniversitesi Tıp Fakültesi Son Sınıf Öğrencilerinin Tıp Eğitimi Hakkındaki Düşünceleri. Tıp Eğitimi Dünyası. 2002(7):49-55.
Bonnetain E, Boucheix JM, Hamet M, Freysz M. Benefits of computer screen-based simulation in learning cardiac arrest procedures. Med Educ. 2010;44(7):716-22.
Tan GM, Ti LK, Tan K, Lee T. A comparison of screen-based simulation and conventional lectures for undergraduate teaching of crisis management. Anaesth Intensive Care. 2008;36(4):565-9.
Schwid HA, Rooke GA, Michalowski P, Ross BK. Screen-based anesthesia simulation with debriefing improves performance in a mannequin-based anesthesia simulator. Teach Learn Med. 2001;13(2):92-6.
Davis J, Crabb S, Rogers E, Zamora J, Khan K. Computer-based teaching is as good as face-to-face lecture-based teaching of evidence based medicine: a randomized controlled trial. Med Teach. 2008;30(3):302-7.
Biese KJ, Moro-Sutherland D, Furberg RD, Downing B, Glickman L, Murphy A, et al. Using screen-based simulation to improve performance during pediatric resuscitation. Acad Emerg Med. 2009;16 Suppl 2:S71-5.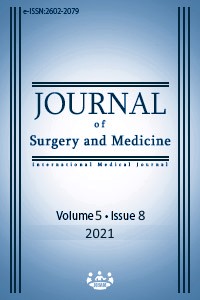 How to Cite
1.
Öktem B, Kılıçaslan İsa, Keleş A, Bildik F, Demircan A. An alternative educational method: Computer-based simulation program for advanced cardiac life support education. J Surg Med [Internet]. 2021 Aug. 1 [cited 2023 Sep. 26];5(8):760-3. Available from: https://jsurgmed.com/article/view/825921
License
Copyright (c) 2021 Begüm Öktem, İsa Kılıçaslan, Ayfer Keleş, Fikret Bildik, Ahmet Demircan
This work is licensed under a Creative Commons Attribution-NonCommercial-NoDerivatives 4.0 International License.
#7015