The relationship between blood pressure regulation and alexithymia variability in newly diagnosed essential hypertension patients
Keywords:
Alexithymia, Essential hypertension, Blood pressure regulation, Toronto Alexithymia Scale
Abstract
Background/Aim: Blood pressure disorder can accompany mood and various psychosomatic disorders. One of the signs of emotional disorganization is alexithymia, which is defined as the impaired ability to experience and express emotions. The relationship of hypertension (HT) with alexithymia is well known, but few studies show the change in alexithymia status after blood pressure regulation. Our study aimed to evaluate the level of alexithymia caused by optimal medical treatment in newly diagnosed essential HT patients. Methods: Fifty-six essential HT patients (33 males, 23 females) diagnosed with 24-hour ambulatory blood pressure monitoring were included in this cross-sectional study. All participants filled the Toronto Alexithymia Scale (TAS-20) during diagnosis and when blood pressure was regulated with treatment. Results: The mean age of the study group was 50.7 (9.9) years. There were twenty-three (41.1%) females. As expected, the systolic and diastolic blood pressure values were significantly lower after treatment (144.41 (9.11) / 89.42 (9.31) mmHg vs. 122.75 (7.27) /74.96 (3.18) mmHg, P<0.001 for both). While TAS-DIF (difficulty identifying feelings) and TAS-EOT (externally oriented thinking) did not significantly change after treatment, a significant decrease was observed in TAS-DDF (difficulty describing feelings) (14.29 (3.51) vs 12.57 (3.06), P<0.01). Total TAS score, TAS-20, was also significantly decreased after treatment (55.67 (8.82) vs 52.35 (7.71), P=0.036). Conclusion: Our findings show that TAS-DDF, one of the subscales of alexithymia, can be improved by regulating blood pressure. We think that psychiatric and emotional states should be evaluated in the follow-up of HT. It is also essential to increase the awareness of patients about coping with stress and stress management.
Downloads
Download data is not yet available.
References
Aguilar A. Hypertension: Global blood pressure trends. Nat Rev Nephrol. 2017;13(1):2. doi: 10.1038/nrneph.2016.
Ferdinand KC and Nasser SA. Management of essential hypertension. Cardiol Clin 2017; 35: 231–46. doi:10.1016/j.ccl.2016.12.005.
Carretero OA, Oparil S. Essential hypertension. Part I: definition and etiology. Circulation. 2000;101(3):329-35. doi: 10.1161/01.cir.101.3.329.
Rubio-Guerra AF, Rodriguez-Lopez L, Vargas-Ayala G, Huerta-Ramirez S, Serna DC, Lozano-Nuevo JJ. Depression increases the risk for uncontrolled hypertension. Exp Clin Cardiol. 2013 Winter;18(1):10-2.
Offidani E, Benasi G, Charlson ME, Ravenell JE, Boutin-Foster C. Impact of depression and demoralization on blood pressure control in African Americans with hypertension: findings from the TRIUMPH Trial. J Racial Ethn Health Disparities. 2018;5(5):913-8. doi: 10.1007/s40615-017-0439-9.
Rafanelli C, Offidani E, Gostoli S, Roncuzzi R. Psychological correlates in patients with different levels of hypertension. Psychiatry Res. 2012;198(1):154-60. doi: 10.1016/j.psychres.2011.09.014.
Cuffee Y, Ogedegbe C, Williams NJ, Ogedegbe G, Schoenthaler A. Psychosocial risk factors for hypertension: an update of the literature. Curr Hypertens Rep. 2014;16(10):483. doi: 10.1007/s11906-014-0483-3.
Grande G, Romppel M, Barth J. Association between type D personality and prognosis in patients with cardiovascular diseases: a systematic review and meta-analysis. Ann Behav Med. 2012 Jun;43(3):299-310. doi: 10.1007/s12160-011-9339-0.
Grabe HJ, Schwahn C, Barnow S, Spitzer C, John U, Freyberger HJ, et al. Alexithymia, hypertension, and subclinical atherosclerosis in the general population. J Psychosom Res. 2010;68(2):139-47. doi: 10.1016/j.jpsychores.2009.07.015.
Casagrande M, Mingarelli A, Guarino A, Favieri F, Boncompagni I, Germanò R, et al. Alexithymia: A facet of uncontrolled hypertension. Int J Psychophysiol. 2019;146:180-9. doi: 10.1016/j.ijpsycho.2019.09.006.
Piotrowska-Półrolnik M, Holas P, Krejtz I, Symonides B. Relationship between alexithymia and variability of blood pressure measured with ABPM in hypertensive patients. Gen Hosp Psychiatry. 2019;60:1-5. doi: 10.1016/j.genhosppsych.2019.04.014.
Taylor GJ, Bagby RM. Psychoanalysis and empirical research: the example of alexithymia. J Am Psychoanal Assoc. 2013;61(1):99-133. doi: 10.1177/0003065112474066.
Franz M, Popp K, Schaefer R, Sitte W, Schneider C, Hardt J, et al. Alexithymia in the German general population. Soc Psychiatry Psychiatr Epidemiol. 2008;43(1):54-62. doi: 10.1007/s00127-007-0265-1.
Jula A, Salminen JK, Saarijärvi S. Alexithymia: a facet of essential hypertension. Hypertension. 1999;33(4):1057-61. doi: 10.1161/01.hyp.33.4.1057.
Todarello O, Taylor GJ, Parker JD, Fanelli M. Alexithymia in essential hypertensive and psychiatric outpatients: a comparative study. J Psychosom Res. 1995;39(8):987-94. doi: 10.1016/0022-3999(95)00506-4.
McCubbin JA, Loveless JP, Graham JG, Hall GA, Bart RM, Moore DD, et al. Emotional dampening in persons with elevated blood pressure: affect dysregulation and risk for hypertension. Ann Behav Med. 2014;47(1):111-9. doi: 10.1007/s12160-013-9526-2.
Williams B, Mancia G, Spiering W, Agabiti Rosei E, Azizi M, Burnier M, et al. ESC Scientific Document Group. 2018 ESC/ESH Guidelines for the management of arterial hypertension. Eur Heart J. 2018;39(33):3021-104. doi: 10.1093/eurheartj/ehy339.
Taylor GJ, Bagby RM, Parker JD. The 20-Item Toronto Alexithymia Scale. IV. Reliability and factorial validity in different languages and cultures. J Psychosom Res. 2003;55(3):277-83. doi: 10.1016/s0022-3999(02)00601-3.
Güleç H, Yenel A. "Psychometric Properties of the Turkish Version 20 Item Toronto Alexithymia scala: According to cut-off ccore. J Clin Psy. 2010;13(3): 108-12.
Shehata MF. A proposed study on how far anger contributes to initiating essential hypertension in canadian caucasian adults with a family history of hypertension. Clin Med Insights Cardiol. 2010;4:9-13.
Spruill TM. Chronic psychosocial stress and hypertension. Curr Hypertens Rep. 2010;12(1):10-6. doi: 10.1007/s11906-009-0084-8.
McGillivray L, Becerra R, Harms C. Prevalence and demographic correlates of alexithymia: A comparison between Australian psychiatric and community samples. J Clin Psychol. 2017;73(1):76-87. doi: 10.1002/jclp.22314.
Alzahrani SH, Coumaravelou S, Mahmoud I, Beshawri J, Algethami M. Prevalence of alexithymia and associated factors among medical students at King Abdulaziz University: a cross-sectional study. Ann Saudi Med. 2020;40(1):55-62. doi: 10.5144/0256-4947.2020.55.
Tocci G, Ferrucci A, Pontremoli R, Ferri C, Rosei EA, Morganti A, et al. Blood pressure levels and control in Italy: comprehensive analysis of clinical data from 2000-2005 and 2005-2011 hypertension surveys. J Hum Hypertens. 2015;29(11):696-701. doi: 10.1038/jhh.2015.4.
Panayiotou G. Alexithymia as a core trait in psychosomatic and other psychological disorders. Somatoform and other psychosomatic disorders. Springer, Cham, 2018. 89-106.
Karakas SA, Karabulutlu EY, Akyil RC,Erdem N, Turan GB. An Analysis of alexithymia and social support in patients with hypertension and asthma. J Psychiatric Nurs. 2016;7(2):68–74. doi: 10.5505/phd.2016.40085.
Alslman ET, Hamaideh SH, Bani Hani MA, Atiyeh HM. Alexithymia, fibromyalgia, and psychological distress among adolescents: literature review. Int J Adolesc Med Health. 2020;32(3): doi: 10.1515/ijamh-2017-0081.
Chalah MA, Ayache SS. Alexithymia in multiple sclerosis: A systematic review of literature. Neuropsychologia. 2017;104:31-47. doi: 10.1016/j.neuropsychologia.2017.07.034.
Namdar ND, Arıkan İ. The relationship between alexithymia, anxiety, depression, and severity of the disease in psoriasis patients. J Surg Med. 2020;4(3):226-9. doi: 10.28982/josam.693222.
Karukivi M, Jula A, Hutri-Kähönen N, Juonala M, Raitakari O. Is alexithymia associated with metabolic syndrome? A study in a healthy adult population. Psychiatry Res. 2016;236:58-63. doi: 10.1016/j.psychres.2015.12.034.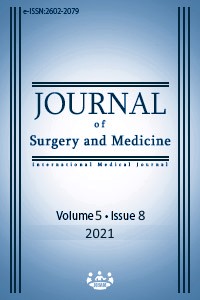 How to Cite
1.
Ardahanlı İsa, Akhan O, Aslan R, Akyüz O, Akgun O. The relationship between blood pressure regulation and alexithymia variability in newly diagnosed essential hypertension patients. J Surg Med [Internet]. 2021 Aug. 1 [cited 2023 Oct. 4];5(8):768-71. Available from: https://jsurgmed.com/article/view/819228
License
Copyright (c) 2021 İsa Ardahanlı, Onur Akhan, Ramazan Aslan, Okan Akyüz, Onur Akgun
This work is licensed under a Creative Commons Attribution-NonCommercial-NoDerivatives 4.0 International License.
#7007