Image-guided biopsy-proven lung and skeletal tuberculosis cases mimicking malignancy
Keywords:
tuberculosis, polymerase chain reaction, biopsy, diagnosis
Abstract
Aim: Tuberculosis diagnosis may be challenging and percutaneous biopsy may be required for definitive diagnosis. In this study, we aimed to investigate the utility of percutaneous biopsy in diagnosis of tuberculosis and radiological features of the tuberculosis cases diagnosed by image-guided biopsy. Methods: The patients who were diagnosed with tuberculosis by image-guided biopsy between 2016 and 2020 in our institution were reviewed retrospectively in these case series. Histories of malignancy or immune deficiency, age and genders of the patients, localizations and radiological imaging findings of the lesions, needle types, imaging methods used for the biopsies and presumptive diagnoses before the biopsies were noted. Results: A total of 16 patients (5 Females, 11 Males) with a mean age of 41 years (range: 17-74 years) had image-guided biopsy with presumptive diagnosis of infection or malignancy. Four patients had transthoracic core-needle-biopsy for lung masses, 12 had curettage-bone-biopsy for lytic lesions of vertebral and pelvic bones under CT-guidance. Four of the patients had immune deficiency and one had a history of malignancy. All patients were diagnosed with tuberculosis by both histopathological and culture analysis. Conclusion: Image-guided-biopsy is safe and useful in the diagnosis of tuberculosis cases who could not be diagnosed by laboratory and sputum tests or those with presumptive diagnoses of malignancy. Tuberculosis should be kept in mind during percutaneous biopsy of radiologically suspicious cases as a differential diagnosis, even though they are clinically negative.
Downloads
Download data is not yet available.
References
World Health Organization. Global tuberculosis control: WHO report 2011. World Health Organization. https://apps.who.int/iris/handle/10665/44728. Accessed: 8 March 2020.
Global tuberculosis report 2017. Geneva: World Health Organization, 2017. http://www.who.int/tb/publications/global_report/gtbr2017_main_text.pdf. Accessed 8 March 2020.
Hammen I. Tuberculosis mimicking lung cancer. Respir Med Case Rep. 2015;16:45–7. doi: 10.1016/j.rmcr.2015.06.007.
Virenfeldt J, Rudolf F, Camara C, Furtado A, Gomes V, Aaby P, Petersen E, Wejse C. Treatment delay affects clinical severity of tuberculosis: a longitudinal cohort study. BMJ Open. 2014;4(6). doi: 004818 10.1136/bmjopen-2014-004818.
Pesut DP, Marinkovic DM. Lung cancer and pulmonary tuberculosis-A comparative population-genetic study British. J Med Genetics. 2009;12:45–52.
Bhatt M, Kant S, Bhaskar R. Pulmonary tuberculosis as differential diagnosis of lung cancer. South Asian J Cancer. 2012;1(1):36–42. doi: 10.4103/2278-330X.96507.
Morikawa K, Misumi S, Fukuda T. A case of pulmonary tuberculosis with multiple nodules mimicking lung metastases. BJR Case Rep. 2019;5:20180124. doi: 10.1259/bjrcr.20180124.
Falagas ME, Kouranos VD, Athanassa Z, Kopterides P. Tuberculosis and malignancy. Q J Med. 2010;103:461–87. doi: 10.1093/qjmed/hcq068.
Ye M, Huang J, Wang J, Ren J, Tu J, You W, et al. Multifocal musculoskeletal tuberculosis mimicking multiple bone metastases: a case report. BMC Infect Dis. 2016;16:34. doi: 10.1186/s12879-016-1376-7.
Lee Chul-Min, Lee S, Bae J . Contiguous Spinal Metastasis Mimicking Infectious Spondylodiscitis. Journal of the Korean Society of Radiology. 2015;73(6):408-12. https://doi.org/10.3348/jksr.2015.73.6.408.
Alavi SM, Sharifi M. Tuberculous spondylitis: risk factors and clinical/paraclinical aspects in the south west of Iran. J Infect Public Health. 2010;3(4):196-200. doi: 10.1016/j.jiph.2010.09.005
Altuwairgi O, Baharoon S, Alkabab Y, Alsafi E, Almoweqel M, L-Jahdali HA. Ultrasound-guided core biopsy in the diagnostic work-up of tuberculous lymphadenitis in Saudi Arabia, refining the diagnostic approach. Case series and review of literature. J Infect Public Health. 2014;7(5):371-6.
Choo JY, Lee KY, Kim MY, Kang EY, Oh YW, Lee SH, et al. Pulmonary tuberculosis confirmed by percutaneous transthoracic needle biopsy: analysis of CT findings and review of correlations with underlying lung disease. Balkan Med J. 2014;31:208–13. doi: 10.5152/balkanmedj.2014.13187.
Joo EJ, Yeom JS, Ha YE, Park SY, Lee CS, Kim ES, et al. Diagnostic yield of computed tomography-guided bone biopsy and clinical outcomes of tuberculous and pyogenic spondylitis. Korean J Intern Med. 2016;31(4):762–71. doi: 10.3904/kjim.2013.019.
Cardella JF, Kundu S, Miller DL, Millward SF, Sacks D. Society of Interventional Radiology. Society of Interventional Radiology clinical practice guidelines. J Vasc Interv Radiol. 2009;20(7):189-91. doi: 10.1016/j.jvir.2009.04.035.
Burrill J, Williams CJ, Bain G, Conder G, Hine AL, Misra RR. Tuberculosis: a radiologic review. Radiographics. 2007;27(5):1255-73. doi: 10.1148/rg.275065176.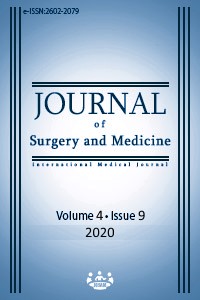 How to Cite
1.
Şahin C, Camurcuoglu E, Agridag B, Durmaz S. Image-guided biopsy-proven lung and skeletal tuberculosis cases mimicking malignancy. J Surg Med [Internet]. 2020 Sep. 1 [cited 2023 Jun. 4];4(9):761-5. Available from: https://jsurgmed.com/article/view/784382
License
Copyright (c) 2020 Cennet Şahin, Eyup Camurcuoglu, Burcin Agridag, Selahattin Durmaz
This work is licensed under a Creative Commons Attribution-NonCommercial-NoDerivatives 4.0 International License.
#6718