Assessment of quality and accuracy of YouTube videos on percutaneous transthoracic biopsy
Keywords:
YouTube, Social Media, Biopsy, Patient Education
Abstract
Aim: YouTube is an essential source of medical information for patients, but may also be misleading, depending on the kind of content quality. The aim of this study is to evaluate the quality of YouTube videos on percutaneous transthoracic lung biopsy. Methods: A search on YouTube was performed with the terms 'Lung Biopsy,' 'CT-Guided Lung Biopsy,' 'US-Guided Lung Biopsy,' and 'Percutaneous Transthoracic Biopsy.' Relevant English videos were examined and scored by two reviewers. Video characteristics, uploaded sources, and content quality were assessed using different indices. Correlation analysis was conducted to investigate the possible correlation for global quality score. Results: Fifteen videos (47%) were uploaded by a healthcare professional, nine videos (28%) by a product company, six videos (19%) by an individual user, and 2 (6%) by an academic institution. The videos had a median (IQR) quality score of 2 (range 1-5), and a median (IQR) length of 235 (46-751) seconds. The quality of the videos varied, depending on the uploaded sources as well as whether they were uploaded by academic institutions, which had the highest quality. Some important components regarding the biopsy procedure, such as complications, were not evaluated in most videos. Conclusion: YouTube videos on percutaneous transthoracic lung biopsy (PTLB) had a low median content quality score, while some important points were grossly overlooked. Thus, YouTube videos may be a misleading source of patient information. Academic institutions and healthcare professionals should be creating accurate multimedia content for patients seeking informative medical information.
Downloads
Download data is not yet available.
References
Alexa. 2019. The top 500 sites on the web. [Online] Available at: https://www.alexa.com/topsites. [Accessed 7 May 2019]
YouTube. 2019. YouTube for Press. [Online] Available at: https://www.youtube.com/intl/en-GB/yt/about/press/. [Accessed 7 May 2019]
Bray F, Ferlay J, Soerjomataram I, Siegel RL, Torre LA et al. Global cancer statistics 2018: GLOBOCAN estimates of incidence and mortality worldwide for 36 cancers in 185 countries. CA Cancer J Clin 2018; 68: 394-424. doi: 10.3322/caac.21492
Torre LA, Siegel RL, Ward EM, Jemal A. International variation in lung cancer mortality rates and trends among women. Cancer Epidemiol Biomarkers Prev. 2014;23:1025-36. doi: 10.1158/1055-9965.EPI-13-1220
Charig M, Clelland C, Gleeson F, R Miller, H Moss et al. Guidelines for radiologically guided lung biopsy. Thorax. 2003;58:920-36. doi: 10.1136/thorax.58.11.920
iProspect Search Engine User Behaviour Study. [Accessed January 26, 2012.] Available from: http://district4.extension.ifas.ufl.edu/Tech/TechPubs/WhitePaper_ 2006_SearchEngineUserBehavior.pdf.
Charnock D, Shepperd S, Needham G, Gann R. DISCERN: An instrument for judging the quality of written consumer health information on treatment choices. J Epidemiol Community Health. 1999;53:105-11. doi: 10.1136/jech.53.2.105
Lehmann S, Frank N. An Overview of Percutaneous CT-Guided Lung Biopsies. J Radiol Nurs 2018; 37: 2-8. doi: 10.1016/j.jradnu.2017.12.002
American T. Acr – Sir – Spr Practice Parameter on Informed Consent for Image-Guided Procedures. 2016;1076:1-8.
Singh AG, Singh S, Singh PP. YouTube for information on rheumatoid arthritis--a wakeup call? J Rheumatol. 2012;39:899-903. doi: 10.3899/jrheum.111114
Erdem MN, Karaca S. Evaluating the Accuracy and Quality of the Information in Kyphosis Videos Shared on YouTube. Spine. 2018;43:E1334-E1339. doi: 10.1097/BRS.0000000000002691
Sechrest RC. The internet and the physician-patient relationship. Clin Orthop Relat Res. 2010;468:2566-71. doi: 10.1007/s11999-010-1440-3
Swischuk JL, Castaneda F, Patel JC, Jitendra C. Patel, Ruizong Li, et al. Percutaneous Transthoracic Needle Biopsy of the Lung: Review of 612 Lesions. J Vasc Interv Radiol. 1998;9:347-52. doi: 10.1016/S1051-0443(98)70279-9.
Kazerooni EA, Lim FT, Mikhail A, Martinez FJ. Risk of pneumothorax in CT-guided transthoracic needle aspiration biopsy of the lung. Radiology. 1996;198:371-5. doi: 10.1148/radiology.198.2.8596834
Jackson R, Schneider A, Baum N. Social media networking: YouTube and search engine optimization. J Med Pract Manage. 2011;26:254-7.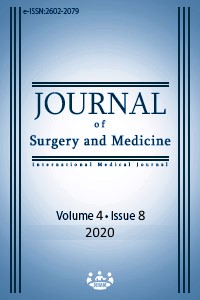 How to Cite
1.
Gürkan O, Gunduz C. Assessment of quality and accuracy of YouTube videos on percutaneous transthoracic biopsy. J Surg Med [Internet]. 2020 Aug. 1 [cited 2022 Oct. 7];4(8):627-30. Available from: https://jsurgmed.com/article/view/778941
License
Copyright (c) 2020 Okan Gürkan, Canan Gunduz
This work is licensed under a Creative Commons Attribution-NonCommercial-NoDerivatives 4.0 International License.
#6707