A novel method for treatment of persistent colorectal anastomotic strictures: Magnetic compression strictureplasty
Keywords:
Stricture, Magnet, Low-Morbidity, Low anterior resection, Redo surgery
Abstract
Aim: Colonic anastomotic strictures are usually caused by staple use, anastomotic leakage, intestinal or suture line ischemia and radiotherapy. Endoscopic treatments should be the first choice. Resection of the stricture line and re-anastomosis form the basis of surgical treatment. Compared to endoscopic approaches, the morbidity rate of surgical treatments for strictures are higher. In patients with stricture and history of multiple pelvic surgeries who don't allow endoscopic treatments, magnetic compression strictureplasty (MCS) may be a good choice for lower morbidity.
Methods: The study population included patients with colorectal anastomotic stricture who had failed endoscopic treatments and for whom a tertiary resection and anastomosis was also considered as having high morbidity. Firstly, the MCS technique was planned by colonoscopic approach. It was aimed to place the magnet proximal to the stenotic colon with the colonoscope, which has a ring-shaped magnet attached at the tip, through the ileostomy entrance. This endoscopic approach failed. Then, laparotomy was performed. A 1-cm colotomy was performed from the proximal site of the stricture, and the magnet was left inside the intestine. Another magnet was placed distally to stricture from the anus. The two magnets were observed to compress the stricture by magnetic attraction, and the operation was terminated. Patient demographics, surgical history, MRI results, colonoscopic examination results were recorded. The follow-up conditions of the patients were noted.
Results: MCS was performed on two male patients mean aged 70 (14.14) years. All patients had multiple abdominal surgeries in their surgical history. Colonoscopy showed fully obstructing anastomotic stricture in patients. The mean distance from the anal verge to the stricture in colonoscopic examination was 7±1.41 cm. Mean stricture length in MRI was 12±2.82 mm. In follow up, control rectosigmoidoscopies revealed that the magnets had fallen into the rectum lumen and the stricture line was fully patent for all patients.
Conclusion: MCS might be preferred as a safe surgical technique with low morbidity in patients with previous multiple colorectal surgeries and a full obstructive stricture in the colorectal anastomosis line. 

Downloads
Download data is not yet available.
References
Chung RS, Hitch DC, Armstrong DN. The role of tissue ischemia in the pathogenesis of anastomotic stricture. Surgery. 1988;104:824-9.
Polglase AL, Hughes ES, McDermott FT, Pihl E, Burke FR. A comparison of end-to-end stapler and suture colorectal anastomosis in the dog. Surg Gynecol Obstet. 1981;152:792-6.
Kan H, Furukawa K, Suzuki H. An improvement in the quality of life after performing endoscopic balloon dilation for postoperative
anastomotic stricture of the rectum. J Nippon Med Sch. 2007;74:418-23.
Weinstock LB, Schatz BA. Endoscopic alternatives in the management of the anastomosis following resection of colonic neoplasm. Gastrointest Endosc. 1994;40:558-61.
Tuson JR, Everett WG. A retrospective study of colostomies, leaks and strictures after colorectal anastomosis. Int J Colorectal Dis. 1990;5:44-8.
Mukai M, Kishima K, Lizuka S. Endoscopic hook knife cutting before balloon dilatation of severe anastomotic stricture after rectal cancer resection. Endoscopy. 2009;41:193-4.
Woo R, Wong CM, Trimble Z, Puapong D, Koehler S, Miller S, et al. Magnetic Compression Stricturoplasty For Treatment of Refractory Esophageal Strictures in Children: Technique and Lessons Learned. Surg Innov. 2017;24:432-9.
Delaunay-Tardy K, Barthelemy C, Dumas O, Balique JG, Audigier JC. Endoscopic therapy of benign colonic post-operative strictures: report on 27 cases. Gastroenterol Clin Biol. 2003;27:610-3.
Hirono S, Ueno M, Takifuji K, Onishi H, Tani M, Uchiyama K, et al. Successful interventional dilatation of a complicated stricture of the anastomotic colon: report of a case. Int Surg. 2007;92:311-3.
Pietropaolo V, Masoni L, Ferrara M, Montori A. Endoscopic dilation of colonic postoperative strictures. Surg Endosc. 1990;4:26-30.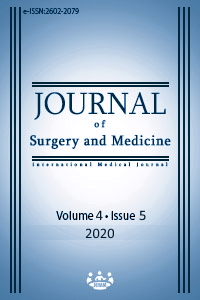 How to Cite
1.
Kılıç A, Şişik A. A novel method for treatment of persistent colorectal anastomotic strictures: Magnetic compression strictureplasty. J Surg Med [Internet]. 2020 May 1 [cited 2023 Sep. 25];4(5):331-3. Available from: https://jsurgmed.com/article/view/737762
License
Copyright (c) 2020 Ali Kılıç, Abdullah Şişik
This work is licensed under a Creative Commons Attribution-NonCommercial-NoDerivatives 4.0 International License.
#6622