A rare cause of surgical abdomen: Heterotopic pregnancy rupture
Keywords:
Acute abdomen, Abdominal pain, Ectopic pregnancy, Heterotopic pregnancy, Rupture
Abstract
Heterotopic pregnancy is simultaneous extrauterine and intrauterine localization of the fertilized ovum. In this article, we aimed to present the case of a ruptured heterotopic pregnancy patient who had abortion a week ago. A 28-year-old female patient was referred to the Emergency Department due to vaginal bleeding and abdominal pain. Physical examination revealed that the patient, who had an abortion a week ago because of unwanted pregnancy at the 7th gestational week, had widespread sensitivity in the abdomen. Active bleeding was observed in vaginal examination. Her serum β-human chorionic gonadotropin level was 14562 mIU/mL. A fetus surrounded by hematoma with an 8 mm crown-rump length and heartbeat was observed in the right adnexal area during pelvic ultrasonography. The patient was diagnosed with ruptured heterotopic pregnancy and underwent surgery. In female patients who are in reproductive age and who refer to Emergency Department with acute abdominal pain and vaginal bleeding, it must not be ignored that there might be extrauterine pregnancy along with intrauterine pregnancy and/or rupture. Ectopic pregnancy is a disease, which might occur in sexually active women in reproductive period and develops as a result of abnormal implantation of blastocyst. It can be localized in the ovaries, and less commonly, in the fallopian tubes. Ovarian pregnancy is characterized with the blastocyst being implanted in the ovary. It constitutes 0.15-3% of ectopic pregnancies and is observed in approximately one in every 7000 pregnancies. In our case, the blastocyst was localized in the right ovarian area, which is exceedingly rare.
Downloads
Download data is not yet available.
References
Walker JJ. Ectopic pregnancy. Clin Obstet Gynecol. 2007 Mar;50:89-99. DOI: 10.1097/GRF.0b013e31802f4f79
Shenoy VB, Buckley CJ. Natural conception resulting in a ruptured heterotopic pregnancy in a multiparous woman. Proc (Bayl Univ Med Cent). 2020 Jan;33(1):93-4. DOI: 10.1080/08998280.2019.1670324
Barnhart KT, Franasiak JM. Tubal ectopic pregnancy: ACOG practice bulletin Clin Manage Guidelines Obstet Gynecol. 2018 Mar;131(3):e91-103. DOI: 10.1097/AOG.0000000000002560.
Karaer A, Avsar FA, Batioglu S. Risk factors for ectopic pregnancy: a case-control study. Aust N Z J Obstet Gynaecol. 2006 Dec;46:521-7. DOI: 10.1111/j.1479-828X.2006.00653.x
Selçuk S. Ruptured heterotopic pregnancy: Case report. J Surg Med. 2017;1(1):15-7. DOI: 10.28982/josam.337573
Gomel V. Gomelin, jinekolojisi, Attar E, Ata B, eds. Ektopik Gebelik. İstanbul: Nobel Tıp Kitabevi; 2007. p:417-424.
Nwanodi O, Khulpateea N. The preoperative diagnosis of primary ovarian pregnancy. J Natl Med Assoc. 2006 May;98:796-8.
Kaplan BC, Dart RG, Moskos M, Kuligowska E, Chun B, Adel Hamid M, et al. Ectopic pregnancy: prospective study with improved diagnostic accuracy. Ann Emerg Med. 1996 Jul;28:10-7. DOI: 10.1016/s0196-0644(96)70131-2.
Baltarowich OH, Scoutt LM. Ectopic pregnancy. In: Norton ME, Scoutt LM, Feldstein VA, editors. Callen's ultrasonography in obstetrics and gynecology. 6th ed. Philadelphia (PA): Elsevier; 2016. p: 966–1000.
Zhu Q, Li C, Zhao WH, Yuan JJ, Yan MX, Qin GJ, et al. Risk factors and clinical features of ovarian pregnancy: A case-control study. BMJ Open. 2014 Oct;4(12):e006447. DOI:10.1136/bmjopen-2014-006447.
Svalingam NS, Duncan WC, Kirk E, Shepard LA, Home AW. Diagnosis and management of ectopic pregnancy. J Fam Plann Reprod Health Care. 2011 Oct;37(4):231-40. DOI: 10.1136/jfprhc-2011-0073.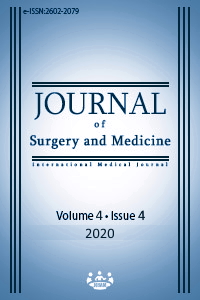 How to Cite
1.
Yılmaz ME, Kızıltaş C, Yeniocak S, Özer V, Gündüz A. A rare cause of surgical abdomen: Heterotopic pregnancy rupture. J Surg Med [Internet]. 2020 Apr. 1 [cited 2023 Dec. 11];4(4):318-20. Available from: https://jsurgmed.com/article/view/702768
License
Copyright (c) 2020 Mehmet Erdi Yılmaz, Cansu Kızıltaş, Selman Yeniocak, Vildan Özer, Abdulkadir Gündüz
This work is licensed under a Creative Commons Attribution-NonCommercial-NoDerivatives 4.0 International License.
#6616