Spigelian hernia after laparoscopic hysterectomy: Case report
Keywords:
Hysterectomy, Ileus, Spigelian hernia
Abstract
A Spigelian hernia, which may be congenital or acquired, is a rarely seen (0.12–2%) defect of the anterior wall of the abdomen, often causing pain or swelling. Surgical treatment is recommended because of complications such as ileus and strangulation. In this presentation, a case of Spigelian hernia in a 57-year-oldwomen who presented with abdominal pain and ileus and was diagnosed using a computerized tomography scan in the trocar entry is discussed in light of the literature.

Downloads
Download data is not yet available.
References
Nagarsheth KH, Nickloes T, Mancini G, Solla JA. Laparoscopic repair of incidentally found Spigelian hernia. JSLS. 2011;15(1):81-5. doi: 10.4293/108680811X13022985131372.
Weiss J. Lernan OZ, Nilson S. Spigelian hernia. Ann Surg. 1974;180:836-9.
Mittal T, Kumar V, Khullar R, Sharma A, Soni V, Baijal M, et al. Diagnosis and Management of Spigelian hernia: A review of literature and our experience. J Min Access Surg. 2008;4:95-98.
Carter JE, Mizes C. Laparoscopic diagnosis and repair of Spigelian hernia: report of case and technique. Am J Obstet Gynecol. 1992;167:77-8.
Chowbey PK, Sharma A, Khullar R, Baijal M, Vashistha A. Laparoscopic ventral hernia repair. J Laparoendoscopy Adv Surg Tech. 2000;10:79-84.
Klinkosch JT. Programma Quo Divisionem Herniarum, Novumque Herniae Ventralis Specium Proponit. Rotterdam: Benam; 1764.
Spangen L. Spigelian hernia. World J Surg. 1989;13(5):573-80.
Opson RO, Davis WC. Spigelian hernia: Rare or obscure? Am J Surg. 1968;116:842-6.
Moreno-Egea A, Carrrasco L, Girela E, Martin JG, Aguayo JL, Canteras M. Open vs. laparoscopic repair of spigelian hernia: A prospective randomized trial. Arch Surg. 2002;137:1266-8.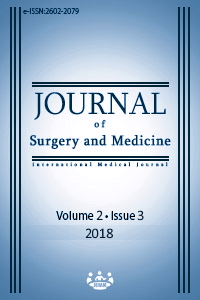 How to Cite
1.
Ozturk İnal Z, Inal HA, Alkan E. Spigelian hernia after laparoscopic hysterectomy: Case report. J Surg Med [Internet]. 2018 Sep. 1 [cited 2023 Dec. 2];2(3):401-2. Available from: https://jsurgmed.com/article/view/444053
License
Copyright (c) 2018 Zeynep Ozturk İnal, Hasan Ali Inal, Ender Alkan
This work is licensed under a Creative Commons Attribution-NonCommercial-NoDerivatives 4.0 International License.
#6278