Papillary thyroid cancer in a child with hemophilia A
Thyroid cancer in a child with hemophilia A
Keywords:
Hemophilia A, Child, Papillary thyroid cancer
Abstract
Hemophilia A is a hereditary hemorrhagic disorder associated with bleeding episodes and characterized by deficiency or dysfunction of coagulation protein factor VIII. Cancer incidence was found to increase in hemophilic patients. A case of a 6-year-old boy with papillary thyroid cancer and hemophilia who underwent a successful total thyroidectomy and bilateral modified radical lymph node dissection with appropriate peri-operative management consisting of Factor VIII replacement is presented.
Downloads
Download data is not yet available.
References
Biron-Andreani C, de Moerloose P, D'oiron R, Chambost H, Schved JF, Hermans C. Cancer detection and management in patients with haemophilia: a retrospective E uropean multicentre study. Haemophilia. 2014;20(1):78-82. DOI: https://doi.org/10.1111/hae.12250
Liu CJ, Yu YB, Teng CJ, Hung YP, Hu YW, Hong YC, et al. Increased cancer risk in patients with haemophilia A: a nationwide population-based 14-year study in Taiwan. Haemophilia. 2014;20(6):741-6. DOI: https://doi.org/10.1111/hae.12450
Astermark J, Makris M, Mauser-Bunschoten E, Nemes L, D'oiron R, Oldenburg J, et al. Malignant disease in the haemophilic population: moving towards a management consensus? Haemophilia. 2012;18(5):664-71. DOI: https://doi.org/10.1111/j.1365-2516.2012.02846.x
Yamashita S, Takamura N, Ohtsuru A, Suzuki S. Radiation exposure and thyroid cancer risk after the Fukushima Nuclear Power Plant Accident in comparison with the Chernobyl Accident. Radiation Protection Dosimetry. 2016;171(1):41-6. DOI: https://doi.org/10.1093/rpd/ncw189
Landskron G, De la Fuente M, Thuwajit P, Thuwajit C, Hermoso MA. Chronic inflammation and cytokines in the tumor microenvironment. Journal of Immunology Research. 2014;2014. DOI: https://doi.org/10.1155/2014/149185
Sodickson A, Baeyens PF, Andriole KP, Prevedello LM, Nawfel RD, Hanson R, et al. Recurrent CT, cumulative radiation exposure, and associated radiation-induced cancer risks from CT of adults. Radiology. 2009;251(1):175-84. DOI: https://doi.org/10.1148/radiol.2511081296
Shetty S, Sharma N, Ghosh K. Epidemiology of hepatocellular carcinoma (HCC) in hemophilia. Critical Reviews in Oncology/Hematology. 2016;99:129-33. DOI: https://doi.org/10.1016/j.critrevonc.2015.12.009
Astermark J, Ekman M, Berntorp E. No effect of a new second‐generation B‐domain-deleted recombinant product on lymphocyte transformation in vitro: a study of plasma-derived and recombinant products. British Journal of Haematology. 1997;99(2):289-94. DOI: https://doi.org/10.1046/j.1365-2141.1997.4153222.x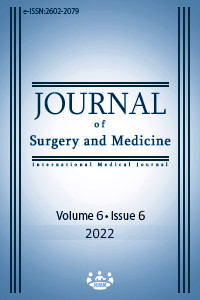 How to Cite
1.
İnce B, Leblebisatan G, İlgen Şaşmaz H, Barutçu A, Uğuz A, Güney İsa B. Papillary thyroid cancer in a child with hemophilia A : Thyroid cancer in a child with hemophilia A. J Surg Med [Internet]. 2022 Jun. 30 [cited 2023 Mar. 24];6(6):640-2. Available from: https://jsurgmed.com/article/view/999565
License
Copyright (c) 2022 Banu İnce, Göksel Leblebisatan, Hatice İlgen Şaşmaz, Adnan Barutçu, Aysun Uğuz, İsa Burak Güney
This work is licensed under a Creative Commons Attribution-NonCommercial-NoDerivatives 4.0 International License.
#7268