A case of insulinoma confused with dumping syndrome after total gastrectomy
Keywords:
Dumping syndrome, Gastrectomy, Hypoglycemia, Insulinoma
Abstract
We present the case of a 70-year-old female patient with persistent hypoglycemia after total gastrectomy due to gastrointestinal stromal tumors. She was thought to have late dumping syndrome but was diagnosed with insulinoma after further examination. Dumping syndrome is mainly seen after stomach or esophageal surgery. It is divided into early dumping and late dumping syndrome. Late dumping syndrome is initially manifested by an exaggerated insulin response and reactive hypoglycemia after glucagon-like peptide-1 release. Diagnosis is based on clinical findings. Treatment mainly consists of reducing carbohydrate intake and not ingesting solid and liquid foods together. In cases where diet alone is not sufficient, acarbose, an α-glucosidase inhibitor that slows the digestion of carbohydrates, may be beneficial for late dumping. Octreotide can be used in resistant cases. However, the diagnosis of insulinoma, which leads to a similar clinical presentation in resistant dumping cases, should be kept in mind. Our patient who showed clinical signs of dumping syndrome after gastrectomy, and treatment-resistant hypoglycemia was diagnosed with insulinoma on the basis of further investigations. The patient's symptoms resolved after surgery for insulinoma.
Downloads
Download data is not yet available.
References
Miettinen M, Lasota J. Gastrointestinal stromal tumors--definition, clinical, histological, immunohistochemical, and molecular genetic features and differential diagnosis. Virchows Arch. 2001;438(1):1-12.
Sanchez-Hidalgo JM, Duran-Martinez M, Molero-Payan R, Rufian-Peña S, Arjona-Sanchez A, Casado-Adam A, et al. Gastrointestinal stromal tumors: A multidisciplinary challenge. World J Gastroenterol. 2018;24(18):1925-41.
Ukleja A. Dumping syndrome: pathophysiology and treatment. Nutr Clin Pract. 2005;20(5):517-25.
Zhuo F, Anastasopoulou C. Insulinoma. StatPearls [Internet]. 2020.
Deitel M. The Change in the Dumping Syndrome Concept. Obesity Surgery. 2008;18(12):1622-4.
Eisenberg D, Azagury DE, Ghiassi S, Grover BT, Kim JJ. ASMBS Position Statement on Postprandial Hyperinsulinemic Hypoglycemia after Bariatric Surgery. Surg Obes Relat Dis. 2017;13(3):371-8.
Minn AH, Kayton M, Lorang D, Hoffmann SC, Harlan DM, Libutti SK, et al. Insulinomas and expression of an insulin splice variant. Lancet. 2004;363(9406):363-7.
Service FJ, McMahon MM, O'Brien PC, Ballard DJ. Functioning insulinoma--incidence, recurrence, and long-term survival of patients: a 60-year study. Mayo Clin Proc. 1991;66(7):711-9.
von Mehren M, Joensuu H. Gastrointestinal Stromal Tumors. J Clin Oncol. 2018;36(2):136-43.
Ritz P, Hanaire H. Post-bypass hypoglycaemia: a review of current findings. Diabetes & metabolism. 2011;37(4):274-81.
Rumilla KM, Erickson LA, Service FJ, Vella A, Thompson GB, Grant CS, et al. Hyperinsulinemic hypoglycemia with nesidioblastosis: histologic features and growth factor expression. Modern Pathology. 2009;22(2):239-45.
Alabraba E, Bramhall S, O'sullivan B, Mahon B, Taniere P. Pancreatic insulinoma co-existing with gastric GIST in the absence of neurofibromatosis-1. World Journal of Surgical Oncology. 2009;7(1):1-5.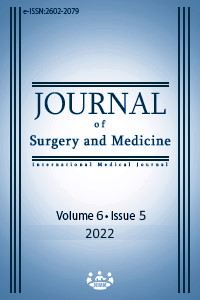 How to Cite
1.
Bilen A, Mercantepe F, Bilen H, Capoglu I. A case of insulinoma confused with dumping syndrome after total gastrectomy. J Surg Med [Internet]. 2022 May 1 [cited 2022 Oct. 4];6(5):594-6. Available from: https://jsurgmed.com/article/view/993536
License
Copyright (c) 2022 Arzu Bilen, Filiz Mercantepe, Habib Bilen, Ilyas Capoglu
This work is licensed under a Creative Commons Attribution-NonCommercial-NoDerivatives 4.0 International License.
#7244