The effects of combined hydroxychloroquine and azithromycin therapy on QRS wave in COVID-19 patients
Keywords:
Arrhythmia, Azithromycin, COVID-19, Electrocardiography, Hydroxychloroquine
Abstract
Background/Aim: Hydroxychloroquine and azithromycin are frequently used for the treatment of coronavirus disease 2019 (COVID-19). The use of these medications increases the risk of adverse cardiovascular events. The aim of our study was to investigate the effects of these drugs on the arrhythmogenic electrocardiographic (ECG) markers, QRS duration, and QRS dispersion, and also to evaluate gender differences with respect to these effects. Methods: Between March and June 2020, 107 (54 males, 53 females) patients admitted to our hospital's isolation ward with COVID-19 diagnosis with no history, risk factors, or clinical findings of cardiovascular diseases were included in this prospective cohort study. All participants had a mild illness, and none of them required intensive care unit admission. ECGs of the patients were recorded before starting treatment with combined hydroxychloroquine and azithromycin, and a second ECG was recorded on the next morning following the last dose of the treatment. All ECGs were evaluated by two blinded cardiologists in terms of QRS duration and dispersion. Results: Among study participants, QRS duration was significantly prolonged after treatment with hydroxychloroquine and azithromycin (81.14 (9.11) versus 85.5 (10.48) ms [P < 0.01]), and the same pattern was observed with QRS dispersion (36.67 (9.54) versus 40.18 (9.35) ms [P < 0.01]). When gender differences were evaluated, male patients also showed significant changes in both QRS duration (82.65 (8.04) versus 87.31 (10.7) ms [P < 0.01]), and dispersion (36.93 (8.61) versus 41.31 (9.63) ms [P < 0.01]), while in females the difference was statistically insignificant for both QRS duration (79.06 (10.18) versus 82.8 (9.79) ms [P = 0.056]), and dispersion (36.31 (10.83) versus 38.62 (8.86) ms [P = 0.23]). Conclusions: The combined use of hydroxychloroquine and azithromycin led to an increase in both QRS duration and dispersion in all patients. These changes were more significant in males than in female patients. No clinical effects of these ECG changes were observed in the short-term, and further studies are needed to investigate the possible clinical implications of these drugs during longer follow-up periods.
Downloads
Download data is not yet available.
References
Zhu N, Zhang D, Wang W, Li X, Yang B, Song J, et al. China Novel Coronavirus Investigating and Research Team. A Novel Coronavirus from Patients with Pneumonia in China, 2019. N Engl J Med. 2020 Feb 20;382(8):727-33.
World Health Organization. COVID-19 Situation Report 51. Geneva, Switzerland 2020: (https://www.who.int/docs/default-source/coronaviruse/situation-reports/20200311-sitrep-51-covid-19.pdf?sfvrsn=1ba62e57_10 dated 11/03/2020)
Gautret P, Lagier JC, Parola P, Hoang VT, Meddeb L, Mailhe M, et al. Hydroxychloroquine and azithromycin as a treatment of COVID-19: results of an open-label non-randomized clinical trial. Int J Antimicrob Agents. 2020 Jul;56(1):105949.
Aggarwal G, Henry BM, Aggarwal S, Bangalore S. Cardiovascular Safety of Potential Drugs for the Treatment of Coronavirus Disease 2019. Am J Cardiol. 2020 Aug 1;128:147-50.
Sarganas G, Garbe E, Klimpel A, Hering RC, Bronder E, Haverkamp W. Epidemiology of symptomatic drug-induced long QT syndrome and Torsade de Pointes in Germany. Europace. 2014 Jan;16(1):101-8.
Chen CY, Wang FL, Lin CC. Chronic hydroxychloroquine use associated with QT prolongation and refractory ventricular arrhythmia. Clin Toxicol (Phila). 2006;44(2):173-5.
Huang BH, Wu CH, Hsia CP, Yin Chen C. Azithromycin-induced torsade de pointes. Pacing Clin Electrophysiol. 2007 Dec;30(12):1579-82.
Lee JY, Vinayagamoorthy N, Han K, Kwok SK, Ju JH, Park KS, et al. Association of Polymorphisms of Cytochrome P450 2D6 With Blood Hydroxychloroquine Levels in Patients with Systemic Lupus Erythematosus. Arthritis Rheumatol. 2016 Jan;68(1):184-90. doi: 10.1002/art.39402. PMID: 26316040.
Fleet JL, Shariff SZ, Bailey DG, Gandhi S, Juurlink DN, Nash DM, et al. Comparing two types of macrolide antibiotics for the purpose of assessing population-based drug interactions. BMJ Open. 2013 Jul 11;3(7):e002857.
Chávez-González E, Rodríguez Jiménez AE, Moreno-Martínez FL. QRS duration and dispersion for predicting ventricular arrhythmias in early stage of acute myocardial infraction. Med Intensiva. 2017 Aug-Sep;41(6):347-55.
Jain R, Gautam S, Wu C, Shen C, Jain A, Giesdal O, et al. Prognostic implications of QRS dispersion for major adverse cardiovascular events in asymptomatic women and men: the Multi-Ethnic Study of Atherosclerosis. J Interv Card Electrophysiol. 2019 Oct;56(1):45-53.
Gunay S, Caliskan S, Sigirli D, Sahin E. Ventricular repolarization indexes in patients treated with hydroxychloroquine - azithromycin combination for COVID-19. Bratisl Lek Listy. 2020;121(11):817-21.
Roden DM, Tamkun MM. Toward a molecular view of cardiac arrhythmogenesis. Trends Cardiovasc Med. 1994 Nov-Dec;4(6):278-85.
Levy MN, Wiseman MN. Electrophysiologic mechanisms for ventricular arrhythmias in left ventricular dysfunction: electrolytes, catecholamines and drugs. J Clin Pharmacol. 1991 Nov;31(11):1053-60.
Kass, Robert E., and Colleen E. Clancy, eds. Basis and treatment of cardiac arrhythmias. Vol. 171. Springer Science & Business Media, 2005 (pp 73-97).
White NJ. Cardiotoxicity of antimalarial drugs. Lancet Infect Dis. 2007 Aug;7(8):549-58.
Sofola OA. The effects of chloroquine on the electrocardiogram and heart rate in anaesthetized dogs. Clin Physiol. 1983 Feb;3(1):75-82.
Atli O, Ilgin S, Altuntas H, Burukoglu D. Evaluation of azithromycin induced cardiotoxicity in rats. Int J Clin Exp Med. 2015 Mar 15;8(3):3681-90.
Iuliano S, Fisher SG, Karasik PE, Fletcher RD, Singh SN; Department of Veterans Affairs Survival Trial of Antiarrhythmic Therapy in Congestive Heart Failure. QRS duration and mortality in patients with congestive heart failure. Am Heart J. 2002 Jun;143(6):1085-91.
Shamim W, Francis DP, Yousufuddin M, Varney S, Pieopli MF, Anker SD, et al. Intraventricular conduction delay: a prognostic marker in chronic heart failure. Int J Cardiol. 1999 Jul 31;70(2):171-8.
Zareba W, Moss AJ, le Cessie S. Dispersion of ventricular repolarization and arrhythmic cardiac death in coronary artery disease. Am J Cardiol. 1994 Sep 15;74(6):550-3.
Tse G, Yan BP. Traditional and novel electrocardiographic conduction and repolarization markers of sudden cardiac death. Europace. 2017 May 1;19(5):712-721.
Durrer D, van Dam RT, Freud GE, Janse MJ, Meijler FL, Arzbaecher RC. Total excitation of the isolated human heart. Circulation. 1970 Jun;41(6):899-912.
Kountouris E, Korantzopoulos P, Karanikis P, Pappa E, Dimitroula V, Ntatsis A, eta al. QRS dispersion: an electrocardiographic index of systolic left ventricular dysfunction in patients with left bundle branch block. Int J Cardiol. 2004 Nov;97(2):321-2.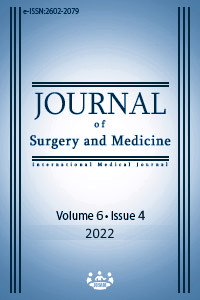 How to Cite
1.
Koçak A, Coşgun A, Karamanlıoğlu D, Türkkanı MH. The effects of combined hydroxychloroquine and azithromycin therapy on QRS wave in COVID-19 patients. J Surg Med [Internet]. 2022 Apr. 1 [cited 2023 Mar. 31];6(4):483-7. Available from: https://jsurgmed.com/article/view/985876
License
Copyright (c) 2022 Ajar Koçak, Ayhan Coşgun, Dilek Karamanlıoğlu, Mustafa Hamidullah Türkkanı
This work is licensed under a Creative Commons Attribution-NonCommercial-NoDerivatives 4.0 International License.
#7214