Two-year outcomes in patients undergoing rotational atherectomy and drug coated balloon therapy for chronic total occluded peripheral arterial diseases: A retrospective cohort study
Keywords:
Rotational Atherectomy, Balloon Angioplasty, Peripheral arterial Diseases
Abstract
Background/Aim: Atherectomy is a minimally invasive endovascular surgery technique for removing atherosclerotic plaques in stenosed arteries. It seems to increase the success of angioplasty in the treatment of peripheral artery disease. We aimed to evaluate the outcomes of patients who underwent rotational atherectomy and drug-coated balloon therapy. Methods: In this retrospective cohort study, thirty-four patients who underwent rotational atherectomy and drug-coated balloon angioplasty between August 2016 and January 2019 were evaluated. The Rotablator System (Boston Scientific Corporation; Scimed, Plymouth, MN, USA) was used in all cases. Drug-coated balloons were used in the femoropopliteal section in all patients. Results: The mean age of patients was 65.55 (8.36) years. Seventeen had diabetes mellitus, for which 12 were using oral antidiabetic drugs and 5 were using insulin. At the 3rd postprocedural month, 94.1% of patients (n=32) had no clinical symptoms (P<0.01), two patients needed additional procedures such as balloon angioplasty and stenting due to decreased blood flow and severe stenosis of the superficial femoral artery. At the 1-year follow-up, while 2 patients needed surgery, one needed stenting to the superficial femoral artery. Within 2 years, 27 patients (79.4%) were clinically stable without any symptoms and 2 patients had undergone surgery. Conclusion: Atherectomy devices have become a major tool in the management of peripheral vascular disease. Opening the natural lumen of the arteries gives the patient more time before open vascular surgery.
Downloads
Download data is not yet available.
References
Cheanvechai V, Harthun NL, Graham LM, Julie A. Freischlag, Gahtan V. Incidence of peripheral vascular disease in women: is it different from that in men? J Thoracic and Cardiovasc Surg. 2004;127:314-7.
Yiğit G, Sarıcaoğlu MC, Çetinkaya F, Özen A, İşcan H.Z. Endovascular treatment of chronic total occlusion of iliac/femoral arteries: Mid-term follow-up. Turkish Journal of Vascular Surgery. 2020;29:7-12.
Singh T, Koul D, Szpunar S, et al. Tissue removal by ultrasound evaluation (the TRUE study): the Jetstream G2 system post-market peripheral vascular IVUS study. J Invasive Cardiol. 2011;23:269-73.
Robert S. Dieter, Raymond A. Dieter. Endovascular Interventions: A Case-Based Approach. Springer Science and Business Media Newyork. Kindle Edition. 2014;762-5.
Stavroulakis K, Bisdas T, Torsello G, Stachmann A2, Schwindt A. Combined Directional Atherectomy and Drug-Eluting Balloon Angioplasty for Isolated Popliteal Artery Lesions in Patients with Peripheral Artery Disease. J Endovasc. Ther. 2015;22:847-52.
Periferik Arter ve Ven Hastalıkları - Ulusal Tedavi Kılavuzu 2021;60-2.
Ahn SS, Concepcion BS. Current status of atherectomy for peripheral arterial occlusive disease. World J Surg. 1996;20:635–43.
Spencer B, Yeung AC. Rotational Atherectomy: Concepts and Practice. In: Interventional Cardiology. New York: McGraw-Hill; 2007;333–47.
Akkus NI, Abdulbaki A, Jimenez E, Tandon N. Atherectomy devices: technology update. Medical Devices: Evidence and Research. 2015;8:1–10.
Franzone A, Ferrone M, Carotenuto G, Carbone A, Scudiero L, Serino F, Scudiero F, Izzo R, Piccolo R, Saviano S, Amato B, Perrino C, Trimarco B, Esposito G. The role of atherectomy in the treatment of lower extremity peripheral artery disease. BMC Surg. 2012;12 Suppl 1(Suppl 1):S13. doi: 10.1186/1471-2482-12-S1-S13.
Maehara A, Mintz GS, Shimshak TM, et al. Intravascular ultrasound evaluation of JETSTREAM atherectomy removal of superficial calcium in peripheral arteries. Euro Intervention. 2015;11:96-103.
Bhat TM, Afari ME, Garcia LA. Atherectomy in Peripheral Artery Disease: A Review. J Invasive Cardiol. 2017 Apr;29(4):135-44.
Temizkan V, Uçak A, Alp İ, et al. Our experiences on endovascular and hybrid treatment of peripheral arterial diseases. Turk Gogus Kalp Damar Cerrahisi Derg. 2018;26:237-45. doi: 10.5606/tgkdc.dergisi.2018.13411
Quevedo HC, Arain SA, Ali G, Rafeh NA. A critical view of the peripheral atherectomy data in the treatment of infrainguinal arterial disease. J Invasive Cardiol. 2014;26:22-9.
Sussman M, Mallick R, Friedman M, et al. Failure of surgical and endovascular infrainguinal and iliac procedures in the management of peripheral arterial disease using data from electronic medical records. J Vasc Interv Radiol. 2013;24:378-91.
Katsanos K, Spiliopoulos S, Reppas L, et al. Debulking atherectomy in the peripheral arteries: is there a role and what is the evidence. Cardiovasc Intervent. Radiol 2017;40:964–77.
Thijssen DH, Carter SE, Green DJ. Arterial structure and function in vascular ageing: are you as old as your arteries? J Physiol. 2016;594:2275-84.
Brountzos EN, Kelekis DA. Iliac artery angioplasty: technique and results. Acta Chir Belg. 2004 Oct;104;5:532-9.
Rodoplu O, Oztas DM, Meric M, Beyaz MO, Ulukan MO, Yildiz CE, et.al. Efficacy of Rotational Atherectomy Followed by Drug-coated Balloon Angioplasty for the Treatment of Femoropopliteal Lesions-Comparison with Sole Drug-coated Balloon Revascularization: Two-year Outcomes. Ann Vasc Surg. 2021 May;73:222-33. doi: 10.1016/j.avsg.2020.10.051.
Kehlet M, Jensen LP, Schroeder TV. Risk Factors for Complications after Peripheral Vascular Surgery in 3,202 Patient Procedures. Ann Vasc Surg. 2016;36:13-21.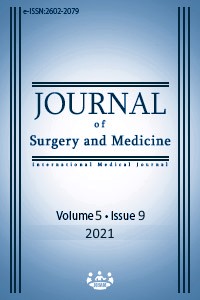 How to Cite
1.
Ulukan M Özer, Karakaya A, Uğurlucan M, Erkanlı K. Two-year outcomes in patients undergoing rotational atherectomy and drug coated balloon therapy for chronic total occluded peripheral arterial diseases: A retrospective cohort study. J Surg Med [Internet]. 2021 Sep. 1 [cited 2023 Jun. 7];5(9):960-3. Available from: https://jsurgmed.com/article/view/980212
License
Copyright (c) 2021 Mustafa Özer Ulukan, Atalay Karakaya, Murat Uğurlucan, Korhan Erkanlı
This work is licensed under a Creative Commons Attribution-NonCommercial-NoDerivatives 4.0 International License.
#7026