Laparoscopic cholecystectomy - A safe and feasible procedure in patients with mild-moderate acute cholecystitis: A single center, prospective, observational study
Keywords:
Acute cholecystitis, Cholelithiasis, Feasibility, Laparoscopic cholecystectomy, Safety
Abstract
Background/Aim: Laparoscopic cholecystectomy (LC) is the gold standard modality for treating the gallstone disease. However, it is associated with perioperative complications. Moreover, some of the patients with acute cholecystitis (AC) require conversion to open cholecystectomy (OC). Thus, the aim of this study is to assess the safety and feasibility of LC in patients with AC. Methods: This was a single center, prospective, observational study performed, over a period of 18 months (March 2019 to August 2020), in Department of General Surgery of a tertiary care center located in Central India. 96 patients fulfilling Tokyo guidelines (2018 diagnostic criteria for AC) were included. The feasibility was assessed in terms of conversion to OC, while safety was assessed in terms of postoperative complications in the first 30 days. Results: During LC, none of the patients required conversion to OC due to difficulty in dissection or anatomy. On postoperative day 1, the mean VAS score for pain was 2.1 (0.56), meaning of low pain. Mean length of hospital stay was 2.34 (0.61) days, thereby inferring shorter hospital stay. Mortality was not observed. During the follow-up period, 2 patients developed epigastric port-site infection, while other 2 reported port-site bleeding. Moreover, 2 patients had intra-abdominal collection. All the complications were managed conservatively. Conclusion: The study confirms that LC is feasible and safe in patients with AC, among the age group studied. LC can be a method of choice for AC due to decreased conversion rate, short hospital stays, reduced morbidity, and swift transition to routine.
Downloads
Download data is not yet available.
References
Mou D, Tesfasilassie T, Hirji S, Ashley SW. Advances in the management of acute cholecystitis. Ann Gastroenterol Surg. 2019;3(3):247-53.
Saber SA, Elshoura AA, Abd-Raboh OH. Laparoscopic Cholecystectomy of Gangrenous Cholecystitis Safety and Feasibility. Advances in Surgical Sciences. 2018;6(1):16-9.
Kimura Y, Takada T, Kawarada Y, Nimura Y, Hirata K, Sekimoto M, et al. Definitions, pathophysiology, and epidemiology of acute cholangitis and cholecystitis: Tokyo Guidelines. J Hepatobiliary Pancreat Surg. 2007;14(1):15-26.
Poddar U. Gallstone disease in children. Indian Pediatr. 2010;47(11):945-53.
Rajabi Mashhadi MT, Abdollahi A, Tavassoli A, Forghani MN, Shabahang H, Keykhosravi E, et al. Laparoscopic cholecystectomy: A retrospective four-year study. Annals of Bariatric Surgery. 2015;4(2):100-10.
Graves Jr HA, Ballinger JF, Anderson WJ. Appraisal of laparoscopic cholecystectomy. Ann Surg. 1991;213(6):655.
Sharma A, Hayden JD, Reese RA, Sedman PC, Royston CMS, O'Boyle CJ. Prospective comparison of ambulatory with inpatient laparoscopic cholecystectomy: outcome, patient preference and satisfaction. Ambul Surg. 2004;11(1-2):23-6.
Comitalo JB. Laparoscopic cholecystectomy and newer techniques of gallbladder removal. JSLS. 2012;16(3):406-12.
Rothman JP, Burcharth J, Pommergaard HC, Viereck S, Rosenberg J. Preoperative Risk Factors for Conversion of Laparoscopic Cholecystectomy to Open Surgery – A Systematic Review and Meta-Analysis of Observational Studies. Dig Surg. 2016;33(5):414-23.
Yamashita Y, Takada T, Kawarada Y, Nimura Y, Hirota M, Miura F, et al. Surgical treatment of patients with acute cholecystitis: Tokyo Guidelines. J Hepatobiliary Pancreat Surg. 2007;14(1):91-7.
Yokoe M, Hata J, Takada T, Strasberg SM, Asbun HJ, Wakabayashi G, et al. Tokyo Guidelines 2018: diagnostic criteria and severity grading of acute cholecystitis (with videos). J Hepatobiliary Pancreat Sci. 2018;25(1):41-54.
Wilson RJ, Macintyre IM, Nixon SJ, Saunders JH, Varma JS, King PM. Laparoscopic cholecystectomy as a safe and effective treatment for severe acute cholecystitis. BMJ. 1992;305(6850):394-6.
Sippey M, Grzybowski M, Manwaring ML, Kasten KR, Chapman WH, Pofahl WE, et al. Acute cholecystitis: risk factors for conversion to an open procedure. J Surg Res. 2015;199(2):357-61.
Terho PM, Leppäniemi AK, Mentula PJ. Laparoscopic cholecystectomy for acute calculous cholecystitis: a retrospective study assessing risk factors for conversion and complications. World J Emerg Surg. 2016;11:54-6.
Greenwald JA, McMullen HF, Coppa GF, Newman RM. Standardization of surgeon controlled variables: Impact on outcome in patients with acute cholecystitis. Ann Surg. 2000;231(3):339-44.
Singh K, Ohri A. Difficult laparoscopic cholecystectomy: A large series from north India. Indian J Surg. 2006;68:205-8.
Mestral C, Rotstein OD, Laupacis A, Hoch JS, Zagorski B, Nathens AB. A population-based analysis of the clinical course of 10,304 patients with acute cholecystitis, discharged without cholecystectomy. J Trauma Acute Care Surg. 2013;74(1):26-31.
Papi C, Catarci M, D'ambrosio L, Gili L, Koch M, Grassi GB, Capurso L. Timing of cholecystectomy for acute calculous cholecystitis: A meta-analysis. Am J Gastroeterol. 2004;99(1):147-55.
Lohiya ML, Kumar A. A Clinico-Pathological Comparative study in patients undergoing Open Vs Laparoscopic Cholecystectomy. Ann Int Med Den Res. 2017;3(6):SG15-18.
Alberto V, Kelleher D, Nutt M. Post Laparoscopic Cholecystectomy Ascites: An Unusual Complication. Internet J. Surgery. 2006;10(2):108-12.
Chau CH, Tang CN, Siu WT, Ha JP, Li MK. Laparoscopic cholecystectomy versus open cholecystectomy in elderly patients with acute cholecystitis: retrospective study. Hong Kong Med J. 2002;8(6):394-9.
Karim T, Kadyal A. A comparative study of laparoscopic vs. open cholecystectomy in a suburban teaching hospital. J Gastrointest Dig Syst. 2015;5:371.
Jeong IO, Kim JY, Choe YM, Choi SK, Heo YS, Lee KY, et al. Efficacy and feasibility of laparoscopic subtotal cholecystectomy for acute cholecystitis. Korean J Hepatobiliary Pancreat Surg. 2011;15(4):225.
Haribhakti SP, Mistry JH. Techniques of laparoscopic cholecystectomy: Nomenclature and selection. J Minim Access Surg. 2015;11(2):113-8.
Johansson M, Thune A, Nelvin L, Stiernstam M, Westman B, Lundell L. Randomized clinical trial of open versus laparoscopic cholecystectomy in the treatment of acute cholecystitis. Br J Surg. 2005;92(1):44-9.
Pessaux P, Regenet N, Tuech JJ, Rouge C, Bergamaschi R, Arnaud JP. Laparoscopic versus open cholecystectomy: a prospective comparative study in the elderly with acute cholecystitis. Surg Laparosc Endosc Percutan Tech. 2001;11(4):252-5.
Haziraka A, Chandana MS, Sehgal K. Biochemical Analysis of Gallstones in Patients with Calculus Cholecystitis. NIJS. 2017;8(3):321-5.
Enes H, Semir I, Sefik H, Husnija M, Goran I. Postoperative pain in open vs. laparoscopic cholecystectomy with and without local application of anaesthetic. Med. Glas. 2011;8(2):243-8.
Kum CK, Wong CW, Goh PM, Ti TK. Comparative study of pain level and analgesic requirement after laparoscopic and open cholecystectomy. Surg Laparosc Endosc. 1994;4(2):139-41.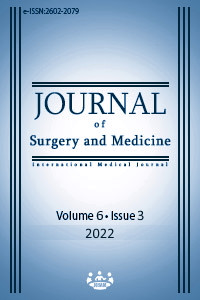 How to Cite
1.
Ranjan S, Mehta A, Tamaskar S, Dave S, Naqvi J, Sharma V. Laparoscopic cholecystectomy - A safe and feasible procedure in patients with mild-moderate acute cholecystitis: A single center, prospective, observational study. J Surg Med [Internet]. 2022 Mar. 1 [cited 2023 Jun. 6];6(3):317-21. Available from: https://jsurgmed.com/article/view/978789
License
Copyright (c) 2022 Saurabh Ranjan, Alish Mehta, Siddharth Tamaskar, Sandeep Dave, Jawwad Naqvi, Vikram Sharma
This work is licensed under a Creative Commons Attribution-NonCommercial-NoDerivatives 4.0 International License.
#7189