This is a article is published in the forthcoming issue.
Fibrocartilaginous dysplasia (fibrous dysplasia and massive cartilaginous differentiation): Case report and literature review
Fibrocartilaginous dysplasia
Keywords:
Fibrocartilaginous dysplasia, Fibrous dysplasia and massive fibrocartilaginous differentiation, Fibrous dysplasia, Fibrochondroplasia, Enchondral ossification, Chondrosarcoma
Abstract
Fibrocartilaginous dysplasia (fibrous dysplasia and massive cartilaginous differentiation or fibrochondroplasia, FCD) is a rare variant of fibrous dysplasia and a term used for cases of fibrous dysplasia with prominent cartilage tissue. A limited number of FCD cases have been reported in the literature, which can be seen in both clinical forms.
A 16-year-old male patient, who had been followed for ten years with a diagnosis of polyostotic fibrous dysplasia in the left hip and cranium, presented with pain in the left leg after a fall. A subtrochanteric pathological fracture in the left femur was detected on exam, the lesion area was curetted, and osteotomy and fixation were applied. Microscopic assessment revealed a fibro-osseous lesion of benign spindle cell fibrous connective tissue with woven bone trabeculae, without osteoblastic rim or large areas of benign cartilage nodules. The final diagnosis was fibrocartilaginous dysplasia. In our literature review, 26 cases of FCD were reported so far. Age distribution of patients ranged from 4 to 53 years (mean 15.9) and the male / female ratio was 15/11 = 1.36. Eighteen cases were monostotic, and 8 were polyostotic. In cases with noted clinical and follow-up data, symptom duration ranged from 8 weeks to 18 years (mean 62.2 months), with no recurrence or malignant transformation in a mean follow-up of 21.71 (2-60) months post-treatment. In the cartilage component, there was increased cellularity, some nuclear atypia, binucleation, and myxoid degeneration. This situation simulates benign and malignant entities such as enchondroma, fibrocartilaginous mesenchymoma, well-differentiated intramedullary osteosarcoma, and chondrosarcoma with a differential diagnosis. FCD is a benign and very rare lesion with a prominent chondroid component, but may cause difficulty with differential diagnosis. Awareness of the histopathological and radiological features of FCD cases, their age range, and involvement areas provides an approach to distinguish them from lesions that may be confusing in a differential diagnosis.
Downloads
Download data is not yet available.
References
Czerniak B. Dorfman and Czerniak's Bone Tumors: Elsevier; 2016. 570-628 p.
Board WCoTE. Soft Tissue and Bone Tumours: International Agency for Research on Cancer, 2020. 472-4 p.
Dorfman HD. New knowledge of fibro-osseous lesions of bone. Int J Surg Pathol. 2010;18(3 Suppl):62-5.
Hermann G, Klein M, Abdelwahab I, Kenan S. Fibrocartilaginous dysplasia. Skeletal radiology. 1996;25(5):509-11.
Drolshagen LF, Reynolds W, Marcus N. Fibrocartilaginous dysplasia of bone. Radiology. 1985;156(1):32.
Ishida T, Dorfman HD. Massive chondroid differentiation in fibrous dysplasia of bone (fibrocartilaginous dysplasia). The American journal of surgical pathology. 1993;17(9):924-30.
Pelzmann KS, Nagel DZ, Salyer WR. Case report 114. Skeletal Radiology. 1980;5(2):116-8.
Kyriakos M, McDonald DJ, Sundaram M. Fibrous dysplasia with cartilaginous differentiation ("fibrocartilaginous dysplasia"): a review, with an illustrative case followed for 18 years. Skeletal radiology. 2004;33(1):51-62.
Vaishya R, Agarwal A, Gupta N, et al. Fibrocartilaginous Dysplasia of the Bone: A Rare Variant of Fibrous Dysplasia. Cureus. 2016 January 05;8(1):e448. doi: 10.7759/cureus.448
Morioka H, Kamata Y, Nishimoto K, Susa M, Kikuta K, Horiuchi K, et al. Fibrous dysplasia with massive cartilaginous differentiation (fibrocartilaginous dysplasia) in the proximal femur: a case report and review of the literature. Case reports in oncology. 2016;9(1):126-33.
Kaliyath S, Kishan Prasad H, Sajjan N, Mathias L, Shetty K, Rao C. Fibrocartilagenous dysplasia: A rare variant of fibrous dysplasia. Journal of Orthopaedics and Allied Sciences. 2015;3(1):37-9.
Henderson ER, Monforte H, Neustadt JB. Fibrocartilaginous Dysplasia of the Proximal Part of the Femur with a Pathological Fracture in a Child: A Case Report. JBJS Case Connector. 2014;4(4):e90.
Monappa, V., & Kudva, R. (2008). Multifocal fibrous dysplasia with enchondroma-like areas: Fibrocartilaginous dysplasia. The Internet Journal of Pathology, 7(2), 1-9.
Vargas-Gonzalez R, Sanchez-Sosa S. Fibrocartilaginous dysplasia (fibrous dysplasia with extensive cartilaginous differentiation). Pathology & Oncology Research. 2006;12(2):111-4.
Muezzinoglu B, Oztop F. Fibrocartilaginous dysplasia: a variant of fibrous dysplasia. Malaysian Journal of Pathology. 2001;23(1):35-40.
Bian Z, Lyu X, Guo Y, Zhu Z, Feng C, Yang J, et al. Focal fibrocartilaginous dysplasia of the distal femur. Journal of Pediatric Orthopaedics B. 2020;29(5):466-71.
Hakar MH, Chapman CM, Hansford BG, Davis JL. Polyostotic Fibrous Dysplasia With Extensive Cartilaginous Differentiation: A Rare Case Clinically Mimicking Ollier Disease. AJSP: Reviews & Reports. 2021;26(1):73-5.
Gambarotti M, Righi A, Vanel D, Cocchi S, Benini S, Elli FM, et al. Fibrocartilaginous mesenchymoma of bone: a single-institution experience with molecular investigations and a review of the literature. Histopathology. 2017;71(1):134-42.
Carter JM, Inwards CY, Jin L, Evers B, Wenger DE, Oliveira AM, et al. Activating GNAS mutations in parosteal osteosarcoma. Am J Surg Pathol. 2014;38(3):402-9.
Kishan Prasad H. Fibrocartilaginous dysplasia: A rare but distinct entity. Medical Journal of Dr DY Patil University. 2017;10(5):503-4.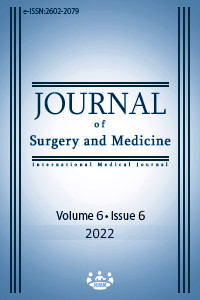 Downloads
How to Cite
1.
Yılmaz F, Canaz F, Yılmaz E, İnan U. Fibrocartilaginous dysplasia (fibrous dysplasia and massive cartilaginous differentiation): Case report and literature review: Fibrocartilaginous dysplasia. J Surg Med [Internet]. [cited 2022 Jun. 26];6(6):1-. Available from: https://jsurgmed.com/article/view/974748
License
Copyright (c) 2022 Fatih Yılmaz , Funda Canaz , Evrim Yılmaz , Ulukan İnan
This work is licensed under a Creative Commons Attribution-NonCommercial-NoDerivatives 4.0 International License.