Does intratympanic Mesna application prevent cholesteatoma? An experimental study on rats
Keywords:
Mesna, cholesteatoma, Fibrosis, Otitis media, Intratympanic
Abstract
Background/Aim: Cholesteatoma is an invasive and destructive disease, responsible for most of the complications related to chronic otitis media. The only effective treatment is surgical excision. Researching medical treatment alternatives can bring a new perspective to the treatment of this disease. This study aimed to investigate the effect of Mesna on otitis media and cholesteatoma induced by propylene glycol on an experimental animal model. Methods: The study was designed to consist of sixteen Wistar albino rats, with their right ears being the control group and the left ears being the experiment group. Fifty percent propylene glycol, gentamicin sulfate, and physiologic saltwater were administered to the right ear, and 50% propylene glycol, gentamicin sulfate, and 20% Mesna were administered to the left ear through intratympanic injections on days 1, 3, 8, 15, and 21. The rats were sacrificed 45 days after the first injection and underwent histopathological examination. Results: Cholesteatoma and fibrosis were less common in the experimental group. In the study group, the average and maximum thicknesses of the tympanic membranes (P=0.008) and the minimum thicknesses of the tympanic bulla (P=0.019) were significantly less than those of the control group. Conclusion: In the experimental cholesteatoma model created in rats, Mesna, administered intratympanically, was seen to completely prevent the formation of cholesteatoma. However, histopathological examination revealed that although present, cholesteatoma formation and fibrosis were significantly less in the experimental group.
Downloads
Download data is not yet available.
References
Rüedi L. Cholesteatoma formation in the middle ear in animal experiments. Acta Otolaryngol. 1959 May-Aug;50(3-6):233-40. doi: 10.3109/00016485909129191
Hueb MM, Goycoolea MY, Muchow D, Duvall AJ, Paparella MM, Sheridan C. In search of missing links in otology. III. Development of a new animal model for cholesteatoma. Laryngoscope.1993 Jul;103:774-84. doi: 10.1288/00005537-199307000-00011.
Piltcher OB, Swarts JD, Magnuson K, Alper CM, Doyle WJ, Hebda PA. A rat model of otitis media with effusion caused by eustachian tube obstruction with and without Streptococcus pneumonia infection: methods and disease course.Otolaryngol Head Neck Surg. 2002 May;126(5):490-8. doi: 10.1067/mhn.2002.124935.
Masaki M, Wright CG, Lee DH, Meyerhoff WL. Effects of Otic Drops on Chinchilla Tympanic Membrane. Arch Otolaryngol Head Neck Surg.1988 Sep;114:1007-11. doi: 10.1001/archotol.1988.01860210073019
Melo AA, Caldas Neto SS, Leão FS, Campos AJ. Effect of intratympanic mitomycin C on the development of cholesteatoma and otitis media in rats. J Laryngol Otol.2013 Apr;127(4):359-63.doi: 10.1017/S002221511300011X
Sennaroglu L, Ozkul A, Gedikoglu G, Turan E. Effect of intratympanic steroid application on the development of experimental cholesteatoma.Laryngoscope.1998;108:543-7. doi: 10.1097/00005537-199804000-00015
Antunes ML, Fukuda Y, PenidoNde O, Ferreira R. Effect of trans-retinoic acid in the inhibition of cholesteatoma in guinea pigs. Rev Bras Otorrinolaringol. 2008 Jan-Feb;74(1):53-60. doi: 10.1016/s1808-8694(15)30751-5
Yilmaz M, Goksu N, Bayramoglu I, Bayazit YA. Practical use of MESNA in atelectatic ears and adhesive otitis media. ORL J Otorhinolaryngol Relat Spec. 2006 Feb; 68(4):195-8. doi: 10.1159/000091472
Vincenti V, Mondain M, Pasanisi E, Piazza F, Puel JL, Bacciu S, et al. Cochlear effects of MESNA application into the middle ear. Ann N Y Acad Sci.1999 Nov;884:425-32. doi: 10.1111/j.1749-6632.1999.tb08659.x.
Van MP, Timmermans JP, Claes J, Scheuermann DW, Wuyts FL, Van de Heyning PH. Single ototopical application of MESNA has no ototoxic effects on guinea pig cochlear hair cells: a morphological study. Acta Otolaryngol.1999;119(6):685-9. doi: 10.1080/00016489950180630.
Institute of Laboratory Animal Research. Commission on Life Sciences. National Research Council. The guide for the care and use of laboratory animals. 7th ed. Washington DC: National Academies Press; 1996.
Casale M, Di Martino A, Salvinelli F, Trombetta M, Denaro V. Mesna for chemically assisted tissue dissection. Expert Opin Investig Drugs. 2010 Jun;19:699-707. doi: 10.1517/13543784.2010.485192.
Kalcioglu MT, Cicek MT, Bayindir T, Ozdamar OI.Effectiveness of mesna on the success of cholesteatoma surgery. Am J Otolaryngol Head Neck Surg. 2014 May-Jun;35 (3): 357-61. doi: 10.1016/j.amjoto.2014.01.002
Pownell PH, Wright CG, Robinson KS, Meyerhoff WL. The effect of cyclophosphamide on development of experimental cholesteatoma. Arch Otolaryngol Head Neck Surg. 1994 Oct;120:1114-6. doi: 10.1001/archotol.1994.01880340058009
Jove MA, Vassalli L, Raslan W, Applebaum EL. The effect of isotretinoin on propylene glycol-induced cholesteatoma in chinchilla middle ears. Am J Otolaryngol. 1990 Jul-Aug;11:5-9. doi: 10.1016/0196-0709(90)90163-p
White SJ, Wright CG, Robinson KS, Meyerhoff WL. Effect of topical hyaluronic acid on experimental cholesteatoma. Am J Otolaryngol. 1995 Sep-Oct;16:312-8. doi: 10.1016/0196-0709(95)90059-4.
Wright CG, Bird LL, Meyerhoff WL. Effect of 5-fluorouracil in cholesteatoma development in an animal model. Am J Otolaryngol. 1991 May-Jun;12(3):133-8. doi: 10.1016/0196-0709(91)90142-3.
Masaki M, Wright CG, Lee DH, Meyerhoff WL. Experimental cholesteatoma: epidermal ingrowth through tympanic membrane following middle ear applications of propylene glycol. Acta Otolaryngol (Stockh).1989 Jul-Aug;108(1-2):113-21. doi: 10.3109/00016488909107401.
Huang CC, Shi GS, Yi ZX. Experimental Induction of middle ear cholesteatoma in rats. Am J Otolaryngol. 1988 Jul-Aug;9(4):165-72. doi: 10.1016/s0196-0709(88)80024-3.
Vassalli L, Harris DM, Gradini R, Applebaum EL. Propylene Glycol-Induced Cholesteatoma in Chinchilla Middle Ears. Am J Otolaryngol. 1988 Jul-Aug;9(4):180-8. doi: 10.1016/s0196-0709(88)80026-7.
Ismi O, Karabulut YY, Bal KK, Vayisoglu Y, Unal M. Single dose intratympanic mesna application inhibits propylene glycol induced cholesteatoma formation. J Laryngol Otol.2017 Mar;131(3):215-20. doi: 10.1017/S002221511600983X.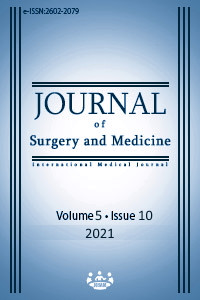 How to Cite
1.
Sizer B, Demir S, Gül A. Does intratympanic Mesna application prevent cholesteatoma? An experimental study on rats. J Surg Med [Internet]. 2021 Oct. 1 [cited 2023 Oct. 4];5(10):1050-3. Available from: https://jsurgmed.com/article/view/974266
License
Copyright (c) 2021 Bilal Sizer, Songül Demir, Aylin Gül
This work is licensed under a Creative Commons Attribution-NonCommercial-NoDerivatives 4.0 International License.
#7064