The impact of Covid-19 on ECG: A case-control study
Keywords:
Covid-19, ECG, cQT, Tp-e interval, fQRS-T angle
Abstract
Background/Aim: Coronavirus Disease 2019 (Covid-19) is a pandemic with fatal effects on the respiratory and cardiovascular systems. Early recognition of complications in the cardiovascular system in Covid-19 disease will guide our treatment management. Therefore, we aimed to examine the changes that occurred in the ECGs of patients with a Covid-19 infection in the last year who were admitted with palpitations. Methods: Patients who presented to the Cardiology and Internal Medicine outpatient clinics with a complaint of palpitation between June 2021 and July 2021 and who had a Covid-19 infection in the last year were included in this study. A total of 212 patients with a history of Covid-19 and a control group of 185 people without Covid-19 history and cardiac diseases were compared. At admission, QTc, Tp-e interval, frontal QRS-T angle, and fragmented QRS were evaluated on Electrocardiography (ECG). Results: Among patients with a history of Covid-19 disease, there were 127 (59.91%) males and 85 (40.09%) females. Within the control group, 71 (38.38%) were males and 114 (61.62%) were females. In patients who had a Covid-19 infection, QTc (OR: 1.071, 95% CI: 1.042-1.100, P<0.001), frontal QRS-T angle (OR: 1.054, 95% CI: 1.015-1.095, P=0.007), and Tp-e interval (OR: 1.253, 95% CI: 1.140-1.377, P<0.001) were significantly increased. The difference in fragmented QRS (P=0.230) was not significant in logistic regression analysis. Conclusion: We found increased QTc, Tp-e, and fQRS-T angles in patients who had Covid-19 disease, all of which indicate ventricular repolarization abnormality. Therefore, those with Covid-19 infection should be followed up for malignant arrhythmias.
Downloads
Download data is not yet available.
References
Mehraeen E, SeyedAlinaghi S, Nowroozi A, Dadras O, Alilou S, Shobeiri P, et al. A systematic review of ECG findings in patients with Covid-19. Indian Heart Journal. 2020;72(6):500-7
He J, Wu B, Chen Y, Tang J, Liu Q, Zhou S, et al. Characteristic electrocardiographic manifestations in patients with Covid-19. Canadian Journal of Cardiology. 2020;36(6):966.
Cheng ZJ, Shan J. 2019 Novel coronavirus: where we are and what we know. Infection. 2020;48(2):155-63.
Kaya BC, Çekici Y, Berna K, Çelik A, Demir HA, Sahin NY. A prospective study on the relationship between Covid-19 disease progress and cardiovascular damage. Journal of Surgery and Medicine. 2021;5(4):322-6.
Zheng Y-Y, Ma Y-T, Zhang J-Y, Xie X. Covid-19 and the cardiovascular system. Nature Reviews Cardiology. 2020;17(5):259-60.
Long B, Brady WJ, Bridwell RE, Ramzy M, Montrief T, Singh M, et al. Electrocardiographic manifestations of Covid-19. The American Journal of Emergency Medicine. 2020;41:96-103
Panikkath R, Reinier K, Uy-Evanado A, Teodorescu C, Hattenhauer J, Mariani R, et al. Prolonged Tpeak-to-tend interval on the resting ECG is associated with increased risk of sudden cardiac death. Circulation: Arrhythmia and Electrophysiology. 2011;4(4):441-7.
Öztürk F, Karaduman M, Çoldur R, İncecik Ş, Güneş Y, Tuncer M. Interpretation of arrhythmogenic effects of Covid-19 disease through ECG. The Aging Male. 2020;23(5):1362-5.
Tanrıverdi Z, Beşli F, Güngören F, Attıparmak İH, Yeşilay AB, Erkuş ME, ve ark. Esansiyel hipertansiyonlu hastalarda sol ventrikül hipertrofisinin bir göstergesi olarak frontal QRS-T açısı. Dokuz Eylül Üniversitesi Tıp Fakültesi Dergisi.32(2):77-87.
Eyüboğlu M, Akdeniz B. Fragmente QRS kompleksleri koroner anjiyografi uygulanan stabil koroner arter hastalarında daha yüksek Gensini skorunu öngördürmektedir. Ege Tıp Dergisi. 2018;57(2):71-4.
Kors JA, van Eck HJR, van Herpen G. The meaning of the Tp-Te interval and its diagnostic value. Journal of electrocardiology. 2008;41(6):575-80.
Han H, Xie L, Liu R, Yang J, Liu F, Wu K, et al. Analysis of heart injury laboratory parameters in 273 Covid‐19 patients in one hospital in Wuhan, China. Journal of medical virology. 2020;92(7):819-23.
Sinkeler F, Berger F, Muntinga H, Jansen M. The risk of QTc-interval prolongation in Covid-19 patients treated with chloroquine. Netherlands Heart Journal. 2020;28(7):418-23.
Oehler A, Feldman T, Henrikson CA, Tereshchenko LG. QRS‐T angle: a review. Annals of Noninvasive Electrocardiology. 2014;19(6):534-42.
Macfarlane PW. The frontal plane QRS-T angle. Oxford University Press; 2012;14(6):773-5
Raposeiras-Roubín S, Virgós-Lamela A, Bouzas-Cruz N, López-López A, Castiñeira-Busto M, Fernández-Garda R, et al. Usefulness of the QRS-T angle to improve long-term risk stratification of patients with acute myocardial infarction and depressed left ventricular ejection fraction. The American journal of cardiology. 2014;113(8):1312-9.
Mayet J, Shahi M, McGrath K, Poulter NR, Sever PS, Foale RA, et al. Left ventricular hypertrophy and QT dispersion in hypertension. Hypertension. 1996;28(5):791-6.
Kaplan Ö, İzmir Güner Ş. Lösemi Hastalarında Kemoterapötiklerin Frontal QRS‐T Açısı Üzerine Etkisi. Kocaeli Tıp Dergisi. 2020;9(2):14-9.
Bergamaschi L, D'Angelo EC, Paolisso P, Toniolo S, Fabrizio M, Angeli F, et al. The value of ECG changes in risk stratification of Covid‐19 patients. Annals of Noninvasive Electrocardiology. 2021;26(3):12815.
Bertini M, Ferrari R, Guardigli G, Malagu M, Vitali F, Zucchetti O. Electrocardiographic 636 features of 431 consecutive, critically ill Covid-19 patients: an insight into the mechanisms of cardiac 637 involvement. ESC. 2020;22(12):1848-54
Haseeb S, Gul EE, Çinier G, Bazoukis G, Alvarez-Garcia J, Garcia-Zamora S, et al. Value of electrocardiography in coronavirus disease 2019 Covid-19. Journal of Electrocardiology. 2020;62:39-45.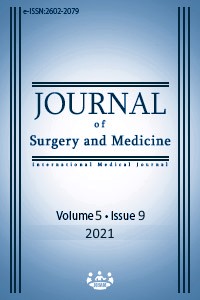 How to Cite
1.
Kaya BC, Kaya B. The impact of Covid-19 on ECG: A case-control study. J Surg Med [Internet]. 2021 Sep. 1 [cited 2023 Sep. 26];5(9):900-3. Available from: https://jsurgmed.com/article/view/971819
License
Copyright (c) 2021 Bedri Caner Kaya, Berna Kaya
This work is licensed under a Creative Commons Attribution-NonCommercial-NoDerivatives 4.0 International License.
#7048