Choledochoduodenal fistula: A rare cause of upper gastrointestinal bleeding in a child
Keywords:
Children, Choledochoduodenal fistula, Endoscopy, Endoscopic retrograde cholangiopancreatography (ERCP)
Abstract
Spontaneous choledochoduodenal fistula (CDF) is a rare form of biliary enteric fistula. A child with CDF who had a motor vehicle collision as a pedestrian at the age of 2 years is presented in this article. Since the accident, recurrent abdominal pain and black-colored stools were noted thrice a year. As a 13- year-old, the patient was admitted with vomiting of blood and melena. He was hospitalized with gastrointestinal bleeding. Endoscopy is performed because of bleeding and a fistula was detected incidentally. Barium swallow series and magnetic resonance cholangiopancreatography showed a fistula tract. Endoscopic retrograde cholangiopancreatography (ERCP) confirmed the definitive diagnosis and guided treatment. In our case, we emphasize the importance of ERCP in facilitating the diagnosis of CDF. Barium swallow radiography detects the passage of barium to the biliary system in only half of the CDF patients diagnosed via ERCP. In summary, we reported the youngest case of CDF with a large fistula orifice managed by endoscopic sphincterotomy.
Downloads
Download data is not yet available.
References
Glenn F, Reed C, Grafe WR. Biliary enteric fitula. Surg Gynecol Obstet. 1981;153(4):527-31.
Chao HC, Chen SY, Luo CC, Wang CJ. Choledochoduodenal fistula caused by blunt abdominal trauma in a child. J Pediatr Surg. 2008;43(12):31-3.
Yamashita H, Chijiiwa K, Ogawa Y, Tanaka M. The internal biliary fistula reappraisal of incidence, type, diagnosis and management of 33 consecutive cases. HPB Surg. 1997;10(3):143-7.
Li ZH, Ding J, Ye Y, Lei Cai, Xiangde Liu, Jikui Liu, et al. New strategy to prevent ascending cholangitis in larger choledochoduodenal fistula. ANZ J Surg. 2006;76(9):796-800.
Ohtsuka T, Tanaka M, Inoue K, Nabae T, Takahata S, Yokohata K, et al. Is peripapillary choledochoduodenal fistula an indication for endoscopic sphincterotomy? Gastrointest Endosc. 2001;53(3):313-7.
Mohammed N, Godfrey EM, Subramanian V. Cholecysto-duodenal fistula as the source of upper gastrointestinal bleeding. Endoscopy. 2013;45:250–1.
Tanaka M, Ikeda S. Parapapillary choledochoduodenal fistula: an analysis of 83 consecutive patients diagnosed at ERCP. Gastrointest Endosc. 1983;29(2):89-93.
Aguilar-Espinosa, Maza-Sánchez FR, Vargas-Solís F, Guerrero-Martínez GA, Medina-Reyes JL, Flores-Quiroz PI. Cholecystoduodenal fistula, an infrequent complication of cholelithiasis: Our experience in its surgical management. Revista de Gastroenterología de México. 2017;82(4):287-95.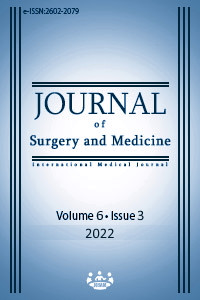 How to Cite
1.
Gülcü Taşkın D, Beser F, Adaletli İbrahim, Cullu F, Kutlu T, Erkan T. Choledochoduodenal fistula: A rare cause of upper gastrointestinal bleeding in a child. J Surg Med [Internet]. 2022 Mar. 1 [cited 2023 Sep. 25];6(3):399-401. Available from: https://jsurgmed.com/article/view/969588
License
Copyright (c) 2022 Didem Gülcü Taşkın, Faruk Beser, İbrahim Adaletli, Fugen Cullu, Tufan Kutlu, Tulay Erkan
This work is licensed under a Creative Commons Attribution-NonCommercial-NoDerivatives 4.0 International License.
#7164