Pharmacological treatment of asthma and allergic diseases in pregnancy
Keywords:
Asthma, Allergic Rhinitis, Anaphylaxis, Drug, Pregnancy
Abstract
Allergy incidence in pregnancy is about 20% and frequently observed as rhinitis and asthma. Asthma often coexists with allergic rhinitis in adults, and severe nasal findings are present in one out of every three pregnant women. Asthma and allergic rhinitis may worsen or remain unchanged in pregnancy. Allergic reactions can also worsen the course of pregnancy. Appropriate drug selection should be made for asthma and other allergic diseases, and possible risks should be explained to the pregnant woman. Increased risk perception of drug use may cause the pregnant woman to stop taking the drug suddenly and the disease to worsen. The purpose of the treatment in pregnancy is controlling the mother's disease while ensuring a normal course of fetal development. Treatment should be started with the least number of drugs and the lowest dose possible. Inhaled beta-2 adrenergic agonists and theophylline can be used as bronchodilators during pregnancy. Chlorpheniramine, loratadine and cetirizine may be preferred in allergic conditions requiring antihistamine use. Prednisone and also pseudoephedrine can be used during pregnancy, if necessary. The use of alpha-adrenergic drugs other than pseudoephedrine and epinephrine should be avoided except for anaphylaxis.
Downloads
Download data is not yet available.
References
Incaudo GA. Diagnosis and treatment of allergic rhinitis and sinusitis during pregnancy and lactation. Clin Rev Allergy Immunol. 2004;27:159Y177.
Kwon HL, Belanger K, Bracken MB. Asthma prevalence among pregnant and childbearing-aged women in the United States: estimates from national health surveys. Ann Epidemiol. 2003;13:317Y324.
Weinberger SE, Weiss ST, Cohen WR, Weiss JW, Johnson TS. Pregnancy and the lung. Am Rev Respir Dis. 1980;121:559Y581.
Schatz M, Dombrowski MP, Wise R, Thom EA, Landon M, Mabie W, et al. Asthma morbidity during pregnancy can be predicted by severity classification. J Allergy Clin Immunol. 2003;112:283Y288.
Mazzotta P, Loebstein R, Koren G. Treating allergic rhinitis in pregnancy. Safety considerations. Drug Saf. 1999;20:361Y375.
Mabry RL. Rhinitis of pregnancy. South Med J. 1986;79:965Y971.
Bousquet J, Vignola AM, Demoly P. Links between rhinitis and asthma. Allergy. 2003;58:691–706.
Pali-Scholl I, Motala C, Jensen-Jarolim E. Asthma and allergic diseases in pregnancy a review. World Allergy Organ J. 2009;2:26–36.
Bracken MB, Triche EW, Belanger K, Saftlas A, Beckett WS, Leaderer BP. Asthma symptoms, severity, and drug therapy: a prospective study of effects on 2205 pregnancies. Obstet Gynecol. 2003;102(4):739–52.
Rayburn WF, Atkinson BD, Gilbert K, Turnbull GL. Short-term effects of inhaled albuterol on maternal and fetal circulations. Am J Obstet Gynecol. 1994;171(3):770–3.
Schatz M, Zeiger RS, Harden K, Hoffman CC, Chilingar L, Petitti D. The safety of asthma and allergy medications during pregnancy. J Allergy Clin Immunol. 1997;100(3):301–6.
National Heart, Lung, and Blood Institute, National Asthma Education and Prevention Program. Managing asthma during pregnancy: recommendations for pharmacologic treatment-2004 update. 2004;1-57. https://www.nhlbi.nih.gov/files/docs/resources/lung/astpreg_full.pdf
Kallen B, Otterblad Olausson P. Use of anti-asthmatic drugs during pregnancy. 3. Congenital malformations in the infants. Eur J Clin Pharmacol. 2007Apr;63(4):383-8.
Munsie JPW, Lin S, Browne ML, Campbell KA, Caton AR, Bell EM, et al. Maternal bronchodilator use and the risk of orofacial clefts. Hum Reprod. 2011 Nov;26(11):3147-54.
Rahimi, R, Nikfar S, Abdollahi M. Meta-analysis finds use of inhaled corticosteroids during pregnancy safe: a systematic meta-analysis review. Hum Exp Toxicol. 2006 Aug;25:447-52.
Xiao W, Liu X, Liu Y, Zhang D, Xue L. The relationship between maternal corticosteroid use and orofacial clefts - a meta-analysis. Reprod Toxicol. 2017;69:99-105.
Park JM, Schmer V, Mayers TL. Cardiovascular anomalies associated with prenatal exposure to theophylline. S Med J. 1990;83:1487-8.
Gilbert-Barness E, Drut RM. Association of sympathomimetic drugs with malformations. Vet Hum Toxicol. 2000;42(3):168-71.
Ibba RM, Zoppi MA, Floris M, et al. Otocephaly: Prenatal diagnosis of a new case and etiopathogenetic considerations. Am J Med Genet. 2000;90:427-9.
Heinonen OP, Stone D, Shapiro S. Birth Defects and Drugs in Pregnancy. Littleton:Publishing Sciences Group, 1977. pp. 367-370.
Neff RK, Leviton A. Maternal theophylline consumption and the risk of stillbirth. Chest. 1990;97:1266-7.
Stenius-Aarniala B, Riikonen S, Teramo K. Slow-release theophylline in pregnant asthmatics. Chest. 1995;107:642-7.
Ishikawa M, Yoneyama Y, Power GG, Araki T. Maternal theophylline administration and breathing movements in late-gestation human fetuses. Obstet Gynecol. 1996;88:973-8.
Arwood LL, Dasta JF, Friedman C. Placental transfer of theophylline: two case reports. Pediatrics. 1979;63:844-6.
Yeh TF, Pildes RS. Transplacental aminophylline toxicity in a neonate. Lancet. 1977;1:910.
Horowitz DA, Jablonski WJ, Mehta KA. Apnea associated with theophylline withdrawal in a term neonate. Am J Dis Child. 1982;136:73-4.
Ron M, Hochner-Celnikier D, Menczel J, Palti Z, Kidroni G. Maternal-fetal transfer of aminophylline. Acta Obstet Gynecol Scand. 1984;63:217-8.
Sarkar M, Koren G, Ying A, Kalra S, Smorlesi C, De Santis M, et al. Montelukast use during pregnancy: a multicentre, prospective, comparative study of infant outcomes. Eur J Clin Pharmacol. 2009;65(12):1259-64.
Bakhireva LN, Jones KL, Schatz M, Klonoff-Cohen HS, Johnson D, Slymen DJ, et al. Safety of leukotriene receptor antagonists in pregnancy. J Allergy Clin Immunol. 2007;119:618-25.
Kallen B, Otterblad Olausson P. Use of anti-asthmatic drugs during pregnancy. 3. Congenital malformations in the infant. Eur J Clin Pharm. 2007;63(4):383-8.
Cavero-Carbonell C, Nikel-Hansen A, Rabanque-Hernandez MJ, Martos C, Garne E. Fetal exposure to montelukast and congenital anomialies: A population based study in Denmark. Birth Defects Res. 2017;109(6):452-9.
Merck Pregnancy Registry for SINGULAIR (montelukast sodium). Fourtheenth Annual Report Covering the period from U.S. approval (February 20, 1998) Merck Research Labs, West Point, PA. [Cited 2021 June 18]. Available from: http://www.merckpregnancyregistries.com
Singulair. Product Labeling. [Cited 2021 June 18]. Available from: http://www.accessdata.fda.gov/drugsatfda_docs/label/2014/020829Orig1s068,020830Orig1s070,021409Orig1s045lbl.pdf
Nelsen, lM, Shields KE, Cunningham ML, Stoler JM, Barnshad MJ, Eng PM, et al. Congenital malformations among infants born to women receiving montelukast, inhaled corticosteroids and other asthma medications. J Allergy Clin Immunol. 2012;129(1): 251-4.
Hirashima J, Hojo M, Iikura M, Hiraishi Y, Nakamichi S, Sugiyama H, et al. A case of an asthma patient receiving omalizumab during pregnancy. Arerugi. 2012;61(11):1683-7.
Kuprys-Lipinska I, Tworek D, Kuna P. Omalizumab in pregnant women treated due to severe asthma: two case reports of good outcomes of pregnancies. Postep Derm Alergol. 2014;2:104-7.
Ghazanfar MN, Thomsen SF. Successful and safe treatment of chronic spontaneous urticaria with Omalizumab in a woman during two consecutive pregnancies. Case Rep Med. 2015;2015:368053.
Namazy J, Cabana MD, Scheuerle AE, Thorp JM Jr, Chen H, Carrigan G, et al. The Xolair pregnancy registry (EXPECT): the safety of omalizumab use during pregnancy. J Allergy Clin Immunol. 2015;135(2): 407-12.
Yawn B, Knudtson M. Treating asthma and comorbid allergic rhinitis in pregnancy. J Am Board Fam Med. 2007;20:289Y298.
Weber-Schoendorfer C, Schaefer C. The safety of cetirizine during pregnancy. A prospective observational study. Reprod Toxicol. 2008;26:19-23.
Kallen B. Use of antihistamine drugs in early pregnancy and delivery outcome. J Matern Fetal Neonatal Med. 2002;11:146-52.
Kallen B, Olausson PO. Monitoring of maternal drug use and infant congenital malformations. Does loratadine cause hypospadias? Int J Risk Saf Med. 2001;14:115-9.
Moretti MD, Caprara D, Coutinho CJ, Bar-Oz B, Berkovitch M, Addis A, et al. Fetal safety of loratadine use in the first trimester of pregnancy: a multicenter study. J Allergy Clin Immunol. 2003;111:479-83.
Werler M, McCloskey C, Edmonds LD, Olney R, Reefhuis J. Evaluation of an association between loratadine and hypospadias - United States 1997-2001. Morb Mortal Wkly Rep 2004;53(10):219-21.
Pedersen L, Nrgaard M, Skriver MV, Olsen J, Srensen HT. Prenatal exposure to loratadine in children with hypospadias: a nested case-control study within the Danish National Birth Cohort. Am J Ther. 2006;13:320-4.
Schwarz EB, Moretti ME, Nayak S, Koren G. Risk of hypospadias in offspring of women using loratadine during pregnancy: a systematic review and meta-analysis. Drug Saf. 2008;31(9):775-88.
Werler MM, Mitchel AA, Shapiro S. First trimester maternal medication use in relation to gastroschisis. Teratology. 1992;45:361-5.
Torfs CP, Katz EA, Bateson TF, Lam PK, Curry CJ. Maternal medications and environmental exposures as risk factors for gastroschisis. Teratology. 1996;54:84-92.
Yau WP, Mitchell AA, Lin KJ, Werler MM, Hernandez-Diaz S. Use of decongestants during pregnancy and the risk of birth defects. Am J Epidemiol. 2013;178(2):198-208.
Witter FR, Niebyl JR. Drug intoxication and anaphylactic shock in the obstetric patient. In: Berkowitz RL, editor. Critical care of the obstetric patient. New York: Churchill Livingstone; 1983.
Heinonen OP Stone D, Shapiro S. Birth Defects and Drugs in Pregnancy. Littleton, Publishing Sciences Group, 1977, pp 345-56, 439, 477, 492.
Schatz M, Zeiger RS, Harden KM, Hoffman CP, Forsythe AB, Chilingar LM, et al. The safety of inhaled (beta)-agonist bronchodilators during pregnancy. J Allergy Clin Immunol 1988;82:686-95.
Hayashi RH. Emergency care in pregnancy. In: Queenan JT, editor. Management of high-risk pregnancy. Oxford: Blackwell Science; 1999:377.
Baraka A, Sfeir S. Anaphylactic cardiac arrest in a parturient. Response of the newborn. JAMA. 1980;243:1745Y1746.
Entman SS, Moise KJ. Anaphylaxis in pregnancy. South Med J. 1984;77:402.
Klein VR, Harris AP, Abraham RA, Niebyl JR. Fetal distress during a maternal systemic allergic reaction. Obstet Gynecol. 1984;64:15SY17S.
Luciano R, Zuppa AA, Maragliano G, Gallini F, Tortorolo G. Fetal encephalopathy after maternal anaphylaxis. Case report. Biol Neonate. 1997;71:190Y193.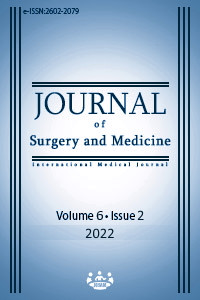 How to Cite
1.
Tırmıkçıoğlu Z. Pharmacological treatment of asthma and allergic diseases in pregnancy. J Surg Med [Internet]. 2022 Feb. 1 [cited 2023 Feb. 9];6(2):213-7. Available from: https://jsurgmed.com/article/view/964092
License
Copyright (c) 2022 Zeynep Tırmıkçıoğlu
This work is licensed under a Creative Commons Attribution-NonCommercial-NoDerivatives 4.0 International License.
#7155