Doppler ultrasound in standing position is superior to demonstrate nutcracker phenomenon in children with varicocele
Keywords:
Varicococele, Nutcracker Phenomenon, Nutcracker Syndrome, Doppler Ultrasonography, Children
Abstract
Background/Aim: The nutcracker phenomenon refers to the entrapment of the left renal vein between the superior mesenteric artery and the aorta. It is named nutcracker syndrome if accompanied by symptoms such as flank pain, hematuria, proteinuria, and varicocele. This study aimed to determine the rate of nutcracker phenomenon in children with varicocele by left renal vein Doppler US measurements in standing and supine positions. Methods: The hospital records of patients admitted to our clinic with grades 2 and 3 left varicocele between 2017 and 2019 were reviewed retrospectively. Demographic data, BMI values, blood pressure values, and urinalysis results of the patients were recorded. The diameter and the peak velocity (PV) of the left renal vein were measured at the level of the hilus and in the aortomesenteric part, both in supine and standing positions by Doppler ultrasonography (US). Results: Twenty-six cases were included in the study. No additional pathology was found other than varicocele. The diameter of the aortomesenteric part of the renal vein decreased, the hilar part of the renal vein increased, and the rate and the diameter ratio increased at the standing position. The incidence of the nutcracker phenomenon was 42.3-57.7% with different thresholds in the supine position, and 88-96.2% in the standing position. Conclusion: Doppler ultrasonography in the standing position is superior to that performed in the supine position in detecting the nutcracker phenomenon in patients with varicocele.
Downloads
Download data is not yet available.
References
Kurklinsky AK, Rooke TW. Nutcracker phenomenon and nutcracker syndrome. Mayo Clin Proc. 2010;85:552–9.
Park SJ, Lim JW, Cho BS, Yoon TY, Oh JH. Nutcracker syndrome in children with ortostatic proteinuria: Diagnosis on the basis of Doppler sonography. J Ultrasound Med. 2002;21:39-45.
Cho BS, Choi YM, Kang HH, Park SJ, Lim JW, Yoon TY. Diagnosis of nut-cracker phenomenon using renal Doppler ultrasound in orthostatic proteinuria. Nephrol Dial Transplant. 2001;16:1620–5.
Unlu M, Orguc S, Serter S, Pekindil G, Pabuscu Y. Anatomic and hemodynamic evaluation of renal venous flow in varicocele formation using color Doppler sonography with emphasis on renal vein entrapment syndrome. Scand J Urol Nephrol. 2007;41:42–6.
Neyzi O, Günöz H, Furman A, Bundak R, Gökçay G, Darendeliler F, et al. Türk çocuklarında vücut ağırlığı, boy uzunluğu, baş çevresi ve vücut kitle indeksi referans değerleri. Çocuk Sağlığı ve Hastalıkları Dergisi. 2008;51:1-14.
Kim SH, Cho SW, Kim HD, Chung JW, Park JH, Han MC. Nutcracker syndrome: Diagnosis with Doppler US. Radiology 1996;198:93–7.
Cheon JE, Kim WS, Kim IO, Kim SH, Yeon KM, Ha IS, et al. Nutcracker syndrome in children with gross haematuria: Doppler sonographic evaluation of the left renal vein. Pediatr Radiol. 2006;36:682–6.
Nishimura Y, Fushiki M, Yoshida M, Nakamura K, Imai M, Ono T, et al. Left renal vein hypertension in patients with left renal bleeding of unknown origin. Radiology. 1986;160:663–7.
Hangge P, Gupta N, Khurana A, Quencer K, Albadawi H, Alzubaidi S, et al. Degree of Left Renal Vein Compression Predicts Nutcracker Syndrome. J Clin Med. 2018;7:107.
Hannick JH, Blais AS, Kim JK, Traubici J, Shiff M, Book R, et al. Prevalence, Doppler Ultrasound Findings, and Clinical Implications of the Nutcracker Phenomenon in Pediatric Varicoceles. Urology. 2019;128:78–83.
Mohamadi A, Ghasemi-Rad M, Mladkova N, Masudi S. Varicocele and nutcracker syndrome: Sonographic findings. J Ultrasound Med. 2010;29:1153–60.
Turner TT. Varicocele: Still an enigma. J Urol. 1983;129:695–9.
Romera-Villegas A, Vila-Coll R, Cairols-Castellote R, Poveda-Monge R, Masuet-Aumatell C, Grinyó-Boira M. The importance of a standing position in the diagnosis of nutcracker phenomenon by duplex sonography. Int Angiol. 2009;28(6):461-8.
Pham KN, Sandlow JI. The effect of body mass index on the outcomes of varicocelectomy. J Urol. 2012;187:219–21.
Hassanzadeh K, Yavari-kia P, Soleymanpour H, Ebrahimpour-tolouei N, Alikhah H. Effect of Body Mass Index on severity and prevalence of varicocele. Pak J Biol Sci. 2011;14:869–75.
Tsao CW, Hsu CY, Chou YC, Wu ST, Sun GH, Yu DS, et al. The relationship between varicoceles and obesity in a young adult population. Int J Androl. 2009;32:385–90.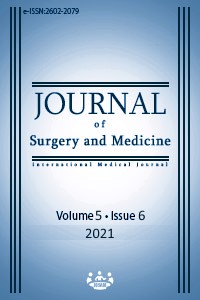 How to Cite
1.
Tekin A, İsmailoglu E. Doppler ultrasound in standing position is superior to demonstrate nutcracker phenomenon in children with varicocele. J Surg Med [Internet]. 2021 Jun. 1 [cited 2023 Mar. 31];5(6):638-41. Available from: https://jsurgmed.com/article/view/954130
License
Copyright (c) 2021 Ali Tekin, Eren İsmailoglu
This work is licensed under a Creative Commons Attribution-NonCommercial-NoDerivatives 4.0 International License.
#6966