Reconstruction of large abdominal wall tissue defect using vacuum assisted wound closure
Keywords:
VAC therapy, Split skin grafting, Abdominal wall tissue defect
Abstract
Background/Aim: Abdominal wall defects may result from trauma, burn, necrotizing soft tissue infection or complications of abdominal surgeries. Reconstruction poses a great challenge for the surgeon in cases of large abdominal wall defects with lack of surrounding tissue. Abdominal wall defects lack a good functional and aesthetic impact and early reconstruction is prudent for better outcomes. This study evaluates the results of Vacuum assisted wound closure (VAC) therapy in patients with large anterior abdominal wall tissue defect which could not be closed primarily otherwise. Methods: This case series included 20 patients with partial thickness, anterior abdominal wall tissue defects. All patients had suffered an acute trauma. Wound debridement was done and VAC therapy dressing was applied in systematic manner. Dressing was changed every 3 or 4 days and continued up to 9-14 days. Results: Twenty patients underwent VAC therapy with an average age of 32 years (range, 25-52 years). Indications comprised tissue loss after acute trauma due to road traffic accident, burn and other trauma leading to anterior abdominal wall soft tissue defect. VAC was used for an average of 12 days, with an average negative pressure of 125 mm Hg. Healthy granulation tissue was formed in all patients. Subsequently split thickness skin grafts were applied in these patients. This results in early recovery as well as decreased morbidity in all patients. Conclusions: All patients had good tolerance to Vacuum-assisted closure. It offers many benefits comprising fewer dressing changes and an earlier return to daily activities. Patients with large abdominal defects can benefit from this procedure.
Downloads
Download data is not yet available.
References
Hutan M, Bartko C, Majesky I, Prochotsky A, Sekac J, Skultety J. Reconstruction option of abdominal wounds with large tissue defects. BMC Surg. 2014 Aug 8;14:50. doi: 10.1186/1471-2482-14-50. PMID: 25103782; PMCID: PMC4127081.
DeFranzo AJ, Pitzer K, Molnar JA, Marks MW, Chang MC, Miller PR, et al. Vacuum-assisted closure for defects of the abdominal wall. Plast Reconstr Surg. 2008 Mar;121(3):832-839. doi: 10.1097/01.prs.0000299268.51008.47. PMID: 18317132.
Flum DR, Horvath K, Koepsell T. Have outcomes of incisional hernia repair improved with time? A population-based analysis. Ann Surg. 2003 Jan;237(1):129-35. doi: 10.1097/00000658-200301000-00018. PMID: 12496540; PMCID: PMC1513979.
Mathes SJ, Steinwald PM, Foster RD, Hoffman WY, Anthony JP. Complex abdominal wall reconstruction: a comparison of flap and mesh closure. Ann Surg. 2000 Oct; 232(4):586-96. doi: 10.1097/00000658-200010000-00014. PMID: 10998657; PMCID: PMC1421191.
Tang R, Gu Y, Gong DQ, Qian YL. Immediate repair of major abdominal wall defect after extensive tumor excision in patients with abdominal wall neoplasm: a retrospective review of 27 cases [corrected]. Ann Surg Oncol. 2009 Oct;16(10):2895-907. doi: 10.1245/s10434-009-0548-8. Epub 2009 Jul 14. Erratum in: Ann Surg Oncol. 2011 Dec;18 Suppl 3:S333. PMID: 19597889.
Huang C, Leavitt T, Bayer LR, Orgill DP. Effect of negative pressure wound therapy on wound healing. Curr Probl Surg. 2014 Jul;51(7):301-31. doi: 10.1067/j.cpsurg.2014.04.001. Epub 2014 Apr 26. PMID: 24935079.
Birke-Sorensen H, Malmsjo M, Rome P, Hudson D, Krug E, Berg L, et al; International Expert Panel on Negative Pressure Wound Therapy [NPWT-EP], Martin R, Smith J. Evidence-based recommendations for negative pressure wound therapy: treatment variables (pressure levels, wound filler and contact layer)--steps towards an international consensus. J Plast Reconstr Aesthet Surg. 2011 Sep;64 Suppl:S1-16. doi: 10.1016/j.bjps.2011.06.001. Epub 2011 Aug 24. PMID: 21868296.
Robson MC, Stenberg BD, Heggers JP. Wound healing alterations caused by infection. Clin Plast Surg. 1990 Jul;17(3):485-92. PMID: 2199139.
Argenta LC, Morykwas MJ. Vacuum-assisted closure: a new method for wound control and treatment: clinical experience. Ann Plast Surg. 1997 Jun;38(6):563-76; discussion 577. PMID: 9188971.
Webb LX. New techniques in wound management: vacuum-assisted wound closure. J Am Acad Orthop Surg. 2002 Sep-Oct;10(5):303-11. doi: 10.5435/00124635-200209000-00002. PMID: 12374481.
Jones DA, Neves Filho WV, Guimarães JS, Castro DA, Ferracini AM. The use of negative pressure wound therapy in the treatment of infected wounds. Case studies. Rev Bras Ortop. 2016 Nov 2;51(6):646-651. doi: 10.1016/j.rboe.2016.10.014. PMID: 28050534; PMCID: PMC5198081.
Labler L, Rancan M, Mica L, Härter L, Mihic-Probst D, Keel M. Vacuum-assisted closure therapy increases local interleukin-8 and vascular endothelial growth factor levels in traumatic wounds. J Trauma. 2009 Mar;66(3):749-57. doi: 10.1097/TA.0b013e318171971a. PMID: 19276749.
DeFranzo AJ, Marks MW, Argenta LC, Genecov DG. Vacuum-assisted closure for the treatment of degloving injuries. Plast Reconstr Surg. 1999 Dec;104(7):2145-8. doi: 10.1097/00006534-199912000-00031. PMID: 11149782.
Ali Z, Anjum A, Khurshid L, Ahad H, Maajid S, Dhar SA. Evaluation of low-cost custom made VAC therapy compared with conventional wound dressings in the treatment of non-healing lower limb ulcers in lower socio-economic group patients of Kashmir valley. J Orthop Surg Res. 2015 Dec 10;10:183. doi: 10.1186/s13018-015-0314-5. Retraction in: J Orthop Surg Res. 2017 Apr 20;12 (1):62. PMID: 26654318; PMCID: PMC4674953.
Morykwas MJ, Argenta LC, Shelton-Brown EI, McGuirt W. Vacuum-assisted closure: a new method for wound control and treatment: animal studies and basic foundation. Ann Plast Surg. 1997 Jun;38(6):553-62. doi: 10.1097/00000637-199706000-00001. PMID: 9188970.
Flack S, Apelqvist J, Keith M, Trueman P, Williams D. An economic evaluation of VAC therapy compared with wound dressings in the treatment of diabetic foot ulcers. J Wound Care. 2008 Feb;17(2):71-8. doi: 10.12968/jowc.2008.17.2.28181. PMID: 18389832.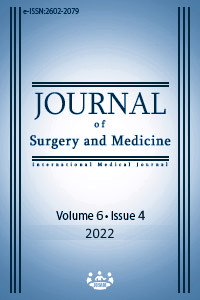 How to Cite
1.
Ali S, Khurram M, Yaseen M. Reconstruction of large abdominal wall tissue defect using vacuum assisted wound closure. J Surg Med [Internet]. 2022 Apr. 1 [cited 2023 Oct. 4];6(4):455-9. Available from: https://jsurgmed.com/article/view/953637
License
Copyright (c) 2022 Sheikh Ali, Mohammed Khurram, Mohd Yaseen
This work is licensed under a Creative Commons Attribution-NonCommercial-NoDerivatives 4.0 International License.
#7205