Clinical and laboratory characteristics of patients with COVID-19 followed up due to acute ischemic stroke
Keywords:
COVID-19, SARS-CoV-2, Stroke, D-dimer, Mortality
Abstract
Background/Aim: As coronavirus infectious disease 2019 (COVID-19) spreads worldwide, there is increasing evidence of an association between COVID-19 and vascular diseases. However, there are limited data on the clinical characteristics, stroke mechanisms, and prognosis of stroke patients with COVID-19. We aimed to evaluate the clinical and laboratory features and prognosis of patients with COVID-19 who were followed up due to acute ischemic stroke. Methods: Fifty-six patients with a confirmed diagnosis of COVID-19 and acute ischemic stroke were included in this retrospective study. The demographic characteristics, medical history, symptoms, clinical, laboratory and imaging findings of the patients were evaluated retrospectively. The patients were divided into two groups according to the modified Rankin Scale (mRS) score in the first month, as those with good or poor prognosis. Results: There were forty (71%) males, 16 (29%) females, and their overall mean age was 69.21 (8.77) (55-90) years. Fifty (89.2%) of 56 patients had pneumonia findings in chest computed tomography. The mortality rate was 35.7% (n=10) and 26 patients (46.4%) had a poor prognosis according to the mRS scores. Increased C-reactive protein and D-dimer levels were associated with mortality in the COVID-19 positive acute ischemic stroke patients (P=0.035, P=0.023). Conclusion: The COVID-19–associated coagulopathy increases mortality and grossly affects the course of the infectious process. Inflammation markers may be associated with poor prognosis in stroke patients with COVID-19.
Downloads
Download data is not yet available.
References
Mao L, Jin H, Wang M, Hu Y, Chen S, He Q, et al. Neurologic Manifestations of Hospitalized Patients With Coronavirus Disease 2019 in Wuhan, China. JAMA Neurol. 2020 Jun 1;77(6):683-90. doi: 10.1001/jamaneurol.2020.1127.
Helms J, Kremer S, Merdji H, Clere-Jehl R, Schenck M, Kummerlen C, et al. Neurologic Features in Severe SARS-CoV-2 Infection. N Engl J Med. 2020 Jun 4;382(23):2268-70. doi: 10.1056/NEJMc2008597.
Klok FA, Kruip MJHA, van der Meer NJM, Arbous MS, Gommers DAMPJ, Kant KM, et al.Incidence of thrombotic complications in critically ill ICU patients with COVID-19. Thromb Res. 2020 Jul;191:145-7. doi: 10.1016/j.thromres.2020.04.013.
Chen N, Zhou M, Dong X, Qu J, Gong F, Han Y, et al. Epidemiological and clinical characteristics of 99 cases of 2019 novel coronavirus pneumonia in Wuhan, China: a descriptive study. Lancet. 2020 Feb 15;395(10223):507-13.doi: 10.1016/S0140-6736(20)30211-7.
Ridker PM. Anticytokine Agents: Targeting Interleukin Signaling Pathways for the Treatment of Atherothrombosis. Circ Res. 2019 Feb;124(3):437-50. doi: 10.1161/CIRCRESAHA.118.313129.
Varga Z, Flammer AJ, Steiger P, Haberecker M, Andermatt R, Zinkernagel AS,et al. Endothelial cell infection and endotheliitis in COVID-19. Lancet. 2020 May 2;395(10234):1417-8. doi: 10.1016/S0140-6736(20)30937-5.
Chang JC. Sepsis and septic shock: endothelial molecular pathogenesis associated with vascular microthrombotic disease. Thromb J. 2019 May 30;17:10. doi: 10.1186/s12959-019-0198-4.
Wang HY, Li XL, Yan ZR, Sun XP, Han J, Zhang BW. Potential neurological symptoms of COVID-19. Ther Adv Neurol Disord. 2020 Mar 28;13:1756286420917830. doi: 10.1177/1756286420917830.
Zheng YY, Ma YT, Zhang JY, Xie X. COVID-19 and the cardiovascular system. Nat Rev Cardiol. 2020 May;17(5):259-60. doi: 10.1038/s41569-020-0360-5.
Wu Y, Xu X, Chen Z, Duan J, Hashimoto K, Yang L, et al. Nervous system involvement after infection with COVID-19 and other coronaviruses. Brain Behav Immun. 2020 Jul;87:18-22. doi: 10.1016/j.bbi.2020.03.031.
Adams HP Jr, Bendixen BH, Kappelle LJ, Biller J, Love BB, Gordon DL, et al. Classification of subtype of acute ischemic stroke. Definitions for use in a multicenter clinical trial. TOAST. Trial of Org 10172 in Acute Stroke Treatment. Stroke. 1993 Jan;24(1):35-41. doi: 10.1161/01.str.24.1.35.
Lopes da Silva R. Viral-associated thrombotic microangiopathies. Hematol Oncol Stem Cell Ther. 2011;4(2):51-9. doi: 10.5144/1658-3876.2011.51.
Brisse E, Wouters CH, Andrei G, Matthys P. How Viruses Contribute to the Pathogenesis of Hemophagocytic Lymphohistiocytosis. Front Immunol. 2017 Sep 7;8:1102. doi: 10.3389/fimmu.2017.01102.
Mehta P, McAuley DF, Brown M, Sanchez E, Tattersall RS, Manson JJ; HLH Across Speciality Collaboration, UK. COVID-19: consider cytokine storm syndromes and immunosuppression. Lancet. 2020 Mar 28;395(10229):1033-4. doi: 10.1016/S0140-6736(20)30628-0.
Li Y, Li M, Wang M, Zhou Y, Chang J, Xian Y, et al. Acute cerebrovascular disease following COVID-19: a single center, retrospective, observational study. Stroke Vasc Neurol. 2020 Sep;5(3):279-84. doi: 10.1136/svn-2020-000431.
Lee SG, Fralick M, Sholzberg M. Coagulopathy associated with COVID-19. CMAJ. 2020 May 25;192(21):E583. doi: 10.1503/cmaj.200685.
Thachil J, Tang N, Gando S, Falanga A, Cattaneo M, Levi M, Clark C, Iba T. ISTH interim guidance on recognition and management of coagulopathy in COVID-19. J Thromb Haemost. 2020 May;18(5):1023-6. doi: 10.1111/jth.14810.
Yaghi S, Ishida K, Torres J, Mac Grory B, Raz E, Humbert K, et al. SARS-CoV-2 and Stroke in a New York Healthcare System. Stroke. 2020 Jul;51(7):2002-11. doi: 10.1161/STROKEAHA.120.030335.
Beyrouti R, Adams ME, Benjamin L, Cohen H, Farmer SF, Goh YY, et al. Characteristics of ischaemic stroke associated with COVID-19. J Neurol Neurosurg Psychiatry. 2020 Aug;91(8):889-91. doi: 10.1136/jnnp-2020-323586.
Oxley TJ, Mocco J, Majidi S, Kellner CP, Shoirah H, Singh IP, et al. Large-Vessel Stroke as a Presenting Feature of Covid-19 in the Young. N Engl J Med. 2020 May 14;382(20):e60. doi: 10.1056/NEJMc2009787.
Magdi M, Rahil A. Severe Immune Thrombocytopenia Complicated by Intracerebral Haemorrhage Associated with Coronavirus Infection: A Case Report and Literature Review. Eur J Case Rep Intern Med. 2019 Jul 12;6(7):001155. doi: 10.12890/2019_001155.
Hughes C, Nichols T, Pike M, Subbe C, Elghenzai S. Cerebral Venous Sinus Thrombosis as a Presentation of COVID-19. Eur J Case Rep Intern Med. 2020 Apr 29;7(5):001691. doi: 10.12890/2020_001691.
Wang J, Hajizadeh N, Moore EE, McIntyre RC, Moore PK, Veress LA, et al. Tissue plasminogen activator (tPA) treatment for COVID-19 associated acute respiratory distress syndrome (ARDS): A case series. J Thromb Haemost. 2020 Jul;18(7):1752-5. doi: 10.1111/jth.14828.
Goldberg MF, Goldberg MF, Cerejo R, Tayal AH. Cerebrovascular Disease in COVID-19. AJNR Am J Neuroradiol. 2020 Jul;41(7):1170-2. doi: 10.3174/ajnr.A6588.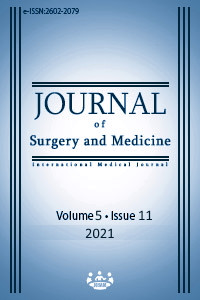 How to Cite
1.
Yılmaz Okuyan D, Karacan Gölen M. Clinical and laboratory characteristics of patients with COVID-19 followed up due to acute ischemic stroke. J Surg Med [Internet]. 2021 Nov. 1 [cited 2023 Dec. 10];5(11):1135-8. Available from: https://jsurgmed.com/article/view/953025
License
Copyright (c) 2021 Dilek Yılmaz Okuyan, Meltem Karacan Gölen
This work is licensed under a Creative Commons Attribution-NonCommercial-NoDerivatives 4.0 International License.
#7087