Retrospective analysis of isolated renal hydatid cysts: A single-center study
Keywords:
Echinococcus granulosus, Hydatid cyst, Kidney, Cystectomy, Nephrectomy
Abstract
Background/Aim: Hydatid disease is a parasitic infection caused by Echinococcus granulosus larvae settling in organs through blood and lymph circulation. Hydatid cysts are often observed in the liver and lungs, and isolated renal involvement is extremely rare. In this study, we aimed to evaluate patients who were diagnosed with an isolated renal hydatid cyst and treated in our clinic. Methods: In this case series, the data of patients with renal hydatid cysts, who presented to our clinic between January 2010 and April 2021, were retrospectively reviewed. Only patients with an isolated renal hydatid cyst were included in the study. Demographic data, clinical findings, laboratory findings, indirect hemagglutination test results, radiological findings, treatment methods, complications and follow-up processes of the patients were evaluated. Results: Eighteen patients (11 males and 7 females) were included in the study. The mean age and cyst diameter of the patients were 29.6 years and 9.2 cm, respectively. Reasons for hospital admission included flank pain (38.9%), palpable mass (22.2%), incidental (16.6%), abdominal pain (11.1%), nausea (5.5%) and hematuria (5.5%). Seropositivity in the indirect hemagglutination test was detected in was detected in 61.1%. Fourteen and four of the patients underwent cystectomy and nephrectomy, respectively. No major postoperative complications were observed in any of the patients. The mean follow-up period was 27 months, during which no local and renal recurrence were observed. Conclusion: Although hydatid cysts are most observed in the liver and lungs, they may also be observed in other organs, especially the kidney. The primary treatment for a renal hydatid cyst should be kidney-sparing surgery. Additionally, albendazole treatment is should be recommended pre- and post-operatively to reduce the risk of inoculation and recurrence.
Downloads
Download data is not yet available.
References
Foroughi M, Bahador A, Beizavi Z. Rapid growth of hydatid cyst: a pediatric case report. Iran J Parasitol. 2021;16(1):164-7. doi: 10.18502/ijpa.v16i1.5538.
Merdin A, Ögür E, Çiçek Kolak Ç, Avcı Merdin F, Günseren F, İnan D, et al. Renal cyst hydatid. Turkiye Parazitol Derg. 2014;38(3):190-3. doi: 10.5152/tpd.2014.3566.
Cankorkmaz L, Korğalı E, Atalar MH, Köylüoğlu G. Case report: isolated renal hydatid cyst in a boy. Turkiye Parazitol Derg. 2019;43(2):89-91. doi: 10.4274/tpd.galenos.2019.6033.
Göğüş C, Safak M, Baltaci S, Türkölmez K. Isolated renal hydatidosis: experience with 20 cases. J Urol. 2003;169(1):186-9. doi: 10.1016/s0022-5347(05)64064-5.
Moscatelli G, Moroni S, Freilij H, Salgueiro F, Bournissen FG, Altcheh J. A five-year-old child with renal hydatidosis. Am J Trop Med Hyg. 2013;89(3):554-6. doi: 10.4269/ajtmh.13-0243.
Efesoy O, Tek M, Erdem E, Bozlu M, Çayan S, Akbay E. Treatment of isolated renal hydatid cysts with cyst excision and omentoplasty. Turk J Urol. 2010;36(2):176-81.
Singh V, Devana SK, Gorsi U, Bal A. Isolated renal hydatid cyst masquerading as cystic renal tumor. Urology. 2019;133:e11-2. doi: 10.1016/j.urology.2019.07.014.
Adayener C, Akyol I, Berber U, Senkul T, Baykal K, Iseri C. A multilocular cystic renal cell carcinoma mimicking hydatid cyst. Turk J Urol. 2008;34:266-8.
Soares AT, Couto C, Cabral MJ, Carmona L, Vieira I. Renal hydatid cyst: medical treatment. J Bras Nefrol. 2016;38(1):123-6. doi: 10.5935/0101-2800.20160017.
Rexiati M, Mutalifu A, Azhati B, Wang W, Yang H, Sheyhedin I, et al. Diagnosis and surgical treatment of renal hydatid disease: a retrospective analysis of 30 cases. PLoS One. 2014;9(5):e96602. doi: 10.1371/journal.pone.0096602.
Horchani A, Nouira Y, Kbaier I, Attyaoui F, Zribi AS. Hydatid cyst of the kidney. A report of 147 controlled cases. Eur Urol. 2000;38(4):461-7. doi: 10.1159/000020325.
Shetty SD, al-Saigh AA, Ibrahim AI, Malatani T, Patil KP. Hydatid disease of the urinary tract: evaluation of diagnostic methods. Br J Urol. 1992;69(5):476-80. doi: 10.1111/j.1464-410x.1992.tb15591.x.
Ramteke VV, Deshpande NS, Balwani MR, Bawankule CP. Primary renal echinococcosis. Indian J Nephrol. 2017;27(4):316-8. doi: 10.4103/0971-4065.202839.
Siddappa S, Karthikeyan VS. Genitourinary hydatid disease: A Review. Trop Med Surg. 2016;04(2):208. doi: 10.4172/2329-9088.1000208.
Aggarwal S, Bansal A. Laparoscopic management of renal hydatid cyst. JSLS. 2014;18(2):361-6. doi: 10.4293/108680813X13753907291396.
Junghanss T, Da Silva AM, Horton J, Chiodini PL, Brunetti E. Clinical management of cystic echinococcosis: state of the art, problems, and perspectives. Am J Trop Med Hyg. 2008;79(3):301-11. doi: 10.4269/ajtmh.2008.79.301.
Brunetti E, Kern P, Vuitton DA, Writing Panel for the WHO-IWGE. Expert consensus for the diagnosis and treatment of cystic and alveolar echinococcosis in humans. Acta Trop. 2010;114(1):1-16. doi: 10.1016/j.actatropica.2009.11.001.
Blehaj A, ET-Tayeb O, Majdoub KI, Toughrai I, Laalim SA, Mazaz K. Anaphylactic shock during splenic hydatid cyst surgery: A case report. J Surg Med. 2018;2(2):154-6.
Tonnelet R, Jausset F, Tissier S, Laurent V. Spontaneous rupture of a hydatid cyst and anaphylactic shock. J Radiol. 2011;92(7-8):735-8. doi: 10.1016/j.jradio.2011.03.021.
Neumayr A, Troia G, de Bernardis C, Tamarozzi F, Goblirsch S, Piccoli L, et al. Justified concern or exaggerated fear: the risk of anaphylaxis in percutaneous treatment of cystic echinococcosis: A systematic literature review. PLoS Negl Trop Dis. 2011;5(6):e1154. doi: 10.1371/journal.pntd.0001154.
Razzaghi MR, Mazloomfard MM, Bahrami-Motlagh H, Javanmard B. Isolated renal hydatid cyst: diagnosis and management. Urol J. 2012;9(4):718-20.
Zmerli S, Ayed M, Horchani A, Chami I, El Ouakdi M, Ben Slama MR. Hydatid cyst of the kidney: diagnosis and treatment. World J Surg. 2001;25(1):68-74. doi: 10.1007/s002680020009.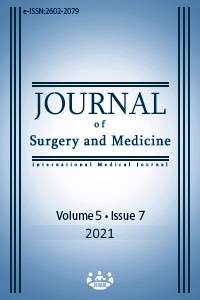 How to Cite
1.
Demir M, Şengel A, Yağmur İsmail, Pelit ES, Katı B, Tunçekin A, Çiftçi H. Retrospective analysis of isolated renal hydatid cysts: A single-center study. J Surg Med [Internet]. 2021 Jul. 1 [cited 2023 Sep. 24];5(7):657-60. Available from: https://jsurgmed.com/article/view/950736
License
Copyright (c) 2021 Mehmet Demir, Abdulhakim Şengel, İsmail Yağmur, Eyyup Sabri Pelit, Bülent Katı, Adem Tunçekin, Halil Çiftçi
This work is licensed under a Creative Commons Attribution-NonCommercial-NoDerivatives 4.0 International License.
#6987