Diabetic retinopathy treatment and management during the COVID-19 pandemic
Keywords:
COVID-19, Diabetic retinopathy, Intravitreal injection, Optical coherence tomography
Abstract
Background/Aim: Diabetic macular edema (DME) is a common retinal disease and is the most common cause of vision loss due to diabetic retinopathy. During the COVID-19 pandemic, there has been a serious decrease in hospital visits due to both the measures taken by governments and the anxiety of patients fearful of contracting COVID-19. The aim of this study is to determine the problems occurring during the COVID-19 pandemic period in patients treated with intravitreal (IV) injection for diabetic retinopathy, and to provide recommendations for treatment management in these patients. Methods: Twenty-nine eyes of 17 patients who were diagnosed with DME were included. The frequency of hospital visits, treatments performed, and detailed ophthalmological examination findings, including optical coherence tomography findings and glycated haemoglobin (HbA1c) values, were recorded in the period before the COVID-19 pandemic. During the COVID-19 pandemic period, the detailed ophthalmological examination findings and HbA1c values were noted after the patients who had delayed their routine control time (>90 days) applied to the hospital. New treatments were planned according to the current situation. Results: Seventeen patients were included in the study; 10 were female (58.8%) and seven were male (41.2%). The mean time interval between following visits was 45.5 (5.9) days during the pre-pandemic period, but it increased to 110.4 (13.5) days during the COVID-19 pandemic period (P<0.001). Visual acuity (LogMAR) was 0.4 (0.4) in the pre-pandemic period and 0.8 (0.5) during the COVID-19 pandemic period (P=0.003). Central macular thickness was 300.1 (85.6) µm in the pre-pandemic period and it increased to 387.1 (144.5) µm during the COVID-19 pandemic period (P=0.007). In three patients, complications of diabetic retinopathy that could not be cured by medical treatment developed and surgical treatment was recommended. Conclusions: Delays in the treatment of diabetic retinopathy may cause permanent impairment in visual functions. The COVID-19 pandemic has caused an increase in the hospital visit intervals of patients, and this situation has resulted in disruptions in the follow-up and treatment of patients with diabetic retinopathy. Alternative diagnosis and treatment practices are needed in order to manage these and similar processes smoothly.
Downloads
Download data is not yet available.
References
Ding J, Wong TY. Current epidemiology of diabetic retinopathy and diabetic macular edema. Curr Diab Rep. 2012;12:346-54. Doi: 10.1007/s11892-012-0283-6. Pubmed PMID: 22585044.
Klein R, Klein BE, Moss SE, Cruickshanks KJ. The Wisconsin Epidemiologic Study of Diabetic Retinopathy. XV. The long-term incidence of macular edema. Ophthalmology. 1995;102:7-16. Doi: 10.1016/s0161-6420(95)31052-4. Pubmed PMID: 7831044
Aiello LP, Avery RL, Arrigg PG, Keyt BA, Jampel HD, Shah ST, et al. Vascular endothelial growth factor in ocular fluid of patients with diabetic retinopathy and other retinal disorders. N Engl J Med. 1994;331:1480-7. Doi: 10.1056/NEJM199412013312203. Pubmed PMID: 7526212
Korobelnik JF, Do DV, Schmidt-Erfurth U, Boyer DS, Holz FG, Heier JS, et al. Intravitreal aflibercept for diabetic macular edema. Ophthalmology. 2014;121:224754. Doi: 10.1016/j.ophtha.2014.05.006. Pubmed PMID: 25012934
Brown DM, Nguyen QD, Marcus DM, Boyer DS, Patel S, Feiner L, et al. Long-term outcomes of ranibizumab therapy for diabetic macular edema: the 36-month results from two phase III trials: RISE and RIDE. Ophthalmology. 2013;120:2013-22. Doi: 10.1016/j.ophtha.2013.02.034. Pubmed PMID: 23706949
Arevalo JF, Lasave AF, Wu L, Diaz-Llopis M, Gallego-Pinazo R, Alezzandrini AA, et al. Intravitreal bevacizumab plus grid laser photocoagulation or intravitreal bevacizumab or grid laser photocoagulation for diffuse diabetic macular edema: results of the Pan-American Collaborative Retina Study Group at 24 months. Retina. 2013;33:403-13. Doi: 10.1097/IAE.0b013e3182695b83. Pubmed PMID: 23222389
He Y, Ren XJ, Hu BJ, Lam WC, Li XR. A meta-analysis of the effect of a dexamethasone intravitreal implant versus intravitreal anti-vascular endothelial growth factor treatment for diabetic macular edema. BMC Ophthalmol. 2018 May 21;18:121. Doi: 10.1186/s12886-018-0779-1. Pubmed PMID: 29784048
Robinson MR, Whitcup SM. Pharmacologic and clinical profile of dexamethasone intravitreal implant. Expert Rev Clin Pharmacol. 2012;5:629-47. Doi: 10.1586/ecp.12.55. Pubmed PMID: 23234323
Parrish RK, Stewart MW, Duncan Powers SL. Ophthalmologists Are More Than Eye Doctors-In Memoriam Li Wenliang. Am J Ophthalmol. 2020;213:A1-A2. Doi: 10.1016/j.ajo.2020.02.014. Pubmed PMID: 32169251
Situation Reportd -51 WHOC disease 2019 (COVID19). S. No. https://www.who.int/docs/default-source/coronaviruse/situation-reports/20200311-sitrep-51-covid-19.pdf?sfvrsn¼1ba 62e57_10. Accessed May 19, 2020.
Parravano M, Borrelli E, Costanzo E, Sacconi R , Varano M , Querques G. Protect Healthcare Workers and Patients from COVID-19: The Experience of Two Tertiary Ophthalmology Care Referral Centers in Italy. Ophthalmol Therapy. 2020;9:231-4. Doi: 10.1007/s40123-020-00251-z. Pubmed PMID: 32333375
Bozkurt B, Eğrilmez S, Şengör T, Yıldırım Ö, İrkeç M. The COVİD-19 Pandemic: Clinical Information for Ophtalmologists. Turk J Ophtalmol. 2020;50:59-63. Doi: 10.4274/tjo.galenos.2020.29805. Pubmed PMID: 32366061
Gupta V, Rajendran A, Narayanan R, Chawla S, Kumar A, Palanivelu MS, et al. Evolving consensus on managing vitreo-retina and uvea practice in post-COVID-19 pandemic era. Indian J Ophtalmol. 2020;68:962-73. Doi: 10.4103/ijo.IJO_1404_20. Pubmed PMID: 32461407
Zhou J, Tan J. Diabetes patients with COVID-19 need better blood glucose management in Wuhan, China. Metabolism. 2020;107:154216. Doi: 10.1016/j.metabol.2020.154216. Pubmed PMID: 32220612
Singh AK, Singh R. Does poor glucose control increase the severity and mortality in patients with diabetes and COVID-19? Diabetes Metab Syndr. 2020;14:725-7. Doi: 10.1016/j.dsx.2020.05.037. Pubmed PMID: 32473903
Qing H, Li Z, Yang Z, Shi M, Huang Z, Song J, et al. The possibility of COVID-19 transmission from eye to nose. Acta Ophthalmol. 2020;98:e388. Doi: 10.1111/aos.14412. Pubmed PMID: 32189463
Korobelnik JF, Loewenstein A, Eldem B, Joussen AM, Koh A, Lambrou GN, et al. Guidance for anti-VEGF intravitreal injections during the COVID-19 pandemic. Graefes Arch Clin Exp Ophtalmol. 2020;258:1149-56. Doi: 10.1007/s00417-020-04703-x. Pubmed PMID: 32328757
The American Society of Retina Specialists. ASRS releases guidelines to help retina practices navigate COVID-19 pandemic. http://www.asrs.org/clinical/clinical updates/1962/asrs-releases-guideleines-to-help-retina-practices-navigate-covid-19-pandemic. (13 June 2020).
Ting DSW, Cheung CYL, Lim G, Wei Tan GS, Quang ND, Gan A, et al. Development and validation of a deep learning system for diabetic retinopathy and related eye diseases using retinal images from multiethnic populations with diabetes. JAMA. 2017;318:2211–23. Doi: 10.1001/jama.2017.18152. Pubmed PMID: 29234807
Arcadu F, Benmansour F, Maunz A, Willis J, Haskova Z, Prunotto M. Deep learning algorithm predicts diabetic retinopathy progression in individual patients. NPJ Digit Med. 2019;2:92. Doi: 10.1038/s41746-019-0172-3. Pubmed PMID: 31552296
Rajalakshmi R, Subashini R, Anjana RM, Mohan V. Automated diabetic retinopathy detection in smartphone-based fundus photography using artificial intelligence. Eye (Lond). 2018;32:1138-44. Doi: 10.1038/s41433-018-0064-9. Pubmed PMID: 29520050
Wykoff CC, Clark WL, Nielsen JS, Brill JV, Greene LS, Heggen CL. Optimizing anti-VEGF treatment outcomes for patients with neovascular age-related macular degeneration. J Manag Care Spec Pharm. 2018;24(2-a Suppl):S3-S15. Doi: 10.18553/jmcp.2018.24.2-a.s3. Pubmed PMID: 29383980
Weiss M, Sim DA, Herold T, Schumann RG, Liegl R, Kern C, et al. Compliance and adherence of patients with diabetic macular edema to intravitreal anti-vascular endothelial growth factor therapy in daily practice. Retina. 2018;38:2293-2300. Doi: 10.1097/IAE.0000000000001892. Pubmed PMID: 29068914
Heier JS, Campochiaro PA, Yau L, Li Z, Saroj N, Rubio RG, et al. Ranibizumab for macular edema due to retinal vein occlusions: long-term follow-up in the HORIZON trial. Ophthalmology. 2012;119:802-9. Doi: 10.1016/j.ophtha.2011.12.005 Pubmed PMID: 22301066
Borrelli E, Grosso D, Vella G, Sacconi R, Querques L, Zucchiatti I, et al. Impact of COVID-19 on outpatient visits and intravitreal treatments in a referral retina unit: let's be ready for a plausible "rebound effect". Graefes Arch Clin Exp Ophthalmol. 2020;22;1-6. Doi: 10.1007/s00417-020-04858-7. Pubmed PMID: 32960319
Saleh OA, Jammal H, Alqudah N, Alqudah A, Abu-Yaghi N. Clinical Experience in the Administration of Intravitreal Injection Therapy at a Tertiary University Hospital in Jordan During the COVID-19 Lockdown. Clinical Ophthalmology. 2020:14;2473-80. Doi: 10.2147/OPTH.S269179. Pubmed PMID: 32943831
Corazza P, D'Alterio FM, Younis S. Proposed algoritm during COVID-19 pandemic for patient management in medical retina clinic. Int J Retina Vitreus. 2020;6:20. Doi: 10.1186/s40942-020-00226-z. Pubmed PMID: 32514377
Antaki F, Dirani A. Treating neovascular age-related macular degeneration in the era of COVID-19. Graefes Arch Clin Exp Ophthalmol. 2020;258:1567-9. Doi: 10.1007/s00417-020-04693-w. Pubmed PMID: 32318805.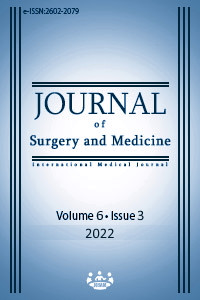 How to Cite
1.
Öncül H, Yılmaz Öncül F, Alakuş F. Diabetic retinopathy treatment and management during the COVID-19 pandemic. J Surg Med [Internet]. 2022 Mar. 1 [cited 2023 Feb. 5];6(3):336-41. Available from: https://jsurgmed.com/article/view/941790
License
Copyright (c) 2022 Hasan Öncül, Fatma Yılmaz Öncül, Fuat Alakuş
This work is licensed under a Creative Commons Attribution-NonCommercial-NoDerivatives 4.0 International License.
#7174