The association of vitamin D with semen quality and fertility hormones in idiopathic recurrent pregnancy loss without the female factor
Keywords:
Idiopathic recurrent pregnancy loss, Male factors, Vitamin D, Testosterone, Spermiogram
Abstract
Background/Aim: There is a lack of data about male contribution to idiopathic recurrent pregnancy loss (IRPL). The study aimed to investigate the factors associated with males, including Vitamin D, semen parameters, fertility hormones, and some demographical features in IRPL. Methods: In this cross-sectional study, the data of 41 men whose partners were diagnosed with recurrent pregnancy loss between February 2014 to February 2015 were collected. Female partners were examined fully, including thrombophilia factors, and no cause was detected. The karyotypes of both partners were normal. Men's 25-hydroxy-vitamin D (25-OH-VD) levels, semen parameters (ejaculate volume, total sperm count per ejaculate, sperm concentration, sperm progressive motility, and sperm morphology), and fertility hormones (follicle-stimulating hormone, luteinizing hormone, total testosterone, estradiol, and prolactin) were assessed. Results: Mean 25-OH-VD was lower (18.4 (9.6) ng/ml) than the normal range. We found that testosterone was significantly lower in the group with 25-OH-VD ≤19 ng/dl when compared to the group with 25-OH-VD ≥20 ng/ml. There is a positive correlation between 25-OH-VD and testosterone levels. Although it was not statistically significant, there was a tendency for decreased sperm morphology. Conclusion: Serum testosterone levels of men whose partners were diagnosed with IRPL decreased with lower 25-OH-VD levels. In addition to standard female factors, male factors should also be taken into consideration when evaluating the risk of IRPL.
Downloads
Download data is not yet available.
References
Practice Committee of the American Society for Reproductive Medicine. Evaluation and treatment of recurrent pregnancy loss: a committee opinion. Fertil Steril. 2012;98(5):1103–11. doi: 10.1016/j.fertnstert.2012.06.048.
Allison JL, Schust DJ. Recurrent first trimester pregnancy loss: revised definitions and novel causes. Curr Opin Endocrinol Diabetes Obes. 2009;16:446–50. doi: 10.1097/MED.0b013e3283327fc5.
Kiwi R. Recurrent pregnancy loss: evaluation and discussion of the causes and their management. Cleve Clin J Med. 2006;73:913–21. doi: 10.3949/ccjm.73.10.913.
El Hachem H, Crepaux V, May-Panloup P, Descamps P, Legendre G, Bouet PE. Recurrent pregnancy loss: current perspectives. Int J Womens Health. 2017;9:331–45. doi: 10.2147/IJWH.S100817.
Puscheck EE, Jeyendran RS. The impact of male factor on recurrent pregnancy loss. Curr Opin Obstet Gynecol. 2007;19:222–8. doi: 10.1097/GCO.0b013e32813e3ff0.
Ruixue W, Hongli Z, Zhihong Z, Rulin D, Dongfeng G, Ruizhi L. The impact of semen quality, occupational exposure to environmental factors and lifestyle on recurrent pregnancy loss. J Assist Reprod Genet. 2013;30:1513–8. doi: 10.1007/s10815-013-0091-1.
Dickey R, Ramasamy R. Role of Male Factor Testing in Recurrent Pregnancy Loss or In Vitro Fertilization Failure. Reprod Syst Sex Disord. 2015;4(3):1000e122. doi: 10.4172/2161-038X.1000e122.
Cao X, Cui Y, Zhang X, Lou J, Zhou J, Wei R. The correlation of sperm morphology with unexplained recurrent spontaneous abortion: A systematic review and meta-analysis. Oncotarget. 2017;8:55646–56. doi: 10.18632/oncotarget.17233.
Talebi AR, Vahidi S, Aflatoonian A, Ghasemi N, Ghasemzadeh J, Firoozabadi RD, et al. Cytochemical evaluation of sperm chromatin and DNA integrity in couples with unexplained recurrent spontaneous abortions. Andrologia. 2012;44:462–70. doi: 10.1111/j.1439-0272.2011.01206.x.
Absalan F, Ghannadi A, Kazerooni M, Parifar R, Jamalzadeh F, Amiri S. Value of sperm chromatin dispersion test in couples with unexplained recurrent abortion. J Assist Reprod Genet. 2012;29(1):11–4. doi: 10.1007/s10815-011-9647-0.
Esteves SC, Zini A, Coward RM, Evenson DP, Gosálvez J, Lewis SEM, et al. Sperm DNA fragmentation testing: Summary evidence and clinical practice recommendations. Andrologia. 2021;53:13874. doi: 10.1111/and.13874.
Jayasena CN, Radia UK, Figueiredo M, Revill LF, Dimakopoulou A, Osagie M, et al. Reduced Testicular Steroidogenesis and Increased Semen Oxidative Stress in Male Partners as Novel Markers of Recurrent Miscarriage. Clin Chem. 2019;65:16–9. doi: 10.1373/clinchem.2018.289348.
Corbett ST, Hill O, Nangia AK. Vitamin D receptor found in human sperm. Urology. 2006;68(6):1345–9. doi: 10.1016/j.urology.2006.09.011.
Aquila S, Guido C, Middea E, Perrotta I, Bruno R, Pellegrino M, et al. Human male gamete endocrinology: 1alpha, 25-dihydroxyvitamin D3 (1.25(OH)2D3) regulates different aspects of human sperm biology and metabolism. Reprod Biol Endocrinol. 2009;7:140. doi: 10.1186/1477-7827-7-140.
Blomberg Jensen M, Nielsen JE, Jørgensen A, Rajpert-De Meyts E, Kristensen DM, Jørgensen N, et al. Vitamin D receptor and vitamin D metabolizing enzymes are expressed in the human male reproductive tract. Hum Reprod. 2010;25(5):1303–11. doi: 10.1093/humrep/deq024.
Wehr E, Pilz S, Boehm BO, März W, Obermayer-Pietsch B. Association of vitamin D status with serum androgen levels in men. Clin Endocrinol (Oxf). 2010;73:243–8. doi: 10.1111/j.1365-2265.2009.03777.x.
Johnson JA, Grande JP, Roche PC, Kumar R. Immunohistochemical detection and distribution of the 1,25-dihydroxyvitamin D3 receptor in rat reproductive tissues. Histochem Cell Biol. 1996;105(1):7–15. doi: 10.1007/BF01450873.
Aquila S, Guido C, Perrotta I, Tripepi S, Nastro A, Andò S. Human sperm anatomy: ultrastructural localization of 1alpha,25-dihydroxyvitamin D receptor and its possible role in the human male gamete. J Anat. 2008;213(5):555–64. doi: 10.1111/j.1469-7580.2008.00975.x.
Kinuta K, Tanaka H, Moriwake T, Aya K, Kato S, Seino Y. Vitamin D is an important factor in estrogen biosynthesis of both female and male gonads. Endocrinology. 2000;141:1317–24. doi: 10.1210/endo.141.4.7403.
Cooper TG, Noonan E, von Eckardstein S, Auger J, Baker HW, Behre HM, et al. World Health Organization reference values for human semen characteristics. Hum Reprod Update. 2010;16(3):231–45. doi: 10.1093/humupd/dmp048.
Costanzo PR, Knoblovits P. Vitamin D and male reproductive system. Horm Mol Biol Clin Investig. 2016;28:151–9. doi: 10.1515/hmbci-2016-0049.
Lorenzen M, Boisen IM, Mortensen LJ, Lanske B, Juul A, Blomberg Jensen M. Reproductive endocrinology of vitamin D. Mol Cell Endocrinol. 2017;453:103–12. doi: 10.1016/j.mce.2017.03.023.
Zanatta L, Zamoner A, Zanatta AP, Bouraïma-Lelong H, Delalande C, Bois C, et al. Nongenomic and genomic effects of 1α,25(OH)2 vitamin D3 in rat testis. Life Sci. 2011;89:515–23. doi: 10.1016/j.lfs.2011.04.008.
Zamani A, Saki F, Hatami N, Koohpeyma F. Stereological assessment of the effects of vitamin D deficiency on the rat testis. BMC Endocr Disord. 2020;20(1):162. doi: 10.1186/s12902-020-00642-0.
Menegaz D, Barrientos-Duran A, Kline A, Silva FR, Norman AW, Mizwicki MT, et al. 1alpha,25(OH)2-Vitamin D3 stimulation of secretion via chloride channel activation in Sertoli cells. J Steroid Biochem Mol Biol. 2010;119:127–34. doi: 10.1016/j.jsbmb.2010.01.011.
de Angelis C, Galdiero M, Pivonello C, Garifalos F, Menafra D, Cariati F, et al. The role of vitamin D in male fertility: A focus on the testis. Rev Endocr Metab Disord. 2017;18:285–305. doi: 10.1007/s11154-017-9425-0.
Ramlau-Hansen CH, Moeller UK, Bonde JP, Olsen J, Thulstrup AM. Are serum levels of vitamin D associated with semen quality? Results from a cross-sectional study in young healthy men. Fertil Steril. 2011;95:1000–4. doi: 10.1016/j.fertnstert.2010.11.002.
Hammoud AO, Meikle AW, Peterson CM, Stanford J, Gibson M, Carrell DT. Association of 25-hydroxy-vitamin D levels with semen and hormonal parameters. Asian J Androl. 2012;14(6):855–9. doi: 10.1038/aja.2012.77.
Lerchbaum E, Pilz S, Trummer C, Rabe T, Schenk M, Heijboer AC, et al. Serum vitamin D levels and hypogonadism in men. Andrology. 2014;2:748–54. doi: 10.1111/j.2047-2927.2014.00247.x.
Rehman R, Lalani S, Baig M, Nizami I, Rana Z, Gazzaz ZJ. Association Between Vitamin D, Reproductive Hormones and Sperm Parameters in Infertile Male Subjects. Front Endocrinol (Lausanne). 2018;9:607. doi: 10.3389/fendo.2018.00607.
Barratt CL. Male infertility joins the translational medicine revolution. Sperm DNA: from basic science to clinical reality. Mol Hum Reprod. 2010;16(1):1–2. doi: 10.1093/molehr/gap094.
Carrell DT. Elucidating the genetics of male infertility: understanding transcriptional and translational regulatory networks involved in spermatogenesis. Int J Androl. 2008;31:455–6. doi: 10.1111/j.1365-2605.2008.00913.x.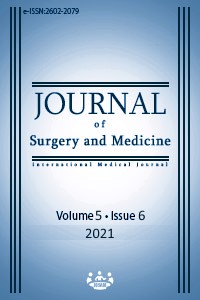 How to Cite
1.
Şahin B, Alataş E. The association of vitamin D with semen quality and fertility hormones in idiopathic recurrent pregnancy loss without the female factor. J Surg Med [Internet]. 2021 Jun. 1 [cited 2023 Jun. 7];5(6):611-4. Available from: https://jsurgmed.com/article/view/941178
License
Copyright (c) 2021 Banuhan Şahin, Erkan Alataş
This work is licensed under a Creative Commons Attribution-NonCommercial-NoDerivatives 4.0 International License.
#6983