A rare pathology of syncope: A dilemma for hypertrophic cardiomyopathy or right atrial huge thrombosis
Keywords:
Syncope, Hypertrophic cardiomyopathy, Thrombus
Abstract
The complications associated with central venous catheters for hemodialysis access are well known. A rare complication is the development of right-sided intracardiac thrombus, which typically occurs in the right atrium. The location of the permanent catheter tip is associated with the development of thrombi. In this case report, we describe a patient with hypertrophic cardiomyopathy diagnosed with chronic kidney failure 2 years before contrast examination. The patient presented syncope during his last routine hemodialysis, and echocardiography imaging showed a hyperechogenic mass at the tip of the catheter.
Downloads
Download data is not yet available.
References
Schwab SJ, Beathard G. The hemodialysis catheter conundrum: Hate living with them, but can't live without them. Kidney Int. 1999 Jul;56(1):1-17.
Hickman RO, Buckner CD, Clift RA, Sanders JE, Stewart P, Thomas ED. A modified right atrial catheter for access to the venous system in marrow transplant recipients. Surg Gynecol Obstet. 1979 Jun;148(6):871-5.
Shah A, Murray M, Nzerue C. Right atrial thrombi complicating use of central venous catheters in hemodialysis. J Vasc Access. Jan-Mar 2005;6(1):18-24.
The European Working Group on Echocardiography. The European Cooperative Study on the clinical significance of right heart thrombi. Eur Heart J. 1989 Dec;10(12):1046-59.
Mukharji J, Peterson JE. Percutaneous removal of a large mobile right atrial thrombus using a basket retrieval device. Catheter Cardiovasc Interv. 2000 Dec;51(4):479-82.
Latif T, Steiman DM, Gagaoudakis P. Massive right atrial thrombosis due to Hickman catheter requiring open heart surgery—a case report. Angiology. 2001 Jun;52(6):425-8.
Delaplane D, Scott JP, Riggs TW, Silverman BL, Hunt CE. Urokinase therapy for a catheter-related right atrial thrombus. Pediatr Pulmonol. Sep-Oct 1986;2(5):303-6.
Drakos PE, Nagler A, Or R, Gillis S, Slavin S, Eldor A. Low molecular weight heparin for Hickman catheter-induced thrombosis in thrombocytopenic patient undergoing bone marrow transplantation. Cancer. 1992 Oct 1;70(7):1895-8.
Horner SM, Bell JA, Swanton RH. Infected right atrial thrombus an important but rare complication of central venous lines. Eur Heart J. 1993 Jan;14(1):138-40.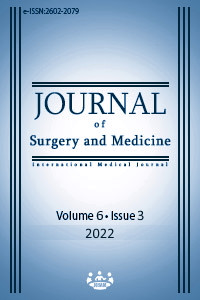 How to Cite
1.
Sarı H, Alsancak Y, Keskin Öznur, Soylu S. A rare pathology of syncope: A dilemma for hypertrophic cardiomyopathy or right atrial huge thrombosis. J Surg Med [Internet]. 2022 Mar. 1 [cited 2023 Dec. 10];6(3):408-9. Available from: https://jsurgmed.com/article/view/935190
License
Copyright (c) 2022 Hasan Sarı, Yakup Alsancak, Öznur Keskin, Selman Soylu
This work is licensed under a Creative Commons Attribution-NonCommercial-NoDerivatives 4.0 International License.
#7163