Interleukin-1 beta gene polymorphisms in patients with fibromyalgia syndrome
Keywords:
Interleukin-1β, Polymorphism, Fibromyalgia syndrome
Abstract
Background/Aim: Fibromyalgia syndrome (FMS) has been linked to a genetic background. Although there are conflicting results, it has been suggested that cytokines play a role in FMS etiology. Interleukin (IL)1β is a cytokine that has been linked to FMS symptoms and has been detected in the skin of FMS patients. We aimed to determine the possible relationship between IL1β -31 and IL1β -511 polymorphisms in FMS. Methods: In this cross-sectional study, we included patients who were diagnosed with FMS according to the American College of Rheumatology classification criteria. IL1β -31 (rs 1143627) and IL1β -511 (rs 16944) polymorphism genotyping was conducted in FMS patients (n=33) and healthy controls (n=41) using real-time polymerase chain reaction (RT-PCR). Results: IL1β -511 variations in patients with FMS and control groups were significantly different (P=0.010). The frequency of the IL1β -511 heterozygote AG genotype was significantly higher in controls (P=0.028). Additionally, the frequency of the IL1β -511 wild type A allele was significantly higher in the control group (P=0.003). The IL1β -31 genotypes and allele frequencies were not significantly different between the groups. Conclusion: The IL1β -511 wild type A allele could be a risk-reducing factor for FMS. The present study suggests that genetic variations of the IL1β gene could play an important role in FMS etiology.
Downloads
Download data is not yet available.
References
Bellato E, Marini E, Castoldi F, Barbasetti N, Mattei L, Bonasia DE, et al. Fibromyalgia syndrome: etiology, pathogenesis, diagnosis, and treatment. Pain Res Treat. 2012;2012:1-17.
Ablin JN, Buskila D. Update on the genetics of the fibromyalgia syndrome. Best Pract Res Clin Rheumatol. 2015;29:20-8.
Clauw DJ. Fibromyalgia: A clinical review. JAMA. 2014;311(15):1547-55.
Knezevic NN, Tverdohleb T, Knezevic I, Candido KD. The role of genetic polymorphism in chronic pain patients. Int J Mol Sci. 2018;19(6):1707.
Feng J, Zhang Z, Wu X, Mao A, Chang F, Deng X, et al. Discovery of potential new gene variants and inflammatory cytokine associations with fibromyalgia syndrome by whole exome sequencing. PLoS One. 2013;8(6):e65033.
Mendieta D, De la Cruz-Aguilera DL, Barrera-Villalpando MI, Becerril-Villanueva E, Arreola R, Hernández-Ferreira E, et al. IL-8 and IL-6 primarily mediate the inflammatory response in fibromyalgia patients. J Neuroimmunol. 2016;290:22–5.
Malhotra D, Saxena AK, Dar SA, Kumar V, Nasare N, Tripathi AK, et al. Evaluation of cytokine levels in fibromyalgia syndrome patients and its relationship to the severity of chronic pain. J Musculoskelet Pain. 2012;20:164–9.
Bote ME, García JJ, Hinchado MD, Ortega E. Inflammatory/stress feedback dysregulation in women with fibromyalgia.Neuroimmunomodulation. 2012;19:343–51.
Imamura M, Targino RA, Hsing WT, Imamura S, Azevedo RS, Boas LS, et al. Concentration of cytokines in patients with osteoarthritis of the knee and fibromyalgia. Clin Interv Aging. 2014;9:939–44.
Ernberg E, Christidis B, Ghafouri B, Bileviciute-Ljungar I, Löfgren M, Bjersing J, et al. Plasma cytokine levels in fibromyalgia and their response to 15 weeks of progressive resistance exercise or relaxation therapy. Mediators of Inflamm. 2018;2018:3985154.
Wallace DJ, Linker-Israeli M, Hallegua D, Silverman S, Silver D, Weisman MH. Cytokines play an aetiopathogenetic role in fibromyalgia: a hypothesis and pilot study. Rheumatology. 2001;40:743-9.
Wang H, Moser M, Schiltenwolf M, Buchner M. Circulating cytokine levels compared to pain in patients with fibromyalgia-a prospective longitudinal study over 6 months. J Rheumatol. 2008;35:1366-70.
Cetin B, Gulec H, Toktas HE, Ulutas O, Yilmaz SG, Isbir T. Objective measures of sleep in fibromyalgia syndrome: Relationship to clinical, psychiatric, and immunological variables. Psychiatry Research. 2018;263:125-9.
Jewett KA, Krueger JM. Humoral sleep regulation; interleukin-1 and tumor necrosis factor. Vitam Horm. 2012;89:241-57.
Lorton D, Lubahn CL, Estus C, Millar BA, Carter JL, Wood CA, et al. Bidirectional communication between the brain and the immune system: implications for physiological sleep and disorders with disrupted sleep. Neuroimmunomodulation. 2006;13:357-74.
Menzies V, Lyon DE. Integrated review of the association of cytokines with fibromylgia and fibromyalgia core symptoms. Biological research for nursing. 2010;11(4):387-94.
Salemi S, Rethage J, Wollina U, Michel BA, Gay RE, Gay S, Sprott H. Detection of interleukin 1beta (IL-1beta), IL-6, and tumor necrosis factor-alpha in skin of patients with fibromyalgia. J Rheumatol. 2003;30(1):146-50.
Wolfe F, Clauw DJ, Fitzcharles MA, Goldenberg DL, Hauser W, Katz RL, et al. 2016 Revisions to the 2010/2011 fibromyalgia diagnostic criteria. Semin Arthritis Rheum. 2016;46(3):319-29.
Sumpton JE, Moulin DE. Fibromyalgia. Handb Clin Neurol. 2014;119:513-27.
Bazzichi L, Rossi A, Massimetti G, Giannaccini G, Guiliano T, De Feo F, et al. Cytokine patterns in fibromyalgia and their correlation with clinical manifestations. Clin Exp Rheumatol. 2007;25(2):225-30.
Rodriguez-Pinto I, Agmon-Levin N, Howard A, Shoenfeld Y. Fibromyalgia and cytokines. Immunol Lett. 2014;161:200-3.
Buskila D, Sarzi-Puttini P, Ablin JN. The genetics of fibromyalgia syndrome. Pharmacogenomics. 2007;8(1):67–74.
Zhang Z, Feng J, Mao A, Placa DL, Wu X, Longmate J, et al. SNPs in inflammatory genes CCL11 CCL4 and MEFV in a fibromyalgia family study. PLoS One. 2018;13(6):e0198625.
Hall SK, Perregaux DG, Gabel CA, Woodworth T, Durham LK, Huizinga TW, et al. Correlation of polymorphic variation in the promoter region of the interleukin-1 beta gene with secretion of interleukin-1 beta protein. Arthritis Rheum. 2004;50:1976-83.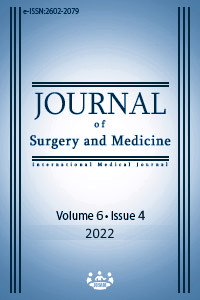 How to Cite
1.
Çetin B, Güleç S, Güleç H, Ulutaş Özgür, İşbir T. Interleukin-1 beta gene polymorphisms in patients with fibromyalgia syndrome. J Surg Med [Internet]. 2022 Apr. 1 [cited 2023 Sep. 25];6(4):428-31. Available from: https://jsurgmed.com/article/view/929820
License
Copyright (c) 2022 Buğra Çetin, Seda Güleç, Hüseyin Güleç, Özgür Ulutaş, Turgay İşbir
This work is licensed under a Creative Commons Attribution-NonCommercial-NoDerivatives 4.0 International License.
#7230