The effects of 6 weeks home rehabilitation program for non-ventilated COVID-19 patients after discharge: A case report
Keywords:
Coronavirus, COVID-19, Pulmonary rehabilitation, Dyspnea, Aerobic capacity
Abstract
COVID-19 disease is a pandemic that affects the cardio-respiratory system and causes other systemic problems. The effect of pulmonary rehabilitation (PR) programs for COVID-19 disease sequelae is not clear. The aim of this study was to investigate the effects of PR on COVID-19 sequelae. A 52-year-old patient was hospitalized for 8 days, and the complaints of fatigue and dyspnea continued after being discharged. For this reason, an exercise program was recommended. The patient underwent a 6-week PR that consisted of breathing, aerobic, and resistance exercises under supervision. After 6 weeks of the PR, complaints of dyspnea and fatigue decreased. There were also improvements in aerobic capacity and quality of life scores. The PR caused improvements in cardiorespiratory system complaints on a non-ventilated COVID-19 patient.
Downloads
Download data is not yet available.
References
de Souza Ferreira LP, Valente TM, Tiraboschi FA, da Silva GPF. Description of Covid-19 Cases in Brazil and Italy. SN Compr Clin Med. 2020;2:497–500.
Oxley TJ, Mocco J, Majidi S, Kellner CP, Shoirah H, Singh IP, et al. Large-Vessel Stroke as a Presenting Feature of Covid-19 in the Young. N Eng J Med. 2020;26(1):382–20.
Thomas P, Baldwin C, Bissett B, Boden I, Gosselink R, Granger CL, et al. Physiotherapy management for COVID-19 in the acute hospital setting: clinical practice recommendations. J Physiother. 2020;66:73–82.
Mohamed AA, Alawna M. Role of increasing the aerobic capacity on improving the function of immune and respiratory systems in patients with coronavirus (COVID- 19): A review. Diabetes Metab Syndr Clin Res Rev. 2020;14(4):489–96.
Kurtaiş Aytür Y, Köseoğlu BF, Özyemişçi Taşkiran Ö, Gökkaya O, Kutay N, Ünsal Delialioğlu Sibel, et al. Pulmonary Rehabilitation Principles After SARS-CoV-2 (COVID-19): A Guideline for the Management of Acute and Subacute Course. Fiz Tıp ve Rehabil Bilim Derg. 2020;23(2):111–28.
Sheehy LM. Considerations for postacute rehabilitation for survivors of COVID-19. J Med Internet Res. 2020;22(5):1–8.
Zhao HM, Xie YX, Wang C. Recommendations for respiratory rehabilitation in adults with coronavirus disease 2019. Chin Med J. 2020;133(13):1595-1602.
Hanada M, Kasawara KT, Mathur S, Rozenberg D, Kozu R, Ahmed Hassan S, et al. Aerobic and breathing exercises improve dyspnea, exercise capacity and quality of life in idiopathic pulmonary fibrosis patients: Systematic review and meta-analysis. J Thorac Dis. 2020;12(3):1041–55.
Lacasse Y, Wong E, Guyatt GH, King D, Cook DJ, Goldstein RS. Meta-analysis of respiratory rehabilitation in chronic obstructive pulmonary disease. Lancet. 1996;348(9035):1115–9.
Fastenau A, van Schayck OC, Winkens B, Aretz K, Gosselink R, Muris JW. Effectiveness of an exercise training programme COPD in primary care: A randomized controlled trial. Respir Med. 2020;165:105943.
Chiu KL, Hsieh PC, Wu CW, Tzeng IS, Wu YK, Lan CC. Exercise training increases respiratory muscle strength and exercise capacity in patients with chronic obstructive pulmonary disease and respiratory muscle weakness. Hear Lung. 2020;49(5):556-563.
Grongstad A, Spruit MA, Oldervoll LM, Vøllestad NK, Edvardsen A. Pulmonary Rehabilitation in Patients with Pulmonary Sarcoidosis: Impact on Exercise Capacity and Fatigue. Respiration. 2020;99(4):289–97.
Wallaert B, Kyheng M, Labreuche J, Stelianides S, Wemeau L, Grosbois JM. Long-term effects of pulmonary rehabilitation on daily life physical activity of patients with stage IV sarcoidosis: A randomized controlled trial. Respir Med Res. 2020;77:1–7.
Lahham A, McDonald CF, Moore R, Cox NS, Rawlings S, Nichols A, et al. The impact of home-based pulmonary rehabilitation on people with mild chronic obstructive pulmonary disease: A randomised controlled trial. Clin Respir J. 2020;14(4):335–44.
Liu K, Zhang W, Yang Y, Zhang J, Li Y, Chen Y. Respiratory rehabilitation in elderly patients with COVID-19: A randomized controlled study. Complement Ther Clin Pract. 2020;39:101166.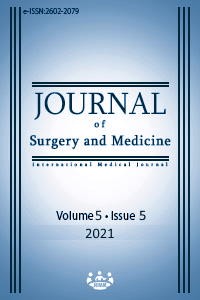 How to Cite
1.
Aktürk A, Kılıç G, Alğantekin Y. The effects of 6 weeks home rehabilitation program for non-ventilated COVID-19 patients after discharge: A case report. J Surg Med [Internet]. 2021 May 1 [cited 2023 Jun. 7];5(5):563-5. Available from: https://jsurgmed.com/article/view/922882
License
Copyright (c) 2021 Adem Aktürk, Gamze Kılıç, Yasin Alğantekin
This work is licensed under a Creative Commons Attribution-NonCommercial-NoDerivatives 4.0 International License.
#6928