Comparison of hearing reconstruction techniques in tympanosclerosis with stapes fixation
Keywords:
Tympanosclerosis, Stapes fixation, Hearing reconstruction, Ossicular replacement prosthesis, Ossicular mobilization
Abstract
Background/Aim: Surgery for tympanosclerosis with stapes fixation for hearing reconstruction is controversial, with many reports in the relevant literature advocate opposing suggestions. The primary aims were to evaluate hearing improvement with varied hearing reconstruction techniques performed for tympanosclerosis with stapes fixation. Methods: Patients with tympanosclerosis and stapes fixation, whose hearing impairment was re-constructed surgically and who were followed for 1-5 years were reviewed in this retrospective cohort study. The audiological outcomes of reconstruction methods, including mobilization, partial ossicular replacement prosthesis (PORP), total ossicular replacement prosthesis (TORP), and teflon pistons (TP) were documented. Results: The study included 76 ears of 76 patients; 29 ears in the mobilization technique group, 28 ears in the PORP technique group, 10 ears in the TORP technique group, and 9 ears in the TP technique group. When postoperative and preoperative hearing were evaluated, the mobilization and PORP techniques showed statistically significant improvement in both air conduction threshold gain and air-bone gap closure (P<0.05). Although some improvement was observed with the TORP and TP techniques, it was not significant (P>0.05). Bone conduction threshold showed no significant deterioration in any techniques. Conclusion: For hearing gain, mobilization and PORP were effective in tympanosclerosis patients with stapes fixation after removal of sclerotic plaques, whereas the TORP and TP techniques did not show significant improvement. It can be concluded that, if a functionally mobile stapes cannot be achieved, it is not advisable to perform TORP replacement or a stapedotomy. However, these methods may still be used in carefully selected patients and be successful in some.
Downloads
Download data is not yet available.
References
Makishima K, Toriya Y, Inoue S, Nakashima T, Igarashi Y. Clinicopathologic studies in tympanosclerosis. Am J Otol. 1982 Jan;3 (3):260-5. PMID: 7055238.
Şafak MA. Conduction Type Hearing Loss. In: Koc C, ed. Ear Nose Throat Diseases Book. Ankara, Turkey: Günes¸ Medicine Publishing House; 2013:129.
Yetiser S, Hidir Y, Karatas E, Karapinar U. Management of tympanosclerosis with ossicular fixation: review and presentation of long-term results of 30 new cases. J Otolaryngol. 2007 Oct;36(5):303-8. doi: 10.2310/7070.2007.0048. PMID: 17963670.
4.Kizilkaya Z, Emir H, Ceylan K, Gocmen H, Samim E. The effect of stapes mobility on hearing outcome and which procedure to choose in fixed stapes in children tympanosclerosis. Int J Pediatr Otorhinolaryngol. 2008 Jun;72(6):849-56. doi: 10.1016/j.ijporl.2008.02.014. Epub 2008 Apr 3. PMID: 18394718.
Tsuzuki K, Yanagihara N, Hinohira Y, Sakagami M. Tympanosclerosis involving the ossicular chain: mobility of the stapes in association with hearing results. Acta Otolaryngol. 2006 Oct;126(10):1046-52. doi: 10.1080/00016480600672634. PMID: 16923708.
Wielinga EW, Kerr AG. Tympanosclerosis. Clin Otolaryngol Allied Sci. 1993 Oct;18(5):341-9. doi: 10.1111/j.1365-2273.1993.tb00590.x. PMID: 8877197.
Celik H, Aslan Felek S, Islam A, Safak MA, Arslan N, Gocmen H. Analysis of long-term hearing after tympanosclerosis with total/partial stapedectomy and prosthesis used. Acta Otolaryngol. 2008;128(12):1308-13. doi: 10.1080/00016480801953056. PMID: 18607937.
Vincent R, Oates J, Sperling NM. Stapedotomy for tympanosclerotic stapes fixation: is it safe and efficient? A review of 68 cases. Otol Neurotol. 2002 Nov;23(6):866-72. doi: 10.1097/00129492-200211000-00010. PMID: 12438848.
Bedri EH, Teferi N, Redleaf M. Stapes Release in Tympanosclerosis. Otol Neurotol. 2018 Feb;39(2):184-188. doi: 10.1097/MAO.0000000000001639. PMID: 29210944.
Bayazit YA, Ozer E, Kara C, Gökpinar S, Kanlikama M, Mumbuç S. An analysis of the single-stage tympanoplasty with over-underlay grafting in tympanosclerosis. Otol Neurotol. 2004 May;25(3):211-4. doi: 10.1097/00129492-200405000-00001. PMID: 15129093.
Teufert KB, De La Cruz A. Tympanosclerosis: long-term hearing results after ossicular re-construction. Otolaryngol Head Neck Surg. 2002 Mar;126(3):264-72. doi: 10.1067/mhn.2002.122701. PMID: 11956534.
Sakalli E, Celikyurt C, Guler B, Biskin S, Tansuker HD, Erdurak SC. The effect of stapes fixation on hearing results in tympanosclerosis treated by mobilization. Eur Arch Otorhinolaryngol. 2015 Nov;272(11):3271-5. doi: 10.1007/s00405-014-3414-7. Epub 2014 Dec 4. PMID: 25472817.
Wales J, Gladiné K, Van de Heyning P, Topsakal V, von Unge M, Dirckx J. Minimally invasive laser vibrometry (MIVIB) with a floating mass transducer - A new method for objective evaluation of the middle ear demonstrated on stapes fixation. Hear Res. 2018 Jan;357:46-53. doi: 10.1016/j.heares.2017.11.007. Epub 2017 Nov 20. PMID: 29190487.
Wan LC, Xie NP, Yan X, Chen GQ. [Effects of ossicular reconstruction with partial ossicular replacement prosthesis in patients with tympanosclerosis]. Nan Fang Yi Ke Da Xue Xue Bao. 2006 Apr;26(4):529-31. Chinese. PMID: 16624775.
De Vos C, Gersdorff M, Gérard JM. Prognostic factors in ossiculoplasty. Otol Neurotol. 2007 Jan;28(1):61-7. doi: 10.1097/01.mao.0000231598.33585.8f. PMID: 17195748.
Quesnel S, Teissier N, Viala P, Couloigner V, Van Den Abbeele T. Long term results of os-siculoplasties with partial and total titanium Vario Kurz prostheses in children. Int J Pediatr Otorhinolaryngol. 2010 Nov;74(11):1226-9. doi: 10.1016/j.ijporl.2010.07.015. Epub 2010 Aug 30. PMID: 20800298.
Dedmon, M.M., O'Connell, B.P. & Rivas, A. Ossiculoplasty for Tympanosclerosis. Curr Otorhinolaryngol Rep 2020 Jan; 8:65–72. https://doi.org/10.1007/s40136-020-00261-2.
Kaur K, Sonkhya N, Bapna AS. Tympanosclerosis revisited. Indian J Otolaryngol Head Neck Surg. 2006 Apr;58(2):128-32. doi: 10.1007/BF03050766. PMID: 23120263; PMCID: PMC3450790.
Weiss NM, Vy H, Großmann W, Oberhoffner T, Schraven SP, Mlynski RA. Comparison of total and partial ossicular replacement prostheses in patients with an intact stapes suprastructure. Laryngoscope. 2020 Mar;130(3):768-775. doi: 10.1002/lary.28060. Epub 2019 May 11. PMID: 31077404.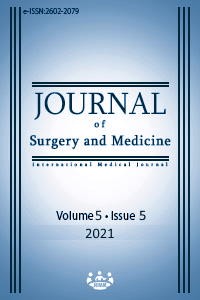 How to Cite
1.
Mutlu F, Öztürk M, Şirin S, Değer HM, Yaylacı A. Comparison of hearing reconstruction techniques in tympanosclerosis with stapes fixation. J Surg Med [Internet]. 2021 May 1 [cited 2023 Sep. 26];5(5):453-8. Available from: https://jsurgmed.com/article/view/922775
License
Copyright (c) 2021 Fatih Mutlu, Murat Öztürk, Seher Şirin, Hasan Mervan Değer, Atılay Yaylacı
This work is licensed under a Creative Commons Attribution-NonCommercial-NoDerivatives 4.0 International License.
#6942