A rare cause of upper extremity deep venous thrombosis: Paget Schroetter syndrome
Keywords:
Paget-Schroetter Syndrome, Effort thrombosis, Color Doppler ultrasonography, Upper extremity deep venous thrombosis
Abstract
Paget-Schroetter syndrome is a rare clinical entity, which is characterized by the thrombosis of the axillary and/or subclavian vein resulting from the activation of the coagulation cascade due to vigorous and repetitive activity of the arm and the external compression related microtrauma to the venous intima. The first imaging modality for diagnosis should be color Doppler ultrasonography. Thrombolysis and surgical decompression of the thoracic outlet are focused on relieving the external compression of the veins. In this case report, we aimed to present the greyscale ultrasonography and dynamic Doppler ultrasonography findings of a patient with upper extremity deep venous thrombosis.
Downloads
Download data is not yet available.
References
Sharma H, Tiwari A. Recurrent Upper Extremity Thrombosis Associated with Overactivity: A Case of Delayed Diagnosis of Paget-Schroetter Syndrome. Case Rep Vasc Med. 2017;2017:8764903. doi: 10.1155/2017/8764903. Epub 2017 Jul 10. PMID: 28775908; PMCID: PMC5523535.
Bernardi E, Pesavento R, Prandoni P. Upper extremity deep venous thrombosis. Semin Thromb Hemost. 2006 Oct;32(7):729-36. doi: 10.1055/s-2006-951458. PMID: 17024601.
Illig KA, Doyle AJ. A comprehensive review of Paget-Schroetter syndrome. J Vasc Surg. 2010 Jun;51(6):1538-47. doi: 10.1016/j.jvs.2009.12.022. Epub 2010 Mar 20. PMID: 20304578.
Moore R, Wei Lum Y. Venous thoracic outlet syndrome. Vasc Med. 2015 Apr;20(2):182-9. doi: 10.1177/1358863X14568704. PMID: 25832605.
Vijaysadan V, Zimmerman AM, Pajaro RE. Paget-Schroetter syndrome in the young and active. J Am Board Fam Pract. 2005 Jul-Aug;18(4):314-9. doi: 10.3122/jabfm.18.4.314. PMID: 15994479.
Butros SR, Liu R, Oliveira GR, Ganguli S, Kalva S. Venous compression syndromes: clinical features, imaging findings and management. Br J Radiol. 2013 Oct;86(1030):20130284. doi: 10.1259/bjr.20130284. Epub 2013 Aug 1. PMID: 23908347; PMCID: PMC3798333.
Aziz S, Straehley CJ, Whelan TJ Jr. Effort-related axillosubclavian vein thrombosis. A new theory of pathogenesis and a plea for direct surgical intervention. Am J Surg. 1986 Jul;152(1):57-61. doi: 10.1016/0002-9610(86)90141-8. PMID: 3728818.
Hendler MF, Meschengieser SS, Blanco AN, Alberto MF, Salviú MJ, Gennari L, et al. Primary upper-extremity deep vein thrombosis: high prevalence of thrombophilic defects. Am J Hematol. 2004 Aug;76(4):330-7. doi: 10.1002/ajh.20131. PMID: 15282664.
Mall NA, Van Thiel GS, Heard WM, Paletta GA, Bush-Joseph C, Bach BR Jr. Paget-schroetter syndrome: a review of effort thrombosis of the upper extremity from a sports medicine perspective. Sports Health. 2013 Jul;5(4):353-6. doi: 10.1177/1941738112470911. PMID: 24459553; PMCID: PMC3899898.
Baz AA. An overview of the findings of dynamic upper limbs' arterial and venous duplex in cases of vascular thoracic outlet syndrome. Egypt J Radiol Nucl Med 50, 76 (2019). doi: 10.1186/s43055-019-0100-1
Wadhwani R, Chaubal N, Sukthankar R, Shroff M, Agarwala S. Color Doppler and duplex sonography in 5 patients with thoracic outlet syndrome. J Ultrasound Med. 2001 Jul;20(7):795-801. doi: 10.7863/jum.2001.20.7.795. PMID: 11444739.
Alla VM, Natarajan N, Kaushik M, Warrier R, Nair CK. Paget-schroetter syndrome: review of pathogenesis and treatment of effort thrombosis. West J Emerg Med. 2010 Sep;11(4):358-62. PMID: 21079709; PMCID: PMC2967689.
Glavich G, Gourley J, Fong V. Paget-Schroetter syndrome with bilateral pulmonary emboli. Radiol Case Rep. 2017 Oct 31;13(1):28-31. doi: 10.1016/j.radcr.2017.10.006. PMID: 29552239; PMCID: PMC5851115.
Desjardins B, Rybicki FJ, Kim HS, Fan CM, Flamm SD, Gerhard-Herman MD, Kalva SP, Koss SA, Mansour MA, Mohler ER 3rd, Narra VR, Schenker MP, Tulchinsky M, Weiss C. ACR Appropriateness Criteria® Suspected upper extremity deep vein thrombosis. J Am Coll Radiol. 2012 Sep;9(9):613-9. doi: 10.1016/j.jacr.2012.05.021. PMID: 22954541.9:613-9;2012.
Jones MR, Prabhakar A, Viswanath O, Urits I, Green JB, Kendrick JB, et al. Thoracic Outlet Syndrome: A Comprehensive Review of Pathophysiology, Diagnosis, and Treatment. Pain Ther. 2019 Jun;8(1):5-18. doi: 10.1007/s40122-019-0124-2. Epub 2019 Apr 29. PMID: 31037504; PMCID: PMC6514035.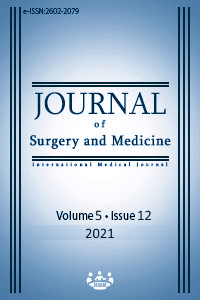 How to Cite
1.
Erdem F, Keyik B, Çağlar B, Serin S, Bülbül E. A rare cause of upper extremity deep venous thrombosis: Paget Schroetter syndrome. J Surg Med [Internet]. 2021 Dec. 1 [cited 2023 Sep. 26];5(12):1230-2. Available from: https://jsurgmed.com/article/view/919650
License
Copyright (c) 2021 Fatih Erdem, Bahar Keyik, Bahadır Çağlar, Süha Serin, Erdoğan Bülbül
This work is licensed under a Creative Commons Attribution-NonCommercial-NoDerivatives 4.0 International License.
#7102