A case of giant lipoma of parietal peritoneum with literature review
Keywords:
Giant lipoma, Parietal peritoneum, Mass, Surgical excision
Abstract
Lipomas are the most typically diagnosed soft tissue tumors. A lipoma is composed of adipose tissue, may vary in size, and is usually seen in the subcutaneous region, most commonly over the extremities followed by trunk and neck. In this case report, a rare case of giant lipoma that was found in the preperitoneal space arising from the parietal peritoneum measuring 40 x 36 x 5 cm and weighing 3.7 kg is described. This lipoma was successfully excised without any immediate or late post-operative complications and no recurrence for 24 months post-operatively.
Downloads
Download data is not yet available.
References
Goldblum JR, Andrew L. Folpe, Sharon W. Weiss. Benign lipomatous tumors. In: Goldblum JR et al, editor. Enzinger and Weiss's Soft Tissue Tumors. 7th ed. Elsevier; 2020:476-519.
Wolko JD, Rosenfeld DL, Lazar MJ, Underberg-Davis SJ. Torsion of a giant mesenteric lipoma. Pediatr Radiol. 2003 Jan;33(1):34-6. doi: 10.1007/s00247-002-0810-8. Epub 2002 Sep 25. PMID: 12497235.
Levy AD, Arnáiz J, Shaw JC, Sobin LH. From the archives of the AFIP: primary peritoneal tumors: imaging features with pathologic correlation. Radiographics. 2008 Mar-Apr;28(2):583-607; quiz 621-2. doi: 10.1148/rg.282075175. PMID: 18349460.
MR, Golomb FM, Moy JA, Potozkin JR. Giant lipoma: case report and review of the literature. J Am Acad Dermatol. 1993 Feb;28(2 Pt 1):266-8. doi: 10.1016/s0190-9622(08)81151-6. PMID: 8432930.
Barut I, Tarhan OR, Cerci C, Ciris M, Tasliyar E. Lipoma of the parietal peritoneum: an unusual cause of abdominal pain. Ann Saudi Med. 2006 Sep-Oct;26(5):388-90. doi: 10.5144/0256-4947.2006.388. PMID: 17019086; PMCID: PMC6074097.
Bunker DL, Ilie VG, Halder TK. Torsion of an abdominal-wall pedunculated lipoma: a rare differential diagnosis for right iliac fossa pain. Case Rep Surg. 2013;2013:587380. doi: 10.1155/2013/587380. Epub 2013 May 23. PMID: 23781377; PMCID: PMC3676979.
Bang CS, Kim YS, Baik GH, Han SH. A case of lipoma of parietal peritoneum causing abdominal pain. Korean J Gastroenterol. 2014 Jun;63(6):369-72. doi: 10.4166/kjg.2014.63.6.369. PMID: 24953615.
Shrestha BB, Karmacharya M. Torsion of a lipoma of parietal peritoneum: a rare case mimicking acute appendicitis. J Surg Case Rep. 2014 Jun 18;2014(6):rju062. doi: 10.1093/jscr/rju062. PMID: 24941942; PMCID: PMC4062179.
Sathyakrishna BR, Boggaram SG, Jannu NR. Twisting lipoma presenting as appendicitis-a rare presentation. J Clin Diagn Res. 2014 Aug;8(8):ND07-8. doi: 10.7860/JCDR/2014/9663.4728. Epub 2014 Aug 20. PMID: 25300572; PMCID: PMC4190759.
Salgaonkar HP, Behera RR, Katara AN, Bhandarkar DS. Laparoscopic excision of a lipoma of parietal peritoneum. J Minim Access Surg. 2016 Apr-Jun;12(2):196-7. doi: 10.4103/0972-9941.178515. PMID: 27073320; PMCID: PMC4810961.
Choi H, Ryu D, Choi JW, Xu Y, Kim Y. A giant lipoma of the parietal peritoneum: Laparoscopic excision with the parietal peritoneum preserving procedure - a case report with literature review. BMC Surg. 2018 Aug 2;18(1):49. doi: 10.1186/s12893-018-0382-7. PMID: 30068347; PMCID: PMC6071372.
Kransdorf MJ, Bancroft LW, Peterson JJ, Murphey MD, Foster WC, Temple HT. Imaging of fatty tumors: distinction of lipoma and well-differentiated liposarcoma. Radiology. 2002 Jul;224(1):99-104. doi: 10.1148/radiol.2241011113. PMID: 12091667.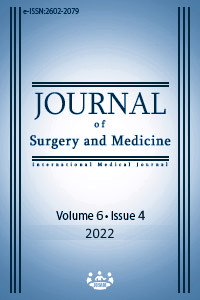 How to Cite
1.
B B, Reddy GS, Francis J. A case of giant lipoma of parietal peritoneum with literature review. J Surg Med [Internet]. 2022 Apr. 1 [cited 2023 Jun. 4];6(4):527-9. Available from: https://jsurgmed.com/article/view/917282
License
Copyright (c) 2022 Bharath B, G. Sagar Reddy, John Francis
This work is licensed under a Creative Commons Attribution-NonCommercial-NoDerivatives 4.0 International License.
#7215