Approach to paracetamol intoxication in intensive care: 2 pregnant cases
Keywords:
Acetaminophen, Pregnancy, Intoxication, Unit care
Abstract
Acetaminophen (paracetamol) is a commonly used drug during pregnancy and is considered safe. However, it is among the most frequent agents of which overdoses are reported during pregnancy. The most important result of overdose use is hepatotoxicity, which can cause death. We herein present our approach to two pregnant cases we followed up in the intensive care unit due to acetaminophen intoxication.
Downloads
Download data is not yet available.
References
Brown RA. Hepatic and renal damage with paractamol overdosage. J Clin Pathol. 1968;21(6):793.
Bateman DN. Changing the management of paracetamol poisoning. Clin Ther. 2015;37(9):2135-41.
Roberts LJ, Morrow JD. Analgesic-antipyretic and anti inflammatory agents and drugs employed in the treatment of gout. In: Hardman JG, Limbird LE, Gilman AG, editors. Goodman and Gilman's the pharmacological basis of therapeutics. 10th ed. New York: McGraw-Hill; 2001. p. 687-732.
Werler MM, Mitchell AA, Hernandez-Diaz S, Honein MA. Use of over-the-counter medications during pregnancy. Am J Obstet Gynecol.2005;193(3 Pt 1):771–7.
McClure CK, Katz KD, Patrick TE, Kelsey SF, Weiss HB. The epidemiology of acute poisonings in women of reproductive age and during pregnancy, California, 2000–2004. Matern Child Health J. 2011;15(7):964–73.
Hendrickson RG, Bizovi KE. Acetaminophene. In Flomenbaum NE, Goldfrank LR, Hoffman RS, Howland MA, Lewin NA, Nelson NA, Editors. Goldfrank's Toxicologic Emergencies. 8th ed. New York: McGraw-Hill; 2006. p.333-43.
Rumack BH, Matthew H. Acetaminophen poisoning and toxicity. Pediatrics. 1975;55(6):871-6.
Boutis K, Shannon M. Nephrotoxicity after acute severe acetaminophen poisoning in adolescents. J Toxicol Clin Toxicol. 2001;39(5):441-5.
McElhatton PR, Sullivan FM, Volans GN, Fitzpatrick R. Paracetamol poisoning in pregnancy: an analysis of the outcomes of cases referred to the Teratology Information Service of the National Poisons Information Service. Hum Exp Toxicol. 1990; 9(3):147–53.
Oliver LH, Lewis SN. Acetaminophen. In Judith E.Tintinalli,MD,MS, Editor. Emergency Medicine.7th ed. New York: McGraw-Hill;2010.p.1246-52.
Beers MH, Porter RS, Jones TV, Kaplan JL, Berkwits M (ed.). The Merck manuel tanı ve tedavi el kitabı. 18th ed.(çev.Z. Solakoğlu)İstanbul:Nobel kitapevi. 2006.p.2658-9.
Stokes IM. Paracetamol overdose in the second trimester of pregnancy. Case report. Br J Obstet Gynaecol. 1984;91(3):286–8.
Haibach H, Akhter JE, Muscato MS, Cary PL, Hoffmann MF. Acetaminophen overdose with fetal demise. Am J Clin Pathol. 1984;82(2):240–2.
Stephen L, Thornton & Alicia B, Minns. Unintentional Chronic Acetaminophen Poisoning During Pregnancy Resulting in Liver Transplantation J. Med. Toxicol. 2012;8:176–8.
Duman M. K., Kalyoncu İ. Drug Choice in Pregnancy and Teratogenicity Information Services. Turkiye Klinikleri J Surg Med Sci. 2006;2(46):63-8.
Singer AJ, Carracio TR, Mofenson HC. The temporal profile of increased transaminase levels in patients with acetaminophen-induced liver dysfunction. Ann Emerg Med. 1995;26(1):49-53.
Bessems JG, Vermeulen NP. Paracetamol (acetaminophen)-induced toxicity: molecular and biochemical mechanisms, analogues and protective approaches. Crit Rev Toxicol. 2001;31(1):55-138.
Lancaster EM, Hiatt JR, Zarrinpar A. Acetaminophen hepatotoxicity: an updated review. Arch Toxicol. 2015;89(2):193-9.
Ferner RE, Dear JW, Bateman DN. Management of paracetamol poisoning. BMJ. 2011;342:d2218.
Bateman DN, Dear JW, Thanacoody HK, Thomas SH, Eddleston M, Sandilands EA, et al. Reduction of adverse effects from intravenous acetylcysteine treatment for paracetamol poisoning: a randomised controlled trial. Lancet. 2014;383(9918):697-704.
Kerr F, Dawson A, Whyte IM, Buckley N, Mur- ray L, Graudins A, et al. The Australasian clinical toxicology investigators collaboration ran- domized trial of different loading infusion rates of N-acetylcysteine. Ann Emerg Med. 2005;45(4):402-8.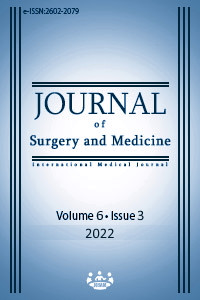 How to Cite
1.
Çetinkaya Ethemoğlu FB, Gümüş Özcan İrem. Approach to paracetamol intoxication in intensive care: 2 pregnant cases. J Surg Med [Internet]. 2022 Mar. 1 [cited 2023 Mar. 31];6(3):405-7. Available from: https://jsurgmed.com/article/view/907301
License
Copyright (c) 2022 Filiz Banu Çetinkaya Ethemoğlu, İrem Gümüş Özcan
This work is licensed under a Creative Commons Attribution-NonCommercial-NoDerivatives 4.0 International License.
#7186