Heterotaxy syndrome with accompanying azygos continuation of the inferior vena cava, patent ductus arteriosus and replaced common hepatic artery
Keywords:
Heterotaxy, Polysplenia, PDA, Replaced HA, IVC interruption
Abstract
Abnormal anatomical organization of thoraco-abdominal visceral organs and vascular structures is called "Heterotaxy Syndrome." Heterotaxy is generally classified under two main headings as polysplenia and asplenia syndromes. Complex cardiac anomalies are closely associated with poor prognosis in the patient group with asplenia syndrome. On the other hand, cardiac anomalies are less common in polysplenic syndrome. It is particularly important to define the findings accurately in the planning of surgical and interventional treatment. We present the findings of a patent ductus arteriosus (PDA) patient with co-existent heterotaxy syndrome associated with abdominal anomalies, such as polysplenia, azygos continuation of interrupted inferior vena cava, liver with midline localization, short pancreas, preduodenal portal vein, replaced common hepatic artery (HA) originating from the superior mesenteric artery (SMA) and left sided superior mesenteric vein to the SMA. To the best of our knowledge, there is no previous report of HA originating from the SMA found together with PDA and heterotaxy syndrome.
Downloads
Download data is not yet available.
References
Kim SJ. Heterotaxy syndrome. Korean Circ J. 2011 May;41(5):227-32.
Lagrotta G, Moises M. Heterotaxy Polysplenia Syndrome in Adulthood: Focused Review and a Case Report. Cureus. 2020 Jan 30;12(1):e6822.
Rameshbabu CS, Gupta KK, Qasim M, Gupta OP. Heterotaxy polysplenia syndrome in an adult with unique vascular anomalies: case report with review of literature. J Radiol Case Rep 2015;9(7):22.
Gayer G, Apter S, Jonas T, Amitai M, Zissin R, Sella T, et al. Polysplenia syndrome detected in adulthood: report of eight cases and review of the literature. Abdom Imaging. 1999 Mar-Apr;24(2):178-84.
Wolla CD, Hlavacek AM, Schoepf UJ, Bucher AM, Chowdhury S. Cardiovascular manifestations of heterotaxy and related situs abnormalities assessed with CT angiography. J Cardiovasc Comput Tomogr. 2013 Nov-Dec;7(6):408-16.
Murat SN, Yalcinkaya D, Yarlioglues M, Yigit H, Bozkurt U, Celik IE, et al. Diagnosis of Heterotaxy Syndrome in a Patient With Multiple Congenital Cardiac Malformations Using Magnetic Resonance Imaging. Circ Cardiovasc Imaging. 2020 Sep;13(9):e010307.
Kwon SH, Shin SY. Incidental adult polysplenia with situs inversus, interrupted inferior vena cava with azygos continuation, patent ductus arteriosus, and aortic branches variations: a case report. J Thorac Dis. 2018 Feb;10(2):E138-E141.
Peoples WM, Moller JH, Edwards JE. Polysplenia: a review of 146 cases. Pediatr Cardiol. 1983 Apr-Jun;4(2):129-37.
Applegate KE, Goske MJ, Pierce G, Murphy D. Situs revisited: imaging of the heterotaxy syndrome. Radiographics. 1999 Jul-Aug;19(4):837-52;discussion853-4.
Burton EC, Olson M, Rooper L. Defects in laterality with emphasis on heterotaxy syndromes with asplenia and polysplenia: an autopsy case series at a single institution. Pediatr Dev Pathol. 2014 Jul-Aug;17(4):250-64.
Fulcher AS, Turner MA. Abdominal manifestations of situs anomalies in adults. Radiographics. 2002 Nov-Dec;22(6):1439-56.
Tawfik AM, Batouty NM, Zaky MM, Eladalany MA, Elmokadem AH. Polysplenia syndrome: a review of the relationship with viscero-atrial situs and the spectrum of extra-cardiac anomalies. Surg Radiol Anat. 2013 Oct;35(8):647-53.
Emekli E, Gündoğdu E, Kebapçı M. Coincidence of left isomerism, malposition of cecum, dorsal pancreatic agenesis, and retroaortic left renal vein: A case report. J Surg Med. 2019; 3(11):812-814.
Liu J, Yang K, Wang J. Polysplenia syndrome with a rare variation between the common hepatic artery and the superior mesenteric artery in adults. Arch Med Sci. 2020 Aug 10;16(5):1263-1266.
Tsutsumi R, Nagata Y, Enjoji A, Ohno Y, Kamito H, Kanematsu T. Situs Ambiguous with Gastric Cancer: Report of a Case. Surgery Today, 2006;37:676-9.
De Wailly P, Metzler P, Sautot-Vial N, Olivier D, Meunier B, Faure JP. Pre-duodenal portal vein in polysplenia syndrome: clinical effects and surgical application. Surg Radiol Anat. 2011 Jul;33(5):451-4.
Celik M, Celik T, Iyisoy A, Guler A. An unusual combination of congenital anomalies in an adult patient: patent ductus arteriosus, Kommerell's diverticulum with aberrant right subclavian artery, and heterotaxy syndrome. Hellenic J Cardiol. 2011 Sep-Oct;52(5):469-72.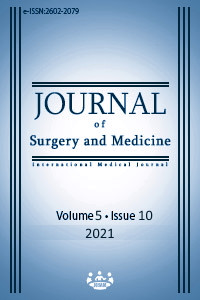 How to Cite
1.
Güngör C, Akay E, Yılmaz S, Yanık B. Heterotaxy syndrome with accompanying azygos continuation of the inferior vena cava, patent ductus arteriosus and replaced common hepatic artery. J Surg Med [Internet]. 2021 Oct. 1 [cited 2023 Dec. 11];5(10):1072-5. Available from: https://jsurgmed.com/article/view/906752
License
Copyright (c) 2021 Candan Güngör, Emrah Akay, Sena Yılmaz, Bahar Yanık
This work is licensed under a Creative Commons Attribution-NonCommercial-NoDerivatives 4.0 International License.
#7074