Comparison of sedoanalgesia versus general anesthesia in surgical resection of carotid body tumors: A retrospective cohort study
Keywords:
Carotid body tumors, General anesthesia, Sedoanalgesia
Abstract
Background/Aim: Carotid body tumors (CBTs) are very rare. There is no uniform agreement on the method of anesthesia according to the Shamblin classification. The aim of this study was to report and compare outcomes and complications of different anesthesia methods according to the Shamblin classification in patients operated for CBTs. Methods: The data of 52 patients (40 males, 12 females) diagnosed with CBT Shamblin Type 1 or Type 2 and surgically treated were enrolled. General anesthesia (Group G) and sedoanalgesia (Group S) were administered in 35 and 17 patients, respectively. We retrospectively compared the surgical outcomes and complications between the groups to evaluate which anesthetic approach was more appropriate for early recognition of complications, hemodynamic stability, and surgical satisfaction in CBT surgeries. Results Group S patients were more stable hemodynamically. Hypertension, tachycardia, hypotension were significantly more frequent in Group G (P<0.001). Intraoperative blood loss was significantly less in the Group S (P=0.024). Both patient and surgeon satisfaction scores were significantly higher in Group S (P=0.071). In Group G, transient ischemic attack developed in 1 patient, postoperative dysphagia developed in 4 patients due to possible nerve injury during resection. Deviation and ptosis of the tongue due to facial nerve damage developed in 3 patients in Group G and in 2 patients in Group S (P=0.028). Conclusions: Sedoanalgesia may be more helpful for patients compared to general anesthesia in tumor surgery of patients with CBT classified as Shamblin Type 1 and 2.
Downloads
Download data is not yet available.
References
Milewski C. Morphology and clinical aspects of paragangliomas in the area of head-neck. HNO. 1993;41:526–31.
Sevilla Garcia MA, Llorente Pendas JL, Rodrigo Tapia JP, Garcia Rostan G, Suarez Fente V, Coca Pelaz A. Head and neck paragangliomas: Revision of 89 cases in 73 patients. Acta Otorrinolaringol Esp. 2007;58:94–100.
Shamblin WR, ReMine WH, Harrison EG Jr. Carotid body tumor (chemodectoma). Clinicopathologic analysis of ninety cases. Am J Surg. 1971;122(6):732-9.
Mataracı İ, Rabuş MB, Kırali K, Kıran B, Yanartaş M, Sunar H, et al. Diagnosis and surgical treatment of carotid body tumors. Türk Göğüs Kalp Damar Cer Derg. 2008;16:86–90.
Lore JM, Anain J. Vascular procedures. In: Lore JM, ed. An Atlas of Head and Neck Surgery. 3rd ed, Philadelphia, Pa: WB Saunders Co. 1988;1032-135.
Luna-Ortiz K, Rascon-Ortiz M, Villavicencio-Valencia V, Granados-Garcia M, Herrera-Gomez A. Carotid body tumors: Review of a 20-year experience. Oral Oncol. 2005;41:56–61.
Gonzalez C, Rocher A, Zapata P. Arterial chemoreceptors: Cellular and molecular mechanisms in the adaptative and homeostatic function of the carotid body. Rev Neurol. 2003;36:239–54.
Sajid MS, Hamilton G, Baker DM; Joint Vascular Research Group. A multicenter review of carotid body tumour management. Eur J Vasc Endovasc Surg. 2007;34:127–30.
Knight TT, Jr, Gonzalez JA, Rary JM, Rush DS. Current concept for the surgical management of carotid body tumor. Am J Surg. 2006;191:104–10.
Ma D, Liu M, Yang H, Ma X, Zhang C. Diagnosis and surgical treatment of carotid body tumor: A report of 18 cases. J Cardiovasc Dis Res. 2010;1:122–4.
Wieneke JA, Smith A. Paraganglioma: Carotid Body Tumor. Head Neck Pathol. 2009;3:303–6.
Arya S, Rao V, Juvekar S, Dcruz AK. Carotid body tumors: Objective criteria to predict the Shamblin group on MR imaging. AJNR Am J Neuroradiol. 2008;29:1349–54.
Burnichon N, Brière JJ, Libé R, Vescovo L, Rivière J, Tissier F, et al. SDHA is a tumor suppressor gene causing paraganglioma. Hum Mol Genet. 2010;19:3011–20.
Sukanya M, Nidhi B, Richa S. Perioperative management of carotid body tumour: An anaesthetic challenge Journal of Anaesthesia and Clinical Pharmacology. 2009;25 (3) 355-56.
Connolly RA, Baker AB. Excision of bilateral carotid body tumours Anaesthesia and Intensive care. 1995;(23):342-45.
Allian R, Marone LK, Meltzer J, Jeyabalam G. Carotid endarterectomy. IntAnesthesiology Clin. 2005;43:15–38.
Whiten C, Gunning P. Carotid endarterectomy: intraoperative monitoring of cerebral perfusion. Curr Anaesth Crit Care. 2009;20:42–5.
Persky MS, Setton A, Niimi Y, Hartman J, Frank D, Berenstein A. Combined endovascular and surgical treatment of head and neck paragangliomase: A team approach. Head Neck. 2002;24:423–31.
Jones HG, Stoneham MD. Continuous cervical plexus block for carotid body tumour excision in a patient with Eisenmenger's syndrome. Anaesthesia. 2006;61:1214–8.
Sait Kavaklı A, Kavrut Öztürk N, Umut Ayoğlu R, Sağdıç K, Çakmak G, Inanoglu K, et al. Comparison of Combined (Deep and Superficial) and Intermediate Cervical Plexus Block by Use of Ultrasound Guidance for Carotid Endarterectomy. J Cardiothorac Vasc Anesth. 2016;30:317–22.
Gür Kemal A, Aykaç Coşkun M, Yarğı M, Eker E. Complications associated with carotid body tumor excision. Turk Gogus Kalp Damar. 2018;26:081-085.
Bilotta F, Stazi E, Zlotnik A. Neuroprotective effects of intravenous anesthetics: A new critical perspective Current Pharmaceutical Design. 2014;20(34):5469–75.
McConkey, Kien ND. Cerebral protection with thiopentone during combined carotid endarterectomy and clipping of intraluminal aneurysm. Anesthesia Intensive Care. 2007;30:219–22.
Birch BR, Gelister JS, Parker CJ, Chave H, Miller RA. Transurethral resection of prostate under sedation and local anesthesia (Sedoanalgesia). Experience in 100 patients. Urology. 1991;38:113–8.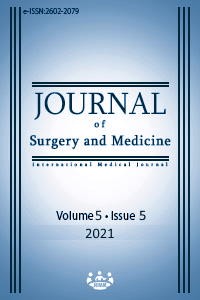 How to Cite
1.
Kalko Y, Gencer M, Çuğlan B, Koçyiğit A. Comparison of sedoanalgesia versus general anesthesia in surgical resection of carotid body tumors: A retrospective cohort study. J Surg Med [Internet]. 2021 May 1 [cited 2023 Apr. 1];5(5):512-8. Available from: https://jsurgmed.com/article/view/904504
License
Copyright (c) 2021 Yusuf Kalko, Muzaffer Gencer, Bilal Çuğlan, Ali Koçyiğit
This work is licensed under a Creative Commons Attribution-NonCommercial-NoDerivatives 4.0 International License.
#6932