Review of 30 pulmonary hamartoma cases: Follow-up and treatment
Keywords:
Hamartoma, pulmonary hamartoma, Pulmonary nodule
Abstract
Background/Aim: The most common benign tumor of the lung is hamartoma. Lung hamartomas are tumors of benign mesenchymal origin with intraparenchymal or endobronchial localization. They are more common in the 40-60-years age range and among males. It is important to distinguish hamartomas from malignancies due to their radiological appearance. The main treatment is surgical excision. They tend to grow slowly, and malignant transformation is rare. Therefore, the decision of resection or follow-up and timing of the surgical intervention are important. In our study, we aimed to present our follow-up and treatment results and recommendations of 19 years of pulmonary hamartoma experiences. Methods: In this case series, the data of 30 patients with hamartomas as diagnosed by histopathological examination, who underwent surgical resection, bronchoscopy, and transthoracic lung biopsy between January 2001 and May 2020 were analyzed retrospectively. Radiologic and nuclear medicine imaging features, which are clinically important, were divided into groups and compared. Results: The mass was removed in 12 (40%) patients by enucleation, in 5 (16.7%) patients, by wedge resection, in 3 (10%) patients, by bronchoscopy, and in 1 (3.3%) patient, by bronchotomy, segmentectomy and lobectomy. Seven (23.3%) patients were diagnosed with tru-cut biopsy and did not undergo total mass excision. Trans-thoracic fine needle biopsy (TTFNB) was performed in 7 (23.3%) patients and histopathological diagnosis could not be obtained in any of these biopsies. Concomitant with hamartomas, lung squamous cell carcinoma, lung malignancy in the contralateral lung, prostate carcinoma, and leiomyoma were found in one patient (3.3%) each. Conclusion: Because of their slow growth and rare malignant transformation, lung hamartomas should be diagnosed with less invasive methods. The patients should be followed carefully unless they are symptomatic.
Downloads
Download data is not yet available.
References
Geramizadeh B, Mottavvas M, Zeyaian B, Amirian A. Giant hamartoma of lung presented with massive hemoptysis: A rare case report and review of the literature. Rare Tumors. 2019;11(1):2036361318823926 doi: 10.1177/2036361318823926.
Haberal MA, Dikis OS, Akar E. Pulmonary hamartoma: Retrospective analysis of 24 cases. Dicle Med J. 2019;46(1):27-32. doi: 10.5798/dicletip.534820.
Lundeen KS, Raj MS, Rajasurya V, et al. Pulmonary Hamartoma. [Updated 2020 Jul 10]. In: StatPearls [Internet]. Treasure Island (FL): StatPearls Publishing; 2021 Jan-. Available from: https://www.ncbi.nlm.nih.gov/books/NBK539806/
Tözüm H, Üçvet A, Gürsoy S, Kul C, Şirzai S, Başok O, Aydoğdu Z. Akciğer hamartomu: 15 olguluk bir analiz. Turkish J Thorac Cardiovasc Surg 2009;17(3):186-90.
Guo W, Zhao YP, Jiang YG, Wang RW, Ma Z. Surgical treatment and outcome of pulmonary hamartoma: a retrospective study of 20-year experience. Clin. Cancer Res. 2008;27(1):8. doi: 10.1186/1756-9966-27-8
Çaylak H, Kavaklı K, Gürkök S, Gözübüyük A, et al. Akciğer Hamartomunun Cerrahi Tedavisi: 20 Olgunun Retrospektif Analizi. Turkiye Klinikleri Arch Lung. 2009;10(1):7-12.
Elsayed H, Abdel Hady SM, Elbastawisy SE. Is resection necessary in biopsy-proven asymptomatic pulmonary hamartomas?. Interact. Cardiovasc. Thorac. Surg. 2015;21(6):773-6. doi: 10.1093/icvts/ivv266.
Eldridge L. Overview of Hamartoma Tumors. Verywell health 2019. https://www.verywellhealth.com/what-is-a-hamartoma-2248902
Hansen CP, Holtveg H, Francis D, Rasch L, Bertelsen S. Pulmonary hamartoma. J Thorac Cardiovasc Surg. 1992;104(3):674-8.
Hamper UM, Khouri NF, Stitik FP, Siegelman SS. Pulmonary hamartoma: diagnosis by transthoracic needle-aspiration biopsy. Radiology. 1985;155(1):15-8. doi: 10.1148/radiology.155.1.3975394.
Incekara F. Surgical Treatment for Pulmonary Hamartomas. J Clin Anal Med. 2016;7(2):1-4. doi: 10.4328/JCAM.2313.
Karasik A, Modan M, Jacob CO, Lieberman Y. Increased risk of lung cancer in patients with chondromatous hamartoma. J Thorac Cardiovasc Surg. 1980;80(2):217-20.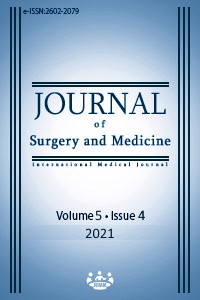 How to Cite
1.
Sezer HF, Elicora A, Abdullayev G, Topçu S. Review of 30 pulmonary hamartoma cases: Follow-up and treatment. J Surg Med [Internet]. 2021 Apr. 1 [cited 2023 Feb. 6];5(4):336-9. Available from: https://jsurgmed.com/article/view/904171
License
Copyright (c) 2021 Hüseyin Fatih Sezer, Aykut Elicora, Galbinur Abdullayev, Salih Topçu
This work is licensed under a Creative Commons Attribution-NonCommercial-NoDerivatives 4.0 International License.
#6921