The effects of capsular repair on quality of life after hip arthroplasty with the anterolateral approach
Keywords:
Hemiarthroplasty, Capsule repair, Femoral neck fracture
Abstract
Background/Aim: Hip fractures, commonly observed worldwide, cause severe functional problems and pose an economic burden. This study investigated the effects of different surgical approaches of joint capsule repair on morbidity and mortality and aimed to increase the quality of life after surgery with the most proper treatment option. Methods: This prospective case-control study was conducted on 186 patients over 65 years of age admitted to our clinic from 2006 to 2012 for displaced femoral neck fracture. All patients were treated via a hemiarthroplasty. The patients (66 males, 110 females with an overall mean age of 80.43 years (70-90)) were followed up regularly. All patients were divided into two groups: Group 1 was treated with capsular repair, and Group 2 without. The groups were compared in terms of pre-and peri-operative data, demographics, concomitant diseases, post-operative complications, mortality rates, pain level, and hip scores. Hospitalization time, average surgical duration, and time from fracture to the operation were also noted. Results: We found no significant differences between the groups in terms of surgery preferences (P>0.05). The survival of patients was significantly higher, blood loss was significantly less, and perioperative mortality rates were insignificantly lower in the noncapsular repair group (p=0.005, p=0.015, and p=0.515, respectively). Conclusion: The use of capsule repair during hip hemiarthroplasty in patients over 65 years of age had no negative impact on mortality or morbidity. Surgical preference changes during hip arthroplasty procedures are essential.
Downloads
Download data is not yet available.
References
Corbett KL, Losina E, Nti AA, Prokopetz JJ, Katz JN. Population-based rates of revision of primary total hip arthroplasty: a systematic review. PloS one. 2010;5(10):e13520.
Ritter MA, Harty LD, Keating ME, Faris PM, Meding JB. A clinical comparison of the anterolateral and posterolateral approaches to the hip. Clinical Orthopaedics and Related Research®. 2001;385:95-9.
Smith G, Tsang J, Molyneux S, White T. The hidden blood loss after hip fracture. Injury. 2011;42(2):133-5.
Kumar D, Mbako A, Riddick A, Patil S, Williams P. On admission haemoglobin in patients with hip fracture. Injury. 2011;42(2):167-70.
Tomlinson J, Zwirner J, Ondruschka B, Prietzel T, Hammer N. Innervation of the hip joint capsular complex: A systematic review of histological and immunohistochemical studies and their clinical implications for contemporary treatment strategies in total hip arthroplasty. PloS one. 2020;15(2):e0229128.
Karaaslan F, Yurdakul E, Korkmaz M, Duygulu F, Baktır A. Is cemented bipolar hemiarthroplasty a safe treatment for femoral neck fracture in elderly patients? Clinical Interventions in Aging. 2015:1063. doi:10.2147/cia.s85039.
Post ZD, Orozco F, Diaz-Ledezma C, Hozack WJ, Ong A. Direct anterior approach for total hip arthroplasty: indications, technique, and results. JAAOS-Journal of the American Academy of Orthopaedic Surgeons. 2014;22(9):595-603.
Lu Y, Wu Z, Tang X, Gu M, Hou B. Effect of articular capsule repair on postoperative dislocation after primary total hip replacement by the anterolateral approach. Journal of International Medical Research. 2019;47(10):4787-97.
Zhang B, Wang F, Tian M, Yin W, You X, Li D et al. Articular capsule repair in initial artificial hip replacement via anterolateral approach to the hip joint. Journal of biological regulators and homeostatic agents. 2016;30(2):441-7.
Higgins BT, Barlow DR, Heagerty NE, Lin TJ. Anterior vs. posterior approach for total hip arthroplasty, a systematic review and meta-analysis. The Journal of arthroplasty. 2015;30(3):419-34.
Wang Z, Hou J-z, Wu C-h, Zhou Y-j, Gu X-m, Wang H-h, et al. A systematic review and meta-analysis of direct anterior approach versus posterior approach in total hip arthroplasty. Journal of orthopaedic surgery and research. 2018;13(1):1-11.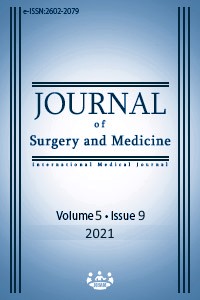 How to Cite
1.
Yetiş M, Yurdakul E. The effects of capsular repair on quality of life after hip arthroplasty with the anterolateral approach. J Surg Med [Internet]. 2021 Sep. 1 [cited 2023 Jun. 6];5(9):988-91. Available from: https://jsurgmed.com/article/view/901094
License
Copyright (c) 2021 Mehmet Yetiş, Emre Yurdakul
This work is licensed under a Creative Commons Attribution-NonCommercial-NoDerivatives 4.0 International License.
#7058