Hydronephrosis due to bladder carcinoma
Keywords:
Bladder, Kidney, Carcinoma, Hydronephrosis
Abstract
Giant hydronephrosis is a rare entity that most often develops due to obstruction at the ureteropelvic junction. The other etiologic factors include bladder and ureter tumors. Giant hydronephrosis can cause long-term complications such as hypertension, renal failure, rupture of the kidney, and malignant change if left undiagnosed or diagnosed late. A 73-year-old male patient was admitted to the hospital with complaints of difficulty in urination and brown colored urine. The patient's hemoglobin and hematocrit levels were low. Radiologically, there was widespread cystic development in the right kidney, a giant hydronephrosis, and a mass in the bladder. In the surgical material sent after the diagnosis of urothelial carcinoma by bladder biopsy, there was urothelial carcinoma in the bladder and right ureter. Since hydronephrosis may develop due to bladder and ureter tumors, which may result in nephrectomy, the early diagnosis of these tumors will reduce such serious complications. The early diagnosis and treatment of a giant hydronephrosis will increase the patient's quality of life by minimizing complications such as hypertension, kidney failure, and kidney rupture.
Downloads
Download data is not yet available.
References
Tekgul S, Riedmiller H, Dogan HS. Members of the European Association of Urology Guidelines Office. Guidelines on Paediatric Urology; EAU Guidelines, edition presented at the 25th EAU Annual Congress; Barcelona. 2010.
Chiang PH, Chen MT, Chou YH, Chiang CP, Huang CH, Chien CH. Giant hydronephrosis: report of 4 cases with review of the literature. J Formos Med Assoc. 1990;89:811-7.
Haque J, Mukherjee B. Prasad GR, Mitra SK, Pathak IC. Ureter¬ovesical junction obstruction presenting as giant hydronephrosis. Indian J Pediatr. 1985;52:107-9.
Stamatiou K, Papadoliopoulos I, Dahanis S, Zafiropoulos G, Polizoisc K. The accuracy of ultrasonography in the diagnosis of superficial bladder tumors in patients presenting with hematuria. Ann Saudi Med. 2009;29:134-7.
Ilgi M, Bayar G, Abdullayev E, Cakmak S, Acinikli H, Kirecci SL, et al. Rare Causes of Hydronephrosis in Adults and Diagnosis Algorithm: Analysis of 100 Cases During 15 Years. Cureus. 2020 May;12(5):e8226.
Yang WT, Metreweli C. Giant hydronephrosis in adults: the great mimic. Early diagnosis with ultrasound. Postgrad Med J.1995;71(837):409-12.
Kaura KS, Kumar M, Sokhal AK, Gupta AK, Purkait B, Saini D, et al. Giant hydronephrosis: still a reality! Turk J Urol.2017;43(3):337-44.
Gschwend JE, Sauter TW, de Petriconi R, Hautmann RE. Renal pelvis rupture after blunt abdominal trauma. Urol Int. 1995;55:108-10.
Bartsch GC, Kuefer R, Gschwend JE, de Petriconi R, Hautmann RE, Volkmer BG, et al. Hydronephrosis as a Prognostic Marker in Bladder Cancer in a Cystectomy-Only Series. European Urology.2007;51:690-8.
Sataa S, Kerim C, Sami BR, Nizar D, Rochdi E, Nidhameddine E, et al. Giant hydronephrosis in adult: what is the best approach? Retrospective analysis of 24 cases.Nephrourol Mon. 2011;3:177-81.
Yang WT, Metreweli C. Giant hydronephrosis in adults: the great mimic. Early diagnosis with ultrasound. Postgrad Med J. 1995;71:409-12.
Shah SA, Ranka P, Dodiya S, Jain R, Kadam G. Giant hydronephrosis: What is the ideal treatment? Indian J Urol. 2004;20:118.
Gaur DD, Dubey M, Acharya UC. Successful management of vena caval compression due to giant hydronephrosis by retroperitoneoscopic nephrectomy. Minim Invasive Ther Allied Technol. 2003;12:95-7.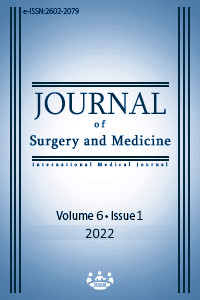 How to Cite
1.
Tayfur M, Balcı M. Hydronephrosis due to bladder carcinoma. J Surg Med [Internet]. 2022 Jan. 1 [cited 2023 Nov. 29];6(1):80-1. Available from: https://jsurgmed.com/article/view/885593
License
Copyright (c) 2022 Mahir Tayfur, Mecdi Balcı
This work is licensed under a Creative Commons Attribution-NonCommercial-NoDerivatives 4.0 International License.
#7132