Effect of labiaplasty on women's sexual and psychological life
Keywords:
labiaplasty, sexual life, fsfı, bdi
Abstract
Background/Aim: The number of labiaplasties has increased in recent years, in accordance with the growing importance given to the female body. The main factors for labial surgery include emotional and physical discomfort, aesthetic concerns, and sexual disorders. Methods: We designed this prospective cross-sectional study to evaluate women's sexual function and quality of life before and 3 months after labiaplasty. A total of thirty-four women with labium minus hypertrophy (LMH) and asymmetry were included in the study. Women with malignancies, psychological disorders, other gynecologic disorders, menopausal status, vulvar disorders, a history of vaginal or labial surgery, and those who were sexually inactive were excluded. We evaluated the Female Sexual Function Index (FSFI) and Beck Depression Inventory (BDI) scores before and 3 months after labiaplasty. Results: The mean total FSFI score of the patients after the surgery (24.91 (2.74)) was higher than before the surgery (24.14 (3.06)) (P=0.001). Postoperative desire, arousal, lubrication, orgasm, satisfaction, and pain scores of the patients in FSFI were significantly higher (P=0.023, P=0.026, P= 0.015, P=0.05, P=0.022 and P=0,004, respectively), while mean BDI scores were significantly lower (8.79 (4.51) vs. 10.90 (4.90)), P=0.037). Conclusion: Labiaplasty is a comfortable, safe method with a short recovery period, satisfactory aesthetic results, and low complication rates. By using the radiofrequency with the trimming method, the sexual and quality of lives of the patients improve, along with their self-confidence and body image.
Downloads
Download data is not yet available.
References
Rao N, Aparajita, Sharma N. Current trends in female genital cosmetic surgery. Apollo Medicine. 2012;9:219–23. doi: 10.1016/j.apme.2012.06.010.
Turini T, Weck Roxo AC, Serra-Guimarães F, Abreu ML, de Castro CC, Aboudib JH, et al. The Impact of Labiaplasty on Sexuality. Plastic and reconstructive surgery. 2018;141(1):87-92. Epub 2017/12/28. doi: 10.1097/prs.0000000000003921. PubMed PMID: 29280868.
Goodman M, Fashler S, Miklos JR, Moore RD, Brotto LA. The Sexual, Psychological, and Body Image Health of Women Undergoing Elective Vulvovaginal Plastic/Cosmetic Procedures: A Pilot Study. 2011;28(4):219-26. doi: 10.1177/074880681102800404.
Society® TA. Aesthetic Plastic Surgery National Databank Statistics web: The Aesthetic Society®; 2019. Available from: https://www.surgery.org/sites/default/files/Aesthetic-Society_Stats2019Book_FINAL.pdf.
Franco T, Franco DJJbg. Hipertrofia de ninfas. 1993:163-8.
Hodgkinson DJ, Hait G. Aesthetic vaginal labioplasty. Plastic and reconstructive surgery. 1984;74(3):414-6. Epub 1984/09/01. doi: 10.1097/00006534-198409000-00015. PubMed PMID: 6473559.
Giraldo F, González C, de Haro F. Central wedge nymphectomy with a 90-degree Z-plasty for aesthetic reduction of the labia minora. Plastic and reconstructive surgery. 2004;113(6):1820-5; discussion 6-7. Epub 2004/04/29. doi: 10.1097/01.prs.0000117304.81182.96. PubMed PMID: 15114151.
Munhoz AM, Filassi JR, Ricci MD, Aldrighi C, Correia LD, Aldrighi JM, et al. Aesthetic labia minora reduction with inferior wedge resection and superior pedicle flap reconstruction. Plastic and reconstructive surgery. 2006;118(5):1237-47. Epub 2006/10/04. doi: 10.1097/01.prs.0000237003.24294.04. PubMed PMID: 17016196.
Murariu D, Jackowe DJ, Parsa AA, Parsa FD. Comparison of wedge versus straight-line reduction labioplasty. Plastic and reconstructive surgery. 2010;125(3):1046-7; author reply 7-8. doi: 10.1097/prs.0b013e3181cb68a4. PubMed PMID: 20195139.
Baggish MS. Carbon dioxide laser treatment for condylomata acuminata venereal infections. Obstetrics and gynecology. 1980;55(6):711-5. Epub 1980/06/01. PubMed PMID: 6770311.
Smarrito S. Lambda laser nymphoplasty: retrospective study of 231 cases. Plastic and reconstructive surgery. 2014;133(2):231e-2e. Epub 2014/01/29. doi: 10.1097/01.prs.0000437239.53671.6f. PubMed PMID: 24469206.
Smarrito S. Classification of labia minora hypertrophy: A retrospective study of 100 patient cases. JPRAS Open. 2017;13:81-91. doi: 10.1016/j.jpra.2017.05.013.
Alter GJ. Aesthetic labia minora and clitoral hood reduction using extended central wedge resection. Plastic and reconstructive surgery. 2008;122(6):1780-9. Epub 2008/12/04. doi: 10.1097/PRS.0b013e31818a9b25. PubMed PMID: 19050531.
Pardo J, Solà V, Ricci P, Guilloff E. Laser labioplasty of labia minora. International journal of gynaecology and obstetrics: the official organ of the International Federation of Gynaecology and Obstetrics. 2006;93(1):38-43. Epub 2006/03/15. doi: 10.1016/j.ijgo.2006.01.002. PubMed PMID: 16530764.
Aygin D, Aslan F, lev Ölçegi'nin KCI, Uyarlaması TJKJMS. The Turkish adaptation of the female sexual function index, Turk. 2005;25(3).
Ulusoy M, hisli sahin N, Erkmen H. Turkish Version of the Beck Anxiety Inventory: Psychometric Properties. Journal of Cognitive Psychotherapy: An International Quarterly. 1998;12.
McCool ME, Zuelke A, Theurich MA, Knuettel H, Ricci C, Apfelbacher C. Prevalence of Female Sexual Dysfunction Among Premenopausal Women: A Systematic Review and Meta-Analysis of Observational Studies. Sexual Medicine Reviews. 2016;4(3):197-212. doi: 10.1016/j.sxmr.2016.03.002.
Sir E, Güngör M, Üçer O, Aksoy A. Evaluation of sexual function in women with labia minora hypertrophy: A preliminary study. Revista internacional de andrologia. 2018;16(2):45-9. Epub 2018/10/10. doi: 10.1016/j.androl.2017.06.007. PubMed PMID: 30300124.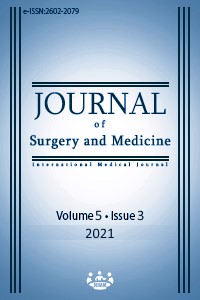 How to Cite
1.
Şahin Aker S, Ağar E. Effect of labiaplasty on women's sexual and psychological life. J Surg Med [Internet]. 2021 Mar. 1 [cited 2023 Jun. 7];5(3):260-3. Available from: https://jsurgmed.com/article/view/883781
License
Copyright (c) 2021 Seda Şahin Aker, Eser Ağar
This work is licensed under a Creative Commons Attribution-NonCommercial-NoDerivatives 4.0 International License.
#6897