Clinical biomarkers to predict preoperative lymph node metastasis in endometrial cancer
Keywords:
Endometrial cancer, Systemic inflammatory markers, Serum CA 125 level, Lymph node metastasis
Abstract
Background/Aim: Although the evaluation of preoperative lymph node metastasis is very important for the appropriate approach of the surgeon, it cannot be determined precisely. We aimed to investigate preoperative systemic inflammatory markers and the value of CA 125 in the prediction of lymph node metastasis (LNM) in epithelial endometrial carcinoma. Methods: In our retrospective cohort study, 327 patients were pathologically diagnosed with epithelial endometrial carcinoma and underwent surgical staging including lymphadenectomy. We investigated preoperative serum CA 125, neutrophil/lymphocyte (NLR) and thrombocyte/lymphocyte (PLR) values and their relationship with LNM. ROC analysis was performed to these variables for prediction of LNM. Results: There was a significant difference between histological type (P=0.021), myometrial invasion (P<0.001), lymphovascular space invasion (LVSI) (P<0.001), and peritoneal cytology (P=0.001) in those with and without LNM. Among the NLR, PLR and CA 125 values, only CA 125 was significantly higher in the LN positive group compared to the LN negative group (P=0.516, P=0.408 and P=0.001, respectively). The optimal CA 125 cut-off value in the preoperative diagnosis of LNM was ≥39.0 U/ml. The diagnostic sensitivity, specificity, PPV, NPV, and accuracy values of CA 125 were 77%, 82%, 48%, 94%, and 81%, respectively. Conclusion: While preoperative CA 125 value was a significant predictor for LNM in epithelial endometrial cancers, we did not detect this relationship in NLR, PLR and systemic inflammatory markers.
Downloads
Download data is not yet available.
References
Sorosky JI. Endometrial cancer. Obstet Gynecol. 2012 Aug;120(2 Pt 1):383-97. doi: 10.1097/AOG.0b013e3182605bf1. PMID: 22825101.
Creasman WT, Morrow CP, Bundy BN, Homesley HD, Graham JE, Heller PB. Surgical pathologic spread patterns of endometrial cancer. A Gynecologic Oncology Group Study. Cancer. 1987 Oct 15;60(8 Suppl):2035-41. doi: 10.1002/1097-0142(19901015)60:8+<2035::aid-cncr2820601515>3.0.co;2-8. PMID: 3652025.
Vargas R, Rauh-Hain JA, Clemmer J, Clark RM, Goodman A, Growdon WB, et al. Tumor size, depth of invasion, and histologic grade as prognostic factors of lymph node involvement in endometrial cancer: a SEER analysis. Gynecol Oncol. 2014 May;133(2):216-20. doi: 10.1016/j.ygyno.2014.02.011. Epub 2014 Feb 16. PMID: 24548726.
Benedetti Panici P, Basile S, Maneschi F, Alberto Lissoni A, Signorelli M, Scambia G, et al. Systematic pelvic lymphadenectomy vs. no lymphadenectomy in early-stage endometrial carcinoma: randomized clinical trial. J Natl Cancer Inst. 2008 Dec 3;100(23):1707-16. doi: 10.1093/jnci/djn397. Epub 2008 Nov 25. PMID: 19033573.
Colombo N, Creutzberg C, Amant F, Bosse T, González-Martín A, Ledermann J, et al. ESMO-ESGO-ESTRO Endometrial Consensus Conference Working Group. ESMO-ESGO-ESTRO Consensus Conference on Endometrial Cancer: diagnosis, treatment and follow-up. Ann Oncol. 2016 Jan;27(1):16-41. doi: 10.1093/annonc/mdv484. Epub 2015 Dec 2. Erratum in: Ann Oncol. 2017 Jul 1;28(suppl_4):iv167-iv168. PMID: 26634381.
Bassarak N, Blankenstein T, Brüning A, Dian D, Bergauer F, Friese K, et al. Is lymphadenectomy a prognostic marker in endometrioid adenocarcinoma of the human endometrium? BMC Cancer. 2010 May 21;10:224. doi: 10.1186/1471-2407-10-224. PMID: 20492712; PMCID: PMC2891635.
Belinson JL, Lee KR, Badger GJ, Pretorius RG, Jarrell MA. Clinical stage I adenocarcinoma of the endometrium--analysis of recurrences and the potential benefit of staging lymphadenectomy. Gynecol Oncol. 1992 Jan;44(1):17-23. doi: 10.1016/0090-8258(92)90005-4. PMID: 1730421.
Gadducci A, Cavazzana A, Cosio S, DI Cristofano C, Tana R, Fanucchi A, et al. Lymph-vascular space involvement and outer one-third myometrial invasion are strong predictors of distant haematogeneous failures in patients with stage I-II endometrioid-type endometrial cancer. Anticancer Res. 2009 May;29(5):1715-20. PMID: 19443392.
Vaizoglu F, Yuce K, Salman MC, Basaran D, Calis P, Ozgul N, et al. Lymphovascular space involvement is the sole independent predictor of lymph node metastasis in clinical early stage endometrial cancer. Arch Gynecol Obstet. 2013 Dec;288(6):1391-7. doi: 10.1007/s00404-013-2913-x. Epub 2013 Jun 14. PMID: 23764931.
Mariani A, Webb MJ, Keeney GL, Aletti G, Podratz KC. Predictors of lymphatic failure in endometrial cancer. Gynecol Oncol. 2002 Mar;84(3):437-42. doi: 10.1006/gyno.2001.6550. PMID: 11855884.
Kucera E, Kainz C, Reinthaller A, Sliutz G, Leodolter S, Kucera H, et al. Accuracy of intraoperative frozen-section diagnosis in stage I endometrial adenocarcinoma. Gynecol Obstet Invest. 2000;49(1):62-6. doi: 10.1159/000010215. PMID: 10629376.
Undurraga M, Petignat P, Pelte MF, Jacob S, Dubuisson JB, Loubeyre P. Magnetic resonance imaging to identify risk of lymph node metastasis in patients with endometrial cancer. Int J Gynaecol Obstet. 2009 Mar;104(3):233-5. doi: 10.1016/j.ijgo.2008.10.021. Epub 2008 Nov 25. PMID: 19036368.
Hainaut P, Plymoth A. Targeting the hallmarks of cancer: towards a rational approach to next-generation cancer therapy. Curr Opin Oncol. 2013 Jan;25(1):50-1. doi: 10.1097/CCO.0b013e32835b651e. PMID: 23150341.
Stone RL, Nick AM, McNeish IA, Balkwill F, Han HD, Bottsford-Miller J, et al. Paraneoplastic thrombocytosis in ovarian cancer. N Engl J Med. 2012 Feb 16;366(7):610-8. doi: 10.1056/NEJMoa1110352. Erratum in: N Engl J Med. 2012 Nov;367(18):1768. Lamkin, Donald [added]. PMID: 22335738; PMCID: PMC3296780.
Hirashima K, Watanabe M, Shigaki H, Imamura Y, Ida S, Iwatsuki M, et al. Prognostic significance of the modified Glasgow prognostic score in elderly patients with gastric cancer. J Gastroenterol. 2014 Jun;49(6):1040-6. doi: 10.1007/s00535-013-0855-5. Epub 2013 Jul 3. PMID: 23821018.
Oh BS, Jang JW, Kwon JH, You CR, Chung KW, Kay CS, et al. Prognostic value of C-reactive protein and neutrophil-to-lymphocyte ratio in patients with hepatocellular carcinoma. BMC Cancer. 2013 Feb 15;13:78. doi: 10.1186/1471-2407-13-78. PMID: 23409924; PMCID: PMC3584844.
Horváth K, Pete I, Vereczkey I, Dudnyikova A, Gődény M. Evaluation of the accuracy of preoperative MRI in measuring myometrial infiltration in endometrial carcinoma. Pathol Oncol Res. 2014 Apr;20(2):327-33. doi: 10.1007/s12253-013-9699-9. Epub 2013 Dec 1. PMID: 24293380.
Haldorsen IS, Salvesen HB. What Is the Best Preoperative Imaging for Endometrial Cancer? Curr Oncol Rep. 2016 Apr;18(4):25. doi: 10.1007/s11912-016-0506-0. PMID: 26922331; PMCID: PMC4769723.
Cho H, Kim YT, Kim JH. Accuracy of preoperative tests in clinical stage I endometrial cancer: the importance of lymphadenectomy. Acta Obstet Gynecol Scand. 2010;89(2):175-81. doi: 10.3109/00016340903418785. PMID: 19943822.
Roxburgh CS, McMillan DC. Role of systemic inflammatory response in predicting survival in patients with primary operable cancer. Future Oncol. 2010 Jan;6(1):149-63. doi: 10.2217/fon.09.136. PMID: 20021215.
Suzuki K, Aiura K, Ueda M, Kitajima M. The influence of platelets on the promotion of invasion by tumor cells and inhibition by antiplatelet agents. Pancreas. 2004 Aug;29(2):132-40. doi: 10.1097/00006676-200408000-00008. PMID: 15257105.
Chua W, Charles KA, Baracos VE, Clarke SJ. Neutrophil/lymphocyte ratio predicts chemotherapy outcomes in patients with advanced colorectal cancer. Br J Cancer. 2011 Apr 12;104(8):1288-95. doi: 10.1038/bjc.2011.100. Epub 2011 Mar 29. PMID: 21448173; PMCID: PMC3078587.
Yang HB, Xing M, Ma LN, Feng LX, Yu Z. Prognostic significance of neutrophil-lymphocyteratio/platelet-lymphocyteratioin lung cancers: a meta-analysis. Oncotarget. 2016 Nov 22;7(47):76769-76778. doi: 10.18632/oncotarget.12526. PMID: 27732958; PMCID: PMC5363548.
Cho H, Hur HW, Kim SW, Kim SH, Kim JH, Kim YT, et al. Pre-treatment neutrophil to lymphocyte ratio is elevated in epithelial ovarian cancer and predicts survival after treatment. Cancer Immunol Immunother. 2009 Jan;58(1):15-23. doi: 10.1007/s00262-008-0516-3. Epub 2008 Apr 15. PMID: 18414853.
Hefler LA, Concin N, Hofstetter G, Marth C, Mustea A, Sehouli J, et al. Serum C-reactive protein as independent prognostic variable in patients with ovarian cancer. Clin Cancer Res. 2008 Feb 1;14(3):710-4. doi: 10.1158/1078-0432.CCR-07-1044. PMID: 18245530.
Gungor T, Kanat-Pektas M, Sucak A, Mollamahmutoglu L. The role of thrombocytosis in prognostic evaluation of epithelial ovarian tumors. Arch Gynecol Obstet. 2009 Jan;279(1):53-6. doi: 10.1007/s00404-008-0673-9. Epub 2008 May 10. Erratum in: Arch Gynecol Obstet. 2017 Aug 18;: PMID: 18470520.
Ayhan A, Bozdag G, Taskiran C, Gultekin M, Yuce K, Kucukali T. The value of preoperative platelet count in the prediction of cervical involvement and poor prognostic variables in patients with endometrial carcinoma. Gynecol Oncol. 2006 Dec;103(3):902-5. doi: 10.1016/j.ygyno.2006.05.034. Epub 2006 Jul 10. PMID: 16828847.
Giannella L, Menozzi G, Di Monte I, Venturini P, De Pace V, Boselli F, et al. Conta piastrinica preoperatoria come indice del grading nel carcinoma endometriale [Preoperative platelet count as index of the grading in endometrial carcinoma]. Minerva Ginecol. 2008 Aug;60(4):273-9. Italian. PMID: 18560341.
Reijnen C, IntHout J, Massuger LFAG, Strobbe F, Küsters-Vandevelde HVN, Haldorsen IS, et al. Diagnostic Accuracy of Clinical Biomarkers for Preoperative Prediction of Lymph Node Metastasis in Endometrial Carcinoma: A Systematic Review and Meta-Analysis. Oncologist. 2019 Sep;24(9):e880-e890. doi: 10.1634/theoncologist.2019-0117. Epub 2019 Jun 11. PMID: 31186375; PMCID: PMC6738307.
Tuomi T, Pasanen A, Luomaranta A, Leminen A, Bützow R, Loukovaara M. Risk-stratification of endometrial carcinomas revisited: a combined preoperative and intraoperative scoring system for a reliable prediction of an advanced disease. Gynecol Oncol. 2015 Apr;137(1):23-7. doi: 10.1016/j.ygyno.2015.01.545. Epub 2015 Jan 30. PMID: 25643690.
Suh DH, Kim HS, Chung HH, Kim JW, Park NH, Song YS, et al. Pre-operative systemic inflammatory response markers in predicting lymph node metastasis in endometrioid endometrial adenocarcinoma. Eur J Obstet Gynecol Reprod Biol. 2012 Jun;162(2):206-10. doi: 10.1016/j.ejogrb.2012.02.028. Epub 2012 Mar 24. PMID: 22445206.
SGO Clinical Practice Endometrial Cancer Working Group, Burke WM, Orr J, Leitao M, Salom E, Gehrig P, Olawaiye AB, et al. Endometrial cancer: a review and current management strategies: part I. Gynecol Oncol. 2014 Aug;134(2):385-92. doi: 10.1016/j.ygyno.2014.05.018. Epub 2014 Jun 4. Erratum in: Gynecol Oncol. 2014 Dec;135(3):625. Villella, Jeanine [corrected to Villella, Jeannine]. PMID: 24905773.
Chen YL, Huang CY, Chien TY, Huang SH, Wu CJ, Ho CM. Value of pre-operative serum CA125 level for prediction of prognosis in patients with endometrial cancer. Aust N Z J Obstet Gynaecol. 2011 Oct;51(5):397-402. doi: 10.1111/j.1479-828X.2011.01325.x. Epub 2011 Jun 9. PMID: 21806586.
Hsieh CH, ChangChien CC, Lin H, Huang EY, Huang CC, Lan KC, et al. Can a preoperative CA 125 level be a criterion for full pelvic lymphadenectomy in surgical staging of endometrial cancer? Gynecol Oncol. 2002 Jul;86(1):28-33. doi: 10.1006/gyno.2002.6664. PMID: 12079296.
Chung HH, Kim JW, Park NH, Song YS, Kang SB, Lee HP. Use of preoperative serum CA-125 levels for prediction of lymph node metastasis and prognosis in endometrial cancer. Acta Obstet Gynecol Scand. 2006;85(12):1501-5. doi: 10.1080/00016340601022777. PMID: 17260229.
Todo Y, Sakuragi N, Nishida R, Yamada T, Ebina Y, Yamamoto R, et al. Combined use of magnetic resonance imaging, CA 125 assay, histologic type, and histologic grade in the prediction of lymph node metastasis in endometrial carcinoma. Am J Obstet Gynecol. 2003 May;188(5):1265-72. doi: 10.1067/mob.2003.318. Erratum in: Am J Obstet Gynecol. 2003 Aug;189(2):567. PMID: 12748496.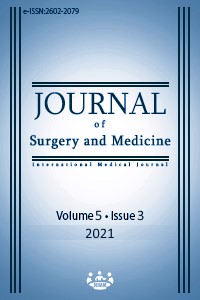 How to Cite
1.
Şahin H Öztürk, Yılmaz A, Sıddıkoğlu D. Clinical biomarkers to predict preoperative lymph node metastasis in endometrial cancer. J Surg Med [Internet]. 2021 Mar. 1 [cited 2023 Sep. 26];5(3):234-7. Available from: https://jsurgmed.com/article/view/882342
License
Copyright (c) 2021 H. Öztürk Şahin, Alpay Yılmaz, Duygu Sıddıkoğlu
This work is licensed under a Creative Commons Attribution-NonCommercial-NoDerivatives 4.0 International License.
#6893