Prognostic factors and survival outcomes of uterine sarcomas in a reference gynecologic oncology cancer center
Keywords:
Uterine sarcoma, chemotherapy, radiotherapy, Survival
Abstract
Background/Aim: Uterine sarcomas are rare and aggressive tumors, and their clinical behavior is unpredictable. A clear-cut clinical course, proven treatment method or definitive prognostic factors affecting the survival of sarcoma patients are not reported in the literature. We aim to evaluate uterine sarcomas, determine clinicopathologic features, adjuvant therapies, and prognostic factors on survival while sharing our experience of these rare uterine tumors in light of the literature. Methods: This retrospective cohort study was conducted in Tepecik Training and Research Hospital, Izmir, Turkey between 2002-2020. Out of the total of 205 uterine sarcoma patients, 173 patients who underwent surgical procedures and were followed up in our hospital's Gynecologic Oncology Clinic were included in the study. Data of patients were collected from the hospital database. Surgical interventions, clinicopathologic features, adjuvant therapies, and overall and disease-free survivals were evaluated. Patients were grouped as leiomyosarcoma (LMS), carcinosarcoma (CS), endometrial stromal sarcoma (ESS), adenosarcoma (AS), and undifferentiated sarcoma (US). Results: The mean age of the patients was 57.6 (11.2) years. According to the International Federation of Gynecology and Obstetrics (FIGO2009), 115 patients (66.5%) had stage 1, 17 patients (9.8%) had stage 2, 31 (17.9%) patients had stage 3, and 10 patients (5.8%) had stage 4 disease. One hundred and sixty-two patients (93.6%) received adjuvant therapy. Median follow-up period was 39 months (range 3-214). The 120-month OS for the entire group was 87.1%. Conclusion: Stage is a significant prognostic factor for survival in all sarcoma types and recurrence is a significant prognostic factor for survival for LMS and CS patients. Sarcoma type and adjuvant treatments have no impact on survival. ESS patients require extended surgical staging.
Downloads
Download data is not yet available.
References
Yim GW, Nam EJ, Kim SW, Kim YT. FIGO staging for uterine sarcomas: Can the revised 2008 staging system predict survival outcome better? Yonsei Med J. 2014;55(3):563–9. doi: 10.3349/ymj.2014.55.3.563.
Prat J. FIGO staging for uterine sarcomas. Int J Gynaecol Obstet. 2009;104(3):177–8. doi: 10.1016/j.ijgo.2008.12.008.
Abeler VM, Royne O, Thoresen S, Danielsen HE, Nesland JM, Kristensen GB. Uterine sarcomas in Norway. A histopathological and prognostic survey of a total population from 1970 to 2000 including 419 patients. Histopathology. 2009;54(3):355–64. doi: 10.1111/j.1365-2559.2009.03231.x.
Sampath S, Schultheiss TE, Ryu JK, Wong JY. The role of adjuvant radiation in uterine sarcomas. Int J Radiat Oncol Biol Phys. 2010;76(3):728–34. doi: 10.1016/j.ijrobp.2009.02.077.
D'Angelo E, Spagnoli LG, Prat J. Comparative clinicopathologic and immunohistochemical analysis of uterine sarcomas diagnosed using the World Health Organization classification system. Hum Pathol. 2009;40(11):1571–85. doi: 10.1016/j.humpath.2009.03.018
Sala E, Rockall AG, Freeman SJ, Mitchell DG, Reinhold C. The added role of MR imaging in treatment stratification of patients with gynecologic malignancies: what the radiologist needs to know. Radiology 2013;266(3):717–40. doi: 10.1148/radiol.12120315.
Gadducci A, Cosio S, Romanini A, Genazzani AR. The management of patients with uterine sarcoma: a debated clinical challenge. Crit Rev Oncol Hematol. 2008;65(2):129–42. doi: 10.1016/j.critrevonc.2007.06.011.
García-Martínez E, Prefasi LE, García-Donas J, Escolar-Perez PP, Pastor F, Gonzalez Martin A. Current management of uterine sarcomas. Clin Transl Oncol. 2011;13(5):307–14. doi: 10.1007/s12094-011-0659-0.
Sampath S, Gaffney DK. Role of radiotherapy treatment of uterine sarcoma. Best Pract Res Clin Obstet Gynaecol. 2011;25(6):761–72. doi: 10.1016/j.bpobgyn.2011.06.004.
Giuntoli RL, Metzinger DS, DiMarco CS, Cha SS, Sloan JA, Keeney GL, et al. Retrospective review of 208 patients with leiomyosarcoma of the uterus: Prognostic indicators, surgical management, and adjuvant therapy. Gynecol Oncol. 2003;89(3):460 9. doi: 10.1016/s0090-8258(03)00137-9.
Akahira J, Tokunaga H, Toyoshima M, Takano T, Nagase S, Yoshinaga K, et al. Prognoses and prognostic factors of carcinosarcoma, endometrial stromal sarcoma and uterine leiomyosarcoma: a comparison with uterine endometrial adenocarcinoma. Oncology 2006;71:333–40. doi: 10.1159/000107107.
Sagae S, Yamashita K, Ishioka S, Nishioka Y, Terasawa K, Mori M, et al. Preoperative diagnosis and treatment results in 106 patients with uterine sarcoma in Hokkaido, Japan. Oncology. 2004;67(1):33-9. doi: 10.1159/000080283.
Nemani D, Mitra N, Guo M, Lin L. Assessing the effects of lymphadenectomy and radiation therapy in patients with uterine carcinosarcoma: a SEER analysis. Gynecol Oncol. 2008;111(1):82-8. doi: 10.1016/j.ygyno.2008.05.016.
Ferguson SE, Tornos C, Hummer A, Barakat RR, Soslow RA. Prognostic features of surgical stage I uterine carcinosarcoma. Am J Surg Pathol. 2007;31(11):1653–61. doi: 10.1097/PAS.0b013e3181161ba3.
Hosh M, Antar S, Nazzal A, Warda M, Gibreel A, Refky B. Uterine sarcoma: analysis of 13,089 cases based on surveillance, epidemiology, and end results database. Int J Gynecol Cancer. 2016;26:1098–104. doi: 10.1097/IGC.0000000000000720.
D'Angelo E, Prat J: Uterine sarcomas: a review. Gynecol Oncol. 2010;116(1):131–9. doi: 10.1016/j.ygyno.2009.09.023.
Chang KL, Crabtree GS, Lim-Tan SK, Kempson RL, Hendrickson MR. Primary uterine endometrial stromal neoplasms. A clinicopathologic study of 117 cases. Am J Surg Pathol. 1990;14(5):415–38. doi: 10.1097/00000478-199005000-00002.
Lee CH, Ou WB, Marino-Enriquez A, Zhu M, Mayeda M, Wang Y, et al. 14–3-3 fusion oncogenes in high-grade endometrial stromal sarcoma. Proc Natl Acad Sci U S A. 2012;109(3):929–34. doi: 10.1073/pnas.1115528109.
Sharma DN, Rath GK, Kumar S, Kumar L, Bhatla N, Ghandi AK, et al. Clinical Outcome of Patients With Uterine Sarcomas. J Cancer Res Ther. 2011;7(3):270–4. doi: 10.4103/0973-1482.8701.
Terek MC, Akman L, Hursitoglu BS, Sanlı AU, Ozsaran Z, Tekindal MA, et al. The retrospective analysis of patients with uterine sarcomas: A single-center experience. J Cancer Res Ther. 2016;12:309–13. doi: 10.4103/0973-1482.148698.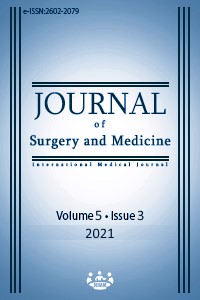 How to Cite
1.
Selvi Demirtaş G, Gökçü M. Prognostic factors and survival outcomes of uterine sarcomas in a reference gynecologic oncology cancer center. J Surg Med [Internet]. 2021 Mar. 1 [cited 2023 Dec. 11];5(3):215-20. Available from: https://jsurgmed.com/article/view/878243
License
Copyright (c) 2021 Gülşah Selvi Demirtaş, Mehmet Gökçü
This work is licensed under a Creative Commons Attribution-NonCommercial-NoDerivatives 4.0 International License.
#6899