A case of multiple sclerosis diagnosed with tuberculosis during teriflunomide therapy
Keywords:
Pulmonary tuberculosis, Multiple sclerosis, Teriflunomide
Abstract
A case of pulmonary tuberculosis (TB) in a patient with multiple sclerosis (MS) receiving teriflunomide is described. A 56-year-old woman with MS started interferon beta-1a treatment in 2009. Due to side effects, her physician switched her to glatiramer acetate. Over the last three years, she opted not to continue the glatiramer acetate. At the end of 2017, her symptoms reappeared, and her radiological and clinical examination showed disease progression. Teriflunomide (14 mg/day) treatment was started, and in the 15th month of teriflunomide use, a rash on the skin, coughing, night sweating fits, weakness and back pain developed. She was diagnosed with pulmonary TB based on pulmonary examination. Her purified protein derivative (PPD) score was 22. Anti-TB therapy was initiated immediately. At last visit in January 2020, TB was discovered. Her blood tests were within normal limits. Her expanded disability status score (EDSS) score was 2.5. Subcutaneous glatiramer acetate was re-initiated. A rare case of pulmonary TB under teriflunomide use is described in this case. Teriflunomide therapy should be considered in cases in which latent TB may be re-activated.
Downloads
Download data is not yet available.
References
Comi G, Freedman MS, Kappos L, Olsson TP, Miller AE, Wolinsky JS, et al. Pooled safety and tolerability data from four placebo-controlled teriflunomide studies and extensions. Mult Scler Relat Disord. 2016;5:97–104. doi: 10.1016/j. msard.2015.11.006.
Oh J, O'Connor PW. An update of teriflunomide for treatment of multiple sclerosis. Ther Clin Risk Manag. 2013;9:177-90. doi: 10.2147/TCRM.S30947.
Abdalla AE, Lambert N, Duan X, Xie J. Interleukin-10 Family and Tuberculosis: An Old Story Renewed. Int J Biol Sci. 2016;27;12(6):710-7. doi: 10.7150/ijbs.13881.
Sirbu CA, Dantes E, Plesa CF, Axelerad AD, Ghinescu MC. Active Pulmonary Tuberculosis Triggered by Interferon Beta-1b Therapy of Multiple Sclerosis: Four Case Reports and a Literature Review Medicina. 2020;56:1-7. doi: 10.3390/medicina560402025.
Zhou X, Yang J, Zhang Z, Zhang L, Zhu B, Lie L, et al. Different Signaling Pathways Define Different Interferon-Stimulated Gene Expression during Mycobacteria Infection in Macrophages. Int. J. Mol. Sci. 2019;20:1-14. doi: 10.3390/ijms20030663.
Köseoğlu M, Gözübatık-Çelik RG, Kürtüncü M. A case report with tuberculous meningitis during fingolimod treatment. 2020;46:102450. doi: 10.1016/j.msard.2020.102450.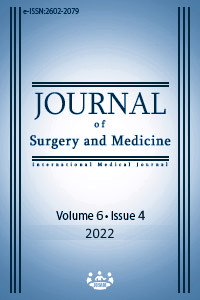 How to Cite
1.
Gözübatık Çelik RG, Öztürk M. A case of multiple sclerosis diagnosed with tuberculosis during teriflunomide therapy. J Surg Med [Internet]. 2022 Apr. 1 [cited 2023 Sep. 26];6(4):535-6. Available from: https://jsurgmed.com/article/view/875764
License
Copyright (c) 2022 Rabia Gökçen Gözübatık Çelik, Musa Öztürk
This work is licensed under a Creative Commons Attribution-NonCommercial-NoDerivatives 4.0 International License.
#7211