Giant retroperitoneal schwannoma removed with the laparoscopic approach: A case report
Keywords:
Schwannoma, Retroperitoneal tumors, Laparoscopy
Abstract
Retroperitoneal tumors are extremely rare and the vast majority are malignant tumors. One of the least determined benign retroperitoneal tumors is schwannoma. We report the case of a 64-year-old male patient who had a solid mass in the left infrarenal space shown by computed tomography (CT). Percutaneous CT-guided biopsy of the mass was performed, and histopathological examination revealed a schwannoma. The mass was resected laparoscopically. Surgical resection of retroperitoneal tumors is difficult due to posterior deep location and adjacent major vessels and nerves. The laparoscopic approach for retroperitoneal tumors may allow better visualization of the surgical field, reduction of postoperative pain, and better cosmesis. Laparoscopy seems to be a safe and feasible method in the treatment of schwannomas and other retroperitoneal tumors.
Downloads
Download data is not yet available.
References
Chaudhari A, Desai PD, Vadel MK, Kaptan K. Evaluation of primary retroperitoneal masses by computed tomography scan. Int J Public Health. 2016;5(7):1423-9. doi: 10.5455/ijmsph.2016.25062015442
Mastoraki A, Toska F, Tsiverdis I, Kyriazi M, Tsagkas A, Danias N, et al. Retroperitoneal schwannomas: dilemmas in diagnostic approach and therapeutic management. J Gastrointest Cancer. 2013;44(4):371-4. doi: 10.3892/ol.2016.4543
Sayin S, Gökdemir R, Bursalı B. Schwannoma as a rare cause of syncope: A case report. J Surg Med. 2018;2(2):184-6.
Singh M, Kumar L, Chejara R, Prasad OP, Kolhe Y, Saxena A. Diagnostic dilemma of a rare, giant retroperitoneal schwannoma: a case report and review of literature. Case Rep Oncol Med. 2014;2014:628538. doi: 10.1155/2014/628538
Funamizu N, Sasaki A, Matsumoto T, Inomata M, Shiraishi N, Kitano S. Laparoscopic resection of a retroperitoneal schwannoma behind the lesser omental sac. Surg Laparosc Endosc Percutan Tech. 2004;14(3):175-7. doi: 10.1097/01.sle.0000129379.96203.66
Chen H, QiangXu, Zhan P, Liu Y, Dai M, Zhang B. Giant paravertebral schwannoma near the lumbar nerve roots with bone destruction. Medicine (Baltimore) 2019;98(42):e17341. doi: 10.1097/MD.0000000000017341
Kang CM, Kim DH, Seok JY, Lee WJ. Laparoscopic resection of retroperitoneal benign schwannoma. J Laparoendosc Adv Surg Tech. 2008;18(3):411-6. doi: 10.1089/lap.2007.0098
Ahn KS, Han H-S, Yoon Y-S, Kim H-H, Lee T-S, Kang S-B, et al. Laparoscopic resection of nonadrenal retroperitoneal tumors. Arch Surg. 2011;146(2):162-7. doi: 10.1001/archsurg.2010.342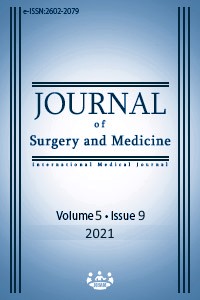 How to Cite
1.
Özveri E, Tekcan Şanlı DE, Ertem M. Giant retroperitoneal schwannoma removed with the laparoscopic approach: A case report. J Surg Med [Internet]. 2021 Sep. 1 [cited 2023 Dec. 10];5(9):995-7. Available from: https://jsurgmed.com/article/view/874216
License
Copyright (c) 2021 Emel Özveri, Deniz Esin Tekcan Şanlı, Metin Ertem
This work is licensed under a Creative Commons Attribution-NonCommercial-NoDerivatives 4.0 International License.
#7033