Anesthesia management in dystrophic epidermolysis bullosa: A case report
Keywords:
Epidermolysis Bullosa, Dystrophic Epidermolysis Bullosa, General anesthesia
Abstract
Epidermolysis bullosa (EB) is a rare hereditary disorder characterized by an abnormal increase in the fragility of the skin and mucosal surface and recurrent blistering. Blisters and scar formation can be seen in tissues even after a minor trauma. Due to the healing of this disease by leaving a contracted scar tissue, the findings, especially on the airway, may cause important anesthetic problems. In addition, the protection of the skin and the mucosa during the procedures to be performed, prevention of new bulla formation and prevention of infection constitute the main difficulty in anesthesia management. This case report describes the anesthesia management for the dental treatment of a patient diagnosed with dystrophic epidermolysis bullosa (DEB) and aims to review the current information.
Downloads
Download data is not yet available.
References
Kelly L Crowley, Yuri O Shevchenko. Anesthetic management of a difficult airway in a patient with epidermolysis bullosa: a case report. AANA J. 2004 Aug;72(4):261-3.
Sujit V Saraf, Nishigandha J Mandawade, Sandeep K Gore, Usha D Padhye, Charissa S Pereira. Epidermolysis bullosa: Careful monitoring and no touch principle for anesthesia management. J Anaesthesiol Clin Pharmacol. 2013 Jul;29(3):390-3.
Karaduman A. Kalıtsal Büllü Hastalıklar. Türkderm 2011; 45 Özel Sayı 2: 81-6
I Van Den Heuvel, M. Boschin, M. Langer, M. Frosch, A. Gottschalk, B. Ellger, et al. Anesthetic management in pediatric patients with epidermolysis bullosa: a single center experience. Minerva Anestesiol. 2013 Jul;79(7):727-32.
Kenneth Goldschneider, Anne W. Lucky, Jemima E. Mellerio, Francis Palisson, Maria Del Carmen Vin, Uela Miranda, et al. Perioperative care of patients with epidermolysis bullosa: proceedings of the 5th international symposium on epidermolysis bullosa, Santiago Chile, December 4–6, 2008. Pediatric Anesthesia. 2010;20:797–804.
Reema Nandi, Richard Howard. Anesthesia and Epidermolysis Bullosa. Dermatol Clin. 2010;28:319–24.
Özkan A. Selim ,Kayhan E. Gülay, Akbaş S, Kaçmaz O, Durmuş M. Emergency Difficult Airway Management in a Patient with Severe Epidermolysis Bullosa. Turk J Anaesthesiol Reanim. 2016;44:270-2.
Ng LY, Chan AKM, Lam TWY. The use of high-flow nasal oxygen during airway management in a child with epidermolysis bullosa dystrophica and a difficult airway. Anaesth Rep. 2019 Dec 16;7(2):96-9.
Bethany C. Fitzmaurice & Barry G. Lambert. Failed fiberoptic intubation in a child with epidermolysis bullosa, rescued with combined use of the Glidescope. Pediatric Anesthesia. 2016;26: 455–6.
Griffin RP, Mayou BJ. The anaesthetic management of patients with dystrophic epidermolysis bullosa. A review of 44 patients over a 10 year period. Anaes- thesia. 1993;48:810–5.
Iohom G, Lyons B. Anaesthesia for children with epidermolysis bullosa: a review of 20 years' experi- ence. Eur J Anaesthesiol. 2001;18:745–54.
Ames WA, Mayou BJ, Williams KN. Anaesthetic management of epidermolysis bullosa. Br J Anaesth. 1999;82:746–51.
Jane Herod, Jaqueline Denyer, Ann Goldman and Richard Howard. Epidermolysis bullosa in children: pathophysiology, anaesthesia and pain management. Paediatric Anaesthesia. 2002;12:388-97.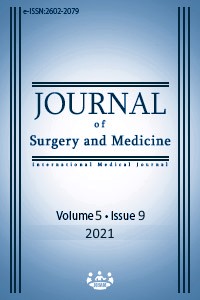 How to Cite
1.
Tetiker S, Alpay N. Anesthesia management in dystrophic epidermolysis bullosa: A case report. J Surg Med [Internet]. 2021 Sep. 1 [cited 2023 Sep. 25];5(9):998-1001. Available from: https://jsurgmed.com/article/view/872798
License
Copyright (c) 2021 Sibel Tetiker, Nilgün Alpay
This work is licensed under a Creative Commons Attribution-NonCommercial-NoDerivatives 4.0 International License.
#7053