Occupational fatigue and sleep quality among the physicians employed in the emergency service of a COVID-19 pandemic hospital
Keywords:
Occupational fatigue, Pandemic, Physicians, Sleep quality
Abstract
Background/Aim: Outbreaks of infectious diseases, including the current COVID-19, are associated with major psychological distress and significant symptoms of mental illness. Healthcare workers may experience sleep problems, anxiety, depression, and stress when facing a major public health threat. This study aimed to assess the levels of occupational fatigue and sleep quality among the physicians working in the emergency service of a COVID-19 pandemic hospital. Methods: This descriptive study was conducted in July 2020 in Şanlıurfa Province Mehmet Akif Inan Training and Research Hospital. The sample group included 194 physicians. The Introductory Information Form prepared by the researchers, the Occupational Fatigue Exhaustion/Recovery (OFER) Scale and the Pittsburgh Sleep Quality Index (PSQI) were used for data collection. Results: The mean chronic fatigue subscale, mean acute fatigue subscale, mean recovery subscale, and mean Pittsburgh Sleep Quality Index scores were 65.30 (22.87), 69.03 (20.23), 43.93 (19.09), and 8.76 (3.20), respectively. Good and poor sleep quality levels were detected in 11.9% and 88.1% of the physicians, respectively. Sleep quality, gender, marital status, age, and anxiety status due to COVID-19 pandemic affected the occupational fatigue levels of the physicians (P<0.05). Conclusion: Assessing and minimizing the levels of occupational fatigue and implementing interventions for increasing the quality of sleep among the physicians employed in the emergency department, which has a critical place in healthcare services, are necessary.
Downloads
Download data is not yet available.
References
Wu K, Wei X. Analysis of psychological and sleep status and exercise rehabilitation of front-line clinical staff in the fight against covıd-19 in China. Med Sci Monit Basic Res. 2020;26:e924085.
Huang Y, Zhao N. Generalized anxiety disorder, depressive symptoms and sleep quality during COVID-19 outbreak in China: a web-based cross-sectional survey. Psychiatry Res. 2020;288:112954.
Morgul E, Bener A, Atak M, Akyel S, Aktaş S, Bhugra D, et al. COVID-19 pandemic and psychological fatigue in Turkey. Int J Soc Psychiatry. 2020;20764020941889.
Da Silva MA, Singh-Manoux A, Shipley MJ, Vahtera J, Brunner EJ, Ferrie JE, et al. Sleep duration and sleep disturbances partly explain the association between depressive symptoms and cardiovascular mortality: The Whitehall II cohort study. J Sleep Res. 2014;23(1):94–7.
Liu X, Kakade M, Fuller C, Fan B, Fang Y, Kong J, et al. Depression after exposure to stressful events: lessons learned from the severe acute respiratory syndrome epidemic. Comprehensive psychiatry. 2012;53(1):15–23.
Wang S, Xie L, Xu Y, Yu S, Yao B, Xiang D. Sleep disturbances among medical workers during the outbreak of COVID-2019. Occupational medicine (Oxford, England). 2020;70(5):364–9.
Lange T, Dimitrov S, Born J. Effects of sleep and circadian rhythm on the human immune system. Annals of the New York Academy of Sciences. 2010;1193:48–59.
Xiao H, Zhang Y, Kong D, Li S, Yang N. The effects of social support on sleep quality of medical staff treating patients with coronavirus disease 2019 (Covıd-19) in january and february 2020 in China. Med Sci Monit. 2020;26:e923549.
Chen XF, Zhang Y, Xu XL, Wang W, Yan H, Li S, et al. The mediating effects of anxiety, self-efficacy and sleep quality on the relationship between doctor-patient's empathy and inflammatory marker in patients with ulcerative colitis. Med Sci Monit. 2019;25:7889–97.
Maunder R, Hunter J, Vincent L, Bennett J, Peladeau N, Leszcz M, et al. The immediate psychological and occupational impact of the 2003 SARS outbreak in a teaching hospital. CMAJ. 2003;168(10):1245-51.
Bai Y, Lin CC, Lin CY, Chen JY, Chue CM, Chou P. Survey of stres reactions among health care workers involved with the SARS outbreak. Psychiatr Serv. 2004;55(9):1055-7.
Lee AM, Wong JG, McAlonan GM, Cheung V, Cheung C, Sham PC, et al. Stress and psychological distress among SARS survivors 1 year after the outbreak. Can J Psychiatry. 2007;52(4):233-40.
Ramsay MA. Physician fatigue. Proc (Bayl Univ Med Cent). 2000;13(2):148-50.
Alahmadi BA, Alharbi MF. Work-related fatigue factors among hospital nurses: an ıntegrative literature review. Nurse Media J Nurs. 2018;8:113–33.
Knupp AM, Patterson ES, Ford JL, Zurmehly J, Patrick T. Associations among nurse fatigue, ındividual nurse factors, and aspects of the nursing practice environment. J Nurs Adm. 2018;48:642–8.
Jianbo Lai, Simeng Ma, Ying Wang, Cai Z, Hu J, Wei N, et al. Factors associated with mental health outcomes among health care workers exposed to coronavirus disease 2019. JAMA Netw Open. 2020;3(3):e203976.
Winwood PC, Winefield AH, Dawson D, Lushington K. Development and validation of a scale to measure work related fatigue and recovery: The Occupational Fatigue Exhaustion/Recovery Scale (OFER). J Occup Environ Med. 2005;47(6):594-606.
Ağargün MY, Kara H, Anlar Ö. The validity and reliability of the Pittsburgh Sleep Quality Index. Turk Psikiyatri Derg. 1996;7:107-15.
Tang C, Liu C, Fang P, Xiang Y, Min R. Work-related accumulated fatigue among doctors in tertiary hospitals: a cross-sectional survey in six provinces oınt. J Environ Res Public Health. 2019;16:3049.
Ho JC, Lee MB, Chen RY, Chen CJ, Chang WP,Yeh CY, et al. Work-related fatigue among medical personnel in Taiwan. J Formos Med Assoc. 2013;112:608–15.
Laberge L, Ledoux E, Auclair J, Thuilier C, Gaudreault M, Gaudreault M, et al. Risk factors for work-related fatigue in students with school-year employment. Journal of Adolescent Health. 2011;(48):289–94.
Martin JS, Hébert M, Ledoux É, Gaudreault M, Laberge L. Relationship of chronotype to sleep, light exposure, and work-related fatigue in student workers. Chronobiology International 2012;29(3):295-304.
Fang J, Qiu C, Xu H, You G. A model for predicting acute and chronic fatigue in Chinese nurses. J Adjv Nurs. 2013;69(3):546–58.
Eyupoglu A, Unluoğlu I, Bilgin M, Bilge U. Evaluation of sleep quality and factors affecting sleep quality of research assistant doctors at Eskişehir Osmangazi University Medical Faculty. Osmangazi Journal of Medicine. 2018;41(4):304-14.
Winwood PC, Winefield AH, Lushington K. Work-related fatigue and recovery: the contribution of age, domestic responsibilities and shiftwork. Adv Nurs. 2006;56(4):438–49.
Younan L, Clinton M, Souha FS, Jardali FE, Samaha H. The relationship between work‐related musculoskeletal disorders, chronic occupational fatigue, and work organization: A multi-hospital cross-sectional study. J Adjv Nurs. 2019;75:1667–77.
Chen J, Davis KG, Daraiseh NM, Pan W, Davis LS. Fatigue and recovery in 12-hour day shift hospital nurses. J Nurs Manag. 2014;22(5):593-603.
Havlioglu S, Ortabağ T, Winwood PC. Turkish validity and reliability of the occupational fatigue exhaustion / recovery scale. Medicine Science 2019;8(4):916-22.
Huang H, Liu L, Yang S, Cui X, Zhang J, Wu H. Effects of job conditions, occupational stress, and emotional intelligence on chronic fatigue among Chinese nurses: a cross-sectional study. Psychol Res Behav Manag. 2019;12:351-60.
Tercan M, Bozkurt FT, Patmano G, Saraçoğlu G, Gür SC. Anxiety and depression differences between the nurses working at a COVID-19 pandemic hospital. Medical Science and Discovery. 2020;7(6):526-31.
Havlioğolu S, Demir HA. Determining the anxiety levels of emergency service employees' working during the Covid-19 pandemic. J Harran University Medic Faculty. 2020;17(2):207-11.
Eriş H, Ayhan Z. COVID-19 perceptions and attitudes of health workers in Turkey. JCR. 2020;7(12):1142-50.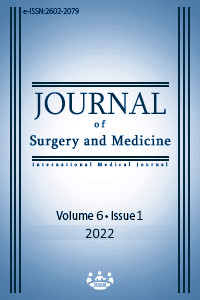 How to Cite
1.
Demir HA, Havlioğlu S. Occupational fatigue and sleep quality among the physicians employed in the emergency service of a COVID-19 pandemic hospital. J Surg Med [Internet]. 2022 Jan. 1 [cited 2023 Sep. 24];6(1):20-4. Available from: https://jsurgmed.com/article/view/871527
License
Copyright (c) 2022 Hüseyin Avni Demir, Suzan Havlioğlu
This work is licensed under a Creative Commons Attribution-NonCommercial-NoDerivatives 4.0 International License.
#7116