Value of serum thiol/disulphide in chronic prostatitis
Keywords:
Oxidative stres, Prostatitis, Quality of Life, Reactive oxygen species, Thiol Disulphide
Abstract
Background/Aim: Thiols are an important part of the antioxidant system which destroy reactive oxygen molecules, especially in inflammatory reactions. Maneuvers expressing the prostate fluid required for the diagnosis of chronic prostatitis are not practical and are rarely used in clinical practice. We aimed to compare the level of native thiol/disulphide as a supportive biomarker in patients with chronic abacterial prostatitis. Materials and methods: Twenty patients diagnosed with chronic prostatitis and 20 healthy volunteers were included in this prospective-case control study. Both groups were compared in terms of native thiol disulphide homeostasis, IPSS, QoL and PSA levels. Results: In the chronic prostatitis group, the native thiol level was significantly lower (P=0.043), the %disulfide/natural thiol was higher (P=0.037), the international prostate symptom score was higher (P=0.006), the quality of life was higher (P=0.023) and the maximum flow rate was lower (P=0.009) compared to the healthy volunteers. Conclusion: In this study, we found that the native thiol (SH) level in patients with chronic prostatitis was low and their disulphide level was high; therefore, we think that the level of native thiol/total thiol may assist in supporting the diagnosis of chronic prostatitis.
Downloads
Download data is not yet available.
References
De la Rosette JJ, Hubregtse MR, Meuleman EJ, Stolk-Engelaar MV, Debruyne FM. Diagnosis and treatment of 409 patients with prostatitis syndromes. Urology. 1993;41:301-7.
Krieger JN, Nyberg L, Curtis Nickel JC. NIH Consensus Definition and Classification of Prostatitis. JAMA. 1999;282:236-7.
Minciullo PL, Inferrera A, Navarra M, Calapai G, Magno C, Gangemi S. Oxidative stress in benign prostatic hyperplasia: a systematic review. Urol Int. 2015;94:249–54.
Sies H. Oxidative stress: from basic research to clinical application. Am J Med. 1991;9:30-8.
Erel O, Neselioğlu S. A novel and automated assay for thiol/disulphide homeostasis. Clin Biochem. 2014;47:326-32.
Goodwin CJ. Research in psychology methods and design. Sixth ed. New Jersey: John Wiley&Sons, Inc: 2010. p.157-61.
Çapkın C. Statistical power analysis and it's use in nursing studies. Journal of Anatolia Nursing and Health Sciences. 2014:17:p271.
Ihsan AU, Khan FU, Khongorzul P. Role of oxidative stress in pathology of chronic prostatitis/chronic pelvic pain syndrome and male infertility and antioxidants function in ameliorating oxidative stress. Biomed Pharmacother. 2018 Oct;106:714-23.
Finkel T, Holbrook NJ. Oxidants, oxidative stress and the biology of ageing. Nature. 2000;408:239-47.
Paulis G. Inflammatory mechanisms and oxidative stress in prostatitis: the possible role of antioxidant therapy. Res Rep Urol. 2018;10:75–87.
Pasqualotto FF, Sharma RK, Potts JM, Nelson DR, Thomas AJ, Agarwal A. Seminal oxidative stress in patients with chronic prostatitis. Urology. 2000;55:881–5.
Shahed AR, Shoskes DA. Oxidative stress in prostatic fluid of patients with chronic pelvic pain syndrome: correlation with gram positive bacterial growth and treatment response. J Androl. 2000;21:669–75.
Kullisaar T, Türk S, Punab M, Mändar R. Oxidative stress – cause or consequence of male genital tract disorders? Prostate. 2012;72:977–83.
Solakhan M, Cicek H, Orhan N, Yildirim M. Role of native Thiol, total Thiol and dynamic Disulphide in diagnosis of patient with prostate cancer and prostatitis. Int Braz J Urol. 2019;45:495-502.
Topaktaş R, Ürkmez A, Kutluhan MA, Çalışkan S, Erel Ö. Does plasma thiol and disulphide be a new marker for prostate cancer in prostate-specific antigen level between 10 and 20 ng/ml? Aging Male. 2019 May 10:1-5.
Reznick AZ, Packer L. Oxidative damage to proteins: spectrophotometric method for carbonyl assay. Methods Enzymol. 1994;233:357–63.
Levine RL, Williams JA, Stadtman ER, Shacter E. Carbonyl assays for determination of oxidatively modified proteins. Methods Enzymol. 1994;233:347–57.
Hu ML. Measurement of protein thiol groups and glutathione in plasma. Methods Enzymol. 1994;233:380–5.
Sönmez MG, Kozanhan B, Deniz ÇD, Göger YE, Kilinç MT, Neşelioglu S, et al. Is oxidative stress measured by thiol/disulphide homeostasis status associated with prostate adeno carcinoma? Cent Eur J Immunol. 2018;43:174-9.
Hanikoglu F, Hanikoglu A, Kucuksayan E, Alisik M, Gocener AA, Erel O, et al. Dynamic thiol/disulphide homeostasis before and after radical prostatectomy in patients with prostate cancer. FreeRadicRes. 2016;50:S79-84.
Bratchikov OI, Dubonos PA, Tyuzikov IA. Justification of a Use of Additional Antioxidant Therapy in Experimental Models of Chronic Bacterial Prostatitis Urologiia. 2019;1:16-22.
D'Silva KA, Dahm P, Wong CL. Does this man with lower urinary tract symptoms have bladder outlet obstruction?: The Rational Clinical Examination: a systematic review. JAMA. 2014;312:535.
Porru D, Jallous H, Cavalli V, Sallustu F, Rovereto B. Prognostic value of a combination of IPSS, flow rate and residual urine volume compared to pressure-flow studies in the preoperative evaluation of symptomatic BPH. Eur Urol. 2002;41:246.
Ghobish A. Voiding Dysfunction Associated with "Chronic Bacterial Prostatitis". Eur Urol. 2002;42:159–62.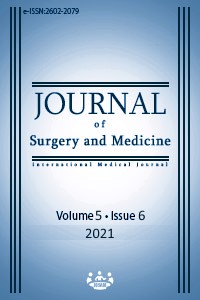 How to Cite
1.
Öncel HF, Salar R, Özbay E, Dikici İbrahim H, Demir M, Verit A. Value of serum thiol/disulphide in chronic prostatitis. J Surg Med [Internet]. 2021 Jun. 1 [cited 2023 Sep. 25];5(6):615-9. Available from: https://jsurgmed.com/article/view/867945
License
Copyright (c) 2021 Halil Ferat Öncel, Remzi Salar, Engin Özbay, İbrahim Halil Dikici, Mehmet Demir, Ayhan Verit
This work is licensed under a Creative Commons Attribution-NonCommercial-NoDerivatives 4.0 International License.
#6973