A complex case of retropharyngeal and mediastinal abscess during the Covid-19 pandemic: Lemierre's syndrome
Keywords:
Lemierre's syndrome, Internal jugular vein, Retropharyngeal abscess, COVID-19
Abstract
Lemierre's syndrome, which is commonly observed in healthy adolescents and young adults, is characterized by septic thrombophlebitis of the internal jugular vein and is usually observed after an oropharyngeal infection. At the time of the pandemic, as a result of so many patients COVID-19, similar symptoms were initially diagnosed as a possible coronavirus case and followed up with a possible diagnosis of COVID-19 before being consulted. We present the case of a 23-year-old male patient, who was referred to our clinic with complaints of fever, sore throat, dysphagia, shortness of breath, and chest pain. A retropharyngeal and mediastinal abscess occurred after these symptoms were successfully treated with surgical and medical interventions. The patient was initially considered a potential case of COVID-19 and followed as such. COVID-19 was then excluded, and the patient was reported to have an abscess extending from the retropharyngeal area to the mediastinum. We aim to present the diagnosis and treatment of Lemierre's syndrome based on a literature review.
Downloads
Download data is not yet available.
References
Lovato A, de Filippis C. Clinical Presentation of COVID-19: A Systematic Review Focusing on Upper Airway Symptoms. Ear Nose Throat J. 2020 Nov;99(9):569-76. doi: 10.1177/0145561320920762.
Lovato A, Rossettini G, de Filippis C. Sore throat in COVID-19: Comment on "Clinical characteristics of hospitalized patients with SARS-CoV-2 infection: A single arm meta-analysis". J Med Virol. 2020 Jul;92(7):714-5. doi: 10.1002/jmv.25815.
Kuppalli K, Livorsi D, Talati NJ, Osborn M. Lemierre's syndrome due to Fusobacterium necrophorum. Lancet Infect Dis. 2012 Oct;12(10):808-15. doi: 10.1016/S1473-3099(12)70089-0.
Creemers-Schild D, Gronthoud F, Spanjaard L, Visser LG, Brouwer CN, Kuijper EJ. Fusobacterium necrophorum, an emerging pathogen of otogenic and paranasal infections? New Microbes New Infect. 2014 May;2(3):52-7. doi: 10.1002/nmi2.39.
Kliegman RM, Lye PS, Bordini BJ, Toth H, Basel D, Editor (s). Nelson Pediatric Symptom-Based Diagnosis. Tanz RR. Section 1-Respiratory Disorders, Sore Throat. Elsevier, 2018, Pages 1-20, ISBN 978-0-323-39956-2
Surapaneni BK, Omar H, Iguina MM, Suarez M. Fusobacterium necrophorum Septicemia Leading to Lemierre's Syndrome in an Immunocompetent Individual: A Case Report. Cureus. 2020 Mar 28;12(3):e7443. doi: 10.7759/cureus.7443.
Siddique MK, Chang G, Lagmay V, Shih M. Lemierre's syndrome caused by Streptococcus pyogenes in an elderly woman. J Vasc Surg Cases Innov Tech. 2020 Feb 4;6(1):31-3. doi: 10.1016/j.jvscit.2019.11.007.
Moore BA, Dekle C, Werkhaven J. Bilateral Lemierre's syndrome: a case report and literature review. Ear Nose Throat J. 2002 Apr;81(4):234-6, 238-40, 242 passim.
Johannesen KM, Bodtger U. Lemierre's syndrome: current perspectives on diagnosis and management. Infect Drug Resist. 2016 Sep 14;9:221-7. doi: 10.2147/IDR.S95050.
Ridgway JM, Parikh DA, Wright R, Holden P, Armstrong W, Camilon F, et al. Lemierre syndrome: a pediatric case series and review of literature. Am J Otolaryngol. 2010 Jan-Feb;31(1):38-45. doi: 10.1016/j.amjoto.2008.09.006.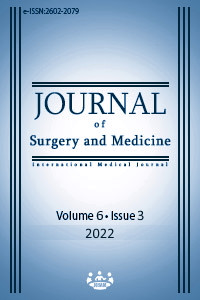 How to Cite
1.
Aksoy A, Bingöl F, Kızıloğlu A. A complex case of retropharyngeal and mediastinal abscess during the Covid-19 pandemic: Lemierre's syndrome. J Surg Med [Internet]. 2022 Mar. 1 [cited 2023 Oct. 4];6(3):410-2. Available from: https://jsurgmed.com/article/view/867640
License
Copyright (c) 2022 Ahmet Aksoy, Fatih Bingöl, Alper Kızıloğlu
This work is licensed under a Creative Commons Attribution-NonCommercial-NoDerivatives 4.0 International License.
#7175