Psychosocial status and attitudes of healthcare workers amid the COVID-19 pandemic
Keywords:
Covid 19, mental health, healthcare workers, Physicians, Non-physicians
Abstract
Background/Aim: COVID-19 disease occurs in close contact due to its highly contagious nature. Healthcare workers (HCWs) are in the frontline of struggling with the COVID-19 pandemic. The thoughts, behaviors, attitudes, and psychosocial statuses of healthcare professionals working in this problematic condition have not yet been fully investigated in Turkey. We aimed to evaluate the mental health and psychosocial status, thoughts about the measures taken by the government, attitudes, and behaviors of healthcare workers facing the COVID-19 pandemic, and whether there is a difference between physician and non-physician HCWs. Methods: In this cross-sectional survey, a 56-question multiple-choice test created based on similar surveys and scales was performed by a one-to-one interview with the HCWs in three registered hospitals fighting the COVID-19 pandemic from 20 May to 10 June 2020. Mental health variables were assessed via the Patient Health Questionnaire-4 (PHQ-4) and the Turkish Beck Depression Scale to specify psychological manifestations. A scoring system was applied using a four-point Likert scale, from no points ("strongly disagree") to three points ("strongly agree") to determine the levels of anxiety and depression. Participants were divided into two groups as physician and non-physician HCWs for subgroup analysis. Results: A total of 300 HCWs (45 physicians, 255 non-physician health care workers) enrolled in the survey. Only 0.8% of HCWs received psychological support from a therapist or psychiatrist. The most common concern during the COVID-19 pandemic was about "the elderly and other risky population being infected" (37.9%). Compared with non-physician HCWs, physicians felt more concerned about the spread of COVID-19 (80% vs 47.1%, P=0.006 χ2=12.591) and they agreed at a higher rate that the number of tests performed was sufficient (53.3% vs. 41.2%, P=0.030, OR: 0.29-0.35, χ2=7.047). For all HCWs, the "feeling of being infected with COVID-19" item had the highest mean total score (2.60 (0.97). The mean score of the "feeling nervous/anxious/on edge" item was 2.53 (0.52) for physicians and 2.26 (0.86) for non-physician HCWs. Non- physicians HCWs had a higher mean score for "Feeling of increased body pain and agony" item than physicians 0.27(0.80) vs 0.76 (1.23), mean dif=-0.50, 95% confidence interval=-1.002 to 0.006, P<0.05). Conclusions: The results of this study showed that healthcare professionals were most anxious about "being infected with COVID-19". Both physician and non-physician HCWs were feeling nervous/anxious/on edge according to anxiety scores.
Downloads
Download data is not yet available.
References
The WHO MERS-CoV Research Group. State of Knowledge and data gaps of Middle East Respiratory Syndrome Coronavirus (MERS-CoV) in humans. PLoS Curr 2013;5:ecurrents.outbreaks.0bf719e352e7478f8ad85fa30127ddb8. doi: 10.1371/currents.outbreaks.0bf719e352e7478f8ad85fa30127ddb8.
T.C. Sağlık Bakanlığı, COVID-19 Bilgilendirme Platformu https://covid19.saglik.gov.tr/ Accessed 15 March 2020
Lu R, Yu X, Wang W, Duan X, Zhang L, Zhou W, et al. Characterization of human corona virus etiology in Chinese adults with acute upper respiratory tract infection by real-time RT-PCR assays. PLoS One. 2012;7(6):2012;7(6):e38638.doi: 10.1371/journal.pone.0038638.
Al-Tawfiq JA. Middle East respiratory syndrome - coronavirus infection: an overview. J Infect Public Health. 2013;6(5):319-2.
Zaki AM, van Boheemen S, Bestebroer TM, Osterhaus AD, Fouchier RA. Isolation of a novel coronavirus from a man with pneumonia in Saudi Arabia. N Engl J Med. 2012;367(19):1814
Lai J, Ma S, Wang Y, Cai Z, Hu J, Wei N, et al. Factors Associated With Mental Health Outcomes Among Health Care Workers Exposed to Coronavirus Disease 2019 JAMA Netw Open. 2020;3(3):e203976. doi:10.1001/jamanetworkopen.2020.3976
Alsahafi AJ, Cheng AC. . Knowledge, Attitudes and Behaviours of Healthcare Workers in the Kingdom of Saudi Arabia to MERS Coronavirus and Other Emerging Infectious Diseases. International journal of environmental research and public health. 2016;13(12):1214.
Khan MU, Shah S, Ahmad A, Fatokun O. Knowledge and attitude of health care workers about middle east respiratory syndrome in multispecialty hospitals of Qassim, Saudi Arabia. BMC Public Health. 2014;14(1):1.
Lei L, Huang X, Zhang S, Yang J, Yang L, Xu M. Comparison of Prevalence and Associated Factors of Anxiety and Depression Among People Affected by versus People Unaffected by Quarantine During the COVID-19 Epidemic in Southwestern China.Med Sci Monit. 2020 26;26:e924609. doi: 10.12659/MSM.924609.
Styra R, Hawryluck L, Robinson S, Kasapinovic S, Fones C, Gold WL. Impact on health care workers employed in high-risk areas during the Toronto SARS outbreak, J Psychosom Res. 2008; 64(2):177–83.
Bukhari EE, Temsah MH, Aleyadhy AA, Alrabiaa AA, Alhboob AA, Jamal AA, et al. Middle East respiratory syndrome coronavirus (MERS-CoV) outbreak perceptions of risk and stres evaluation in nurses. J Infect Dev Ctries. 2016 Aug 31;10(8):845-50. doi: 10.3855/jidc.69255)
Wang C, Pan R, Wan X, Tan Y, Xu L, Ho CS, Ho RC. Immediate psychological responses and associated factors during the initial stage of the 2019 coronavirus disease (COVID-19) epidemic among the general population in China. International journal of environmental research and public health. 2020;17(5):1729.
Li W, Yang Y, Liu ZH, Zhao YJ, Zhang Q, Zhang L, et al. Progression of Mental Health Services during the COVID-19 Outbreak in China, Int J Biosci. 2020;16(10):1732–8.
Moghanibashi-Mansourieh A. Assessing the anxiety level of Iranian general population during COVID-19 outbreak. Asian J Psychiatr. 2020;51:102076. doi: 10.1016/j.ajp.2020.102076.
Zhang WR, Wang K, Yin L, Zhao WF, Xue Q, Peng M, et al. Mental health and psychosocial problems of medical health workers during the COVID-19 epidemic in China. Psychotherapy and psychosomatics. 2020;89(4):242-50.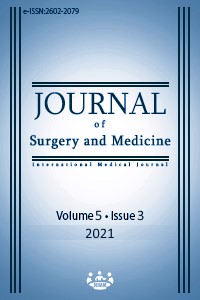 How to Cite
1.
Kurt E, Ovali İbrahim E, Gülaçtı U, Canpolat S, Kafadar H, Koparal M, Kaya H, Yücetaş Şeyho C. Psychosocial status and attitudes of healthcare workers amid the COVID-19 pandemic. J Surg Med [Internet]. 2021 Mar. 1 [cited 2023 Sep. 25];5(3):209-14. Available from: https://jsurgmed.com/article/view/860273
License
Copyright (c) 2021 Ercan Kurt, İbrahim Ethem Ovali, Umut Gülaçtı, Semih Canpolat, Hüseyin Kafadar, Mehtap Koparal, Hakan Kaya, Şeyho Cem Yücetaş
This work is licensed under a Creative Commons Attribution-NonCommercial-NoDerivatives 4.0 International License.
#6889