A novel percutaneous intrafocal reduction technique for brachialis penetrating irreducible type 4 supracondylar humerus fracture
Keywords:
Brachialis penetration, Supracondylar, Humeral fracture, Closed reduction, Intrafocal reduction
Abstract
Type 4 supracondylar fractures are challenging to treat. Closed reduction may become impossible due to brachialis muscle penetration and devastating results like a neurovascular injury that may occur during recurrent manipulations. We here report an intra-focal percutaneous reduction technique for maintaining closed reduction. An extensively posterior displaced type 4 supracondylar fracture with a dimple at the antecubital fossa and an extensive ecchymosis is presented. During surgery, we could not obtain closed reduction with the milking maneuver. We inserted an intrafocal K-Wire from the posterior side into the fracture site. With the levering of the wire, the dimple disappeared, after which we maintained the anatomical reduction and fixed the fracture with two lateral K-wires. Neither complication nor residual deformity was observed during postoperative follow-up. To show the exact long-term effects and the safety of this procedure, we need more fractures with brachialis penetration operated on by the described technique.
Downloads
Download data is not yet available.
References
Novais EN, Andrade MAP. The Use of a Joystick Technique Facilitates Closed Reduction and Percutaneous Fixation of Multidirectionally Unstable Supracondylar Humeral Fractures in Children. J Pediatr Orthop. 2013;33:6.
Silva M. The Outcome of Surgical Treatment of Multidirectionally Unstable (Type IV) Pediatric Supracondylar Humerus Fractures. J Pediatr Orthop. 2015;35:6.
Peters CL, Scott SM, Stevens PM. Closed reduction and percutaneous pinning of displaced supracondylar humerus fractures in children: description of a new closed reduction technique for fractures with brachialis muscle entrapment. J Orthop Trauma. 1995;9:430–4.
Mitchell SL, Sullivan BT, Ho CA, Abzug JM, Raad M, Sponseller PD. Pediatric Gartland Type-IV Supracondylar Humeral Fractures Have Substantial Overlap with Flexion-Type Fractures. J Bone Joint Surg Am 2019;101:6.
Leitch KK, Kay RM, Femino JD, Tolo VT, Storer SK, Skaggs DL. Treatment of multidirectionally unstable supracondylar humeral fractures in children. A modified Gartland type-IV fracture. J Bone Joint Surg Am. 2006;88:980–5.
Shenoy PM, Islam A, Puri R. Current Management of Paediatric Supracondylar Fractures of the Humerus. Cureus. 12. doi:10.7759/cureus.8137.
Archibeck MJ, Scott SM, Peters CL. Brachialis Muscle Entrapment in Displaced Supracondylar Humerus Fractures: A Technique of Closed Reduction and Report of Initial Results. J Pediatr Orthop. 1997;17:298–302.
St. Clair JB, Schreiber VM. Supracondylar Humerus Fractures. Oper Tech Orthop. 2019;29:11–6.
Güven N, Özkan S, Özcan C, Türközü T, Tokyay A, Tanli R. Radiological comparison of parallel fixation and divergent fixation using K-wire in pediatric lateral condyle fractures. J Surg Med. 2020;4:1205–8.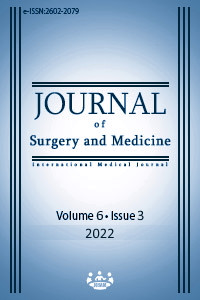 How to Cite
1.
Turan K, Çabuk H. A novel percutaneous intrafocal reduction technique for brachialis penetrating irreducible type 4 supracondylar humerus fracture. J Surg Med [Internet]. 2022 Mar. 1 [cited 2023 Oct. 4];6(3):402-4. Available from: https://jsurgmed.com/article/view/858760
License
Copyright (c) 2022 Kaya Turan, Haluk Çabuk
This work is licensed under a Creative Commons Attribution-NonCommercial-NoDerivatives 4.0 International License.
#7193