A rare cause of abdominal cyst in the neonatal period: Hydrometrocolpos
Keywords:
Hydrometrocolpos, Neonate, Cystic mass
Abstract
Hydrometrocolpos is a clinical condition that arises from vaginal outflow obstruction during fetal life and rarely manifests with an abdominal cystic mass in the neonatal period. In cases with delayed diagnosis, urinary complications, respiratory distress, and gastrointestinal obstructions may occur and thus a prompt diagnosis is of prime importance for the prevention of such complications via surgical drainage and repair. In the present study, we report on a neonatal hydrometrocolpos case manifesting as an abdominal cyst associated with intrauterine vaginal atresia and causing bilateral hydronephrosis, urosepsis, and respiratory distress.
Downloads
Download data is not yet available.
References
Khanna K, Sharma S, Gupta DK. Hydrometrocolpos etiology and management: past beckons the present. Pediatr Surg Int. 2018;34(3):249-61.
Ayaz UY, Dilli A, Api A. Ultrasonographic diagnosis of congenital hydrometrocolpos in prenatal and newborn period: a case report. Medical ultrasonography. 2011;13:234-6.
Nazir Z, Rizvi RM, Qureshi RN, Khan ZS, Khan Z. Congenital vajinal obstructions: varied presentation and outcome. Pediatr Surg Int. 2006;22(9):749-53
Nigam A, Kumar M, Gulati S. Fetal ascites and hydrometrocolpos due to persistent urogenital sinus and cloaca: a rare congenital anomaly and review of literature. BMJ Case Rep. 2014; published online: 24 January 2014. 10.1136/bcr-2013-202231.
Okoro PE, Obiorah C, Enyindah CE. Experience with neonatal hydrometrocolpos in the Niger Delta area of Nigeria: Upsurge or increased recognition? Afr J Paediatr Surg. 2016;13(4):161–5.
Koc M, Akyol M. Imperofrate hymen: A rare cause of urinary retention: a case report. Journal of Inonu University Medical Faculty. 2008;15:125-7.
Warne S, Chitty LS, Wilcox DT. Prenatal diagnosis of cloacal anomalies. BJU Int. 2002;89:78–81.
Sharma D, Murki S, Pratap OT, Irfan G, Kolar GA. Case of hydrometrocolpos and polydactyly. Clin Med Insights Pediatr. 2015;14,9:7-11.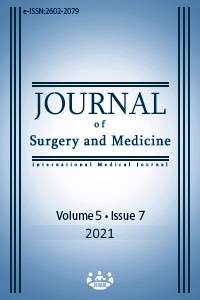 How to Cite
1.
Başaranoğlu M, Karaman S, Avci V, Ayengin K, Karaman E. A rare cause of abdominal cyst in the neonatal period: Hydrometrocolpos. J Surg Med [Internet]. 2021 Jul. 1 [cited 2023 Dec. 11];5(7):724-6. Available from: https://jsurgmed.com/article/view/844756
License
Copyright (c) 2021 Murat Başaranoğlu, Serap Karaman, Veli Avci, Kemal Ayengin, Erbil Karaman
This work is licensed under a Creative Commons Attribution-NonCommercial-NoDerivatives 4.0 International License.
#6986